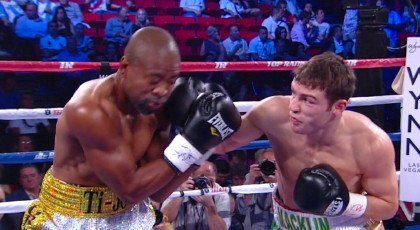 Padraig Ivory – Matthew Macklin deployed a controlled explosion at the Thomas and Mack on Saturday night and when the smoke settled former champ Joachim Alcine had taken shelter under the arm of referee Jay Nady. The left temple of the Haitian native duly played the role of the detonator as an invigorated Macklin claimed his 20th stoppage in sensational style.
The 30 year old Tipperary hurling fanatic, who was controversially denied world title honours against Felix Sturm in 2011, emphatically reinstated his status as the major threat to the middleweight crown. The first class surroundings of the new MGM gym may have aptly provided Buddy McGirt's charge with the script to premiere an action packed Blockbuster in front of an energetic Las Vegas crowd.
'Mack the Knife' executed an overpowering assault on the former champ who twice came face to face with the heavily advertised canvas. Macklin was unrelenting and forged iron from leather as he cleverly switched attack between body and head. Alcine offered little in the way of return fire forcing the experienced referee to call a halt to the explosive action with only 2.26 registered on the clock.