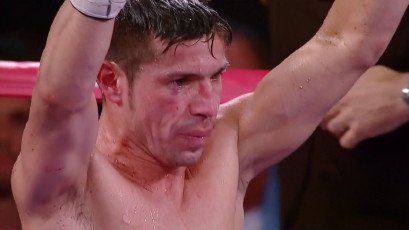 by Paul Strauss: What a night for boxing fans. Between Showtime and HBO, there were more fights than you could shake a stick at. The big record setting one was of course at the Thomas & Mack Center, Las Vegas, NV. It was a grudge match pitting Sergio Gabriel "Maravilla" Martinez against the young title usurper with the bloodlines named Julio Cesar Chavez, Jr.
Simply put, Martinez felt he was unfairly stripped of his middleweight title, and to make matters worse, it was given to this undeserving upstart who happened to be the son of a great fighter. Sergio was uncharacteristically vocal about what he thought was an injustice, and he was determined to set things right. Most of the experts and the odds makers agreed he was likely to be successful. On the other hand, JCC, Jr. was hurt and insulted by Sergio's comments and determined to make him pay. Both promised knockouts.
Even with hall of fame trainer Freddie Roach's help, it was thought to be unlikely that JCC, Jr. had the necessary skill and experience to pull off the upset, despite his father having done the seemingly impossible years ago against Meldrick Taylor. That was so long ago (1990), it seemed like a dream.
Critics of Sergio, including JCC, Sr. and Freddie Roach and other boxing purists don't particularly care for Sergio's style. When it comes to boxing technique, they feel he lacks fundamentals; although, they begrudgingly agree he is a superior athlete. Consequently, they believed he could be "gotten to" and that JCC, Jr. would be able to do so Saturday night.