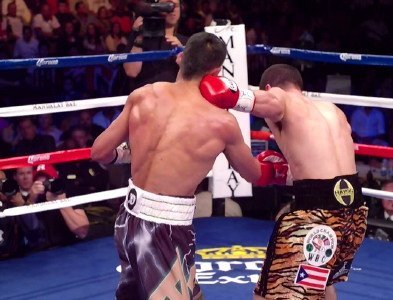 By Michael Collins: Amir Khan considers his next opponent the light hitting #10 WBO lightweight contender Carlos Molina (17-0, 7 KO's) a tough opponent rather than just a soft touch which is what the 26-year-old Molina surely appears to be. No one would blame Khan for taking a light touch at this point in his career because he's beaten in his last two fights against Lamont Peterson and Danny Garcia, although Khan feels he deserved the win in the Peterson fight. The judges obviously felt different after watching Khan shove Peterson around the ring for 12 rounds.
Khan said to the Dailystar.co.uk "I could have picked an easy fight but I'm going to have a tough one next because I want to bring the world titles back to Britain."
A tough one? As far as I can tell, Molina has never fought contender before and is woefully inexperienced against high caliber opposition. Besides that, he's a lightweight, not a light welterweight. Khan is really a big light welterweight, more of a welterweight fighting against light welterweights. So in choosing a lightweight to fight, Khan is facing a guy is much smaller than him in weigh, height, reach and body frame.