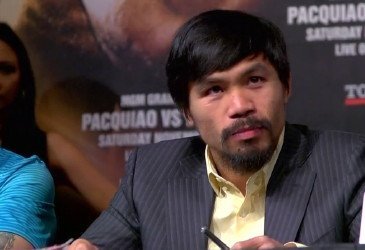 By Marcus Richardson: Manny Pacquiao's options are now greatly limited after Miguel Cotto announced that he'll be fighting WBA World light middleweight champion Austin Trout on December 1st at Madison Square Garden, in New York. Pacquiao and his promoter Bob Arum now much choose from Tim Bradley (29-0, 12 KO's) and Juan Manuel Marquez (54-6-1, 39 KO's) for Pacquiao's upcoming fight in December. It's not even a choice, is it? Arum wants to maximize his fighter Pacquiao's payday and it seems pretty clear that the only option they have if they want to do that is to fight 39-year-old Marquez next.
Who knows how many more fights Pacquiao has in him, so it kind of makes sense for Arum to be looking to squeeze every last cent out of the remaining fights of his Filipino star's career because the Pacquiao train seems to be slowing down now that he's showing signs of aging.
Marquez would be smart to jump on the Cotto news and demand a bigger slice of the revenue for a Pacquiao fight, because there's really not many options for Pacquiao now. To be sure, Pacquiao can take the Bradley rematch, make less money for himself and Arum, and possibly get beaten again if Bradley uses movement and a more consistent attack. With Pacquiao limited to fighting hard in the last 20 seconds of every round, Bradley would have a good chance of beating him again.