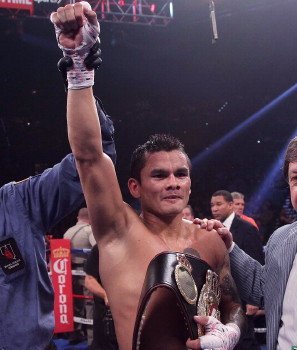 (Photo: Tom Casino/SHOWTIME) By James Slater – Who doesn't love Argentine banger and all-round warrior Marcos Maidana? Well, aside from the passionate, in-the-mood-to-celebrate Mexican fans who roared on their countryman Jesus Soto Karass inside a half-full MGM Grand last night, almost every fight fan loves "El Chino."
Excitement personified, the 29-year-old did it again in halting a game Karass via 8th-round TKO. Last night's win, which improved Maidana to 32-3(29), was actually a must-win fight for the slugger from Carlos Monzon country, as Maidana had looked quite poor last time out, in losing a wide decision to the slick Devon Alexander in a fight that saw the former WBA 140-pound champ make the move up to welter. But that loss came against a classy boxer/mover – Maidana's worst nightmare. Put "El Chino" in with a man who will stand and go to war with him, however, and Maidana has a shot of both winning and thrilling the crowd.
It's not clear how long Maidana – who was last night somewhat dwarfed and pushed around as a result of his size disadvantage – can hang with the elite at 147 (can he still make 140?), but one thing is sure: it will be value for money all the way for as long as Maidana continues to rumble. Last night's performance was typical Maidana: he fought hard, he fought dirty and he fought like a man obsessed with scoring the KO. Chucking bombs from the get-go, Maidana showed he does have power at 147. The right hand a formidable weapon against the determined Karass, Maidana's left hand was also effective.