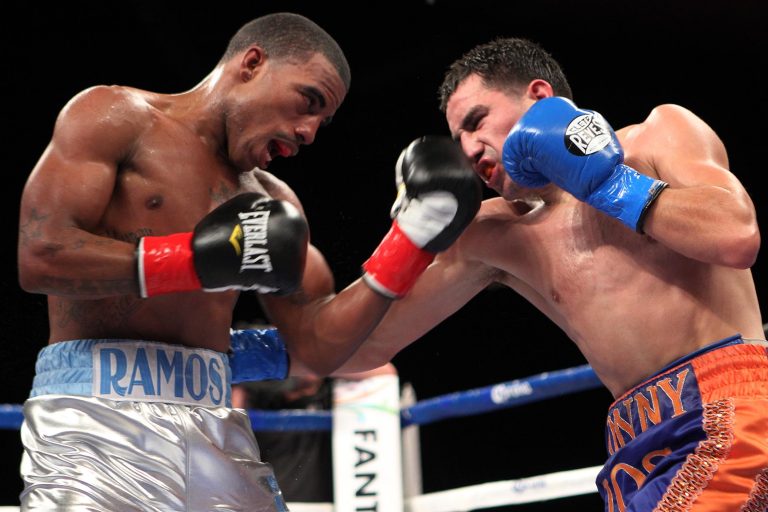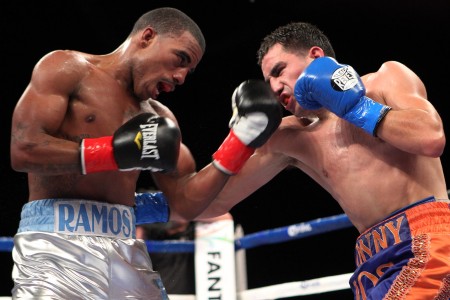 Photos: Tom Casino/SHOWTIME – Ronny Rios (20-0, 9 KO's), of Santa Ana, Calif., remained undefeated and captured the vacant NABF Featherweight Championship with a unanimous 10-round decision over former WBA Super Bantamweight World Champion Rico Ramos (21-2, 11 KO's), of Los Angeles, in Friday's main event on ShoBox: The New Generation from Fantasy Springs Resort Casino live on SHOWTIME®.
In a clash of unbeaten junior middleweights in the co-feature, Daquan Arnett (10-0, 6 KO's), of Orlando, Fla., won an eight-round decision over hard-trying Brandon Quarles (10-1-1, 2 KO's) of Alexandria, Va.
The doubleheader was featured on the first night of a Free Preview Weekend on SHOWTIME, which continues through tomorrow/Sunday, Jan. 13.
Rios, who turns 23 on Jan. 22, won his ShoBox debut and the biggest fight of his career by the scores of 100-90, 97-93 and 96-94. Arnett, 20, a Junior Olympic national champion, got the nod over Quarles by the scores of 78-73, 77-74 and 76-75. There were no knockdowns in either bout.
ShoBox analyst and boxing historian Steve Farhood provided his thoughts afterward.
"In the second half of the main event there was almost a role reversal," he said. "Rios, who had been the aggressor, began fighting tentatively. On my card that shift resulted in a close fight. I agree that Rios won, but he certainly could have been more impressive.
"As for the co-feature, Arnett is clearly a gifted young fighter, but his issue seems to be his focus and having a good game plan and sticking to it."
Rios is happy with the win but felt he could do better. "I give myself only a C grade," he said. "I knew I won it, but I didn't win it the way I wanted. I really wanted to make a statement on SHOWTIME, but I hesitated too much in the last few rounds.
"I wanted to keep pushing forward and working the body, but he kept smothering me. The good news is I passed my first big test, took the next step in my career and hopefully will be getting a world ranking because of it. It's a great honor to win the NABF belt, but I really wanted to look better. It's difficult to look good against a guy with his style."
Ramos was moving up a notch in weight and making his first start in seven months, but he did not make excuses. "Sure, I'm disappointed," he said. "I know I could and should have done more, but give Rios credit. He got me with some really nice jabs."
By Arnett's own admission, his victory over Quarles was anything but an artistic success. "It wasn't pretty, plain and simple," Arnett said. "He wanted to make it as ugly as he could because he knew I had a better boxing style.
"He managed to take me out of my game plan, but I proved that I could adapt. I switched to southpaw at the start of the fourth round just to give him a different look and I think that threw him off. There's no question I won it clearly in the end."
Quarles, who had a point deducted in the seventh for leading with his head, felt the wrong guy got his hand raised. "I felt I was out-and-out robbed," he said. "I outworked him, threw more punches, and hurt him way more than he hurt me.
"I took him out of his game plan. He was holding my hand down the whole fight. So what happens? They take a point away from me. I'm so sure I won, I can't even be upset."
In the top non-televised fight, popular fan favorite and undefeated NABO Bantamweight Champion Randy "El Matador" Caballero (18-0, 10 KO's), of Coachella, Calif., registered a fourth-round knockout over Luis Maldonado (38-10-1, 29 KO's), of Mexicali, Mex. It was Caballero's 11th appearance at Fantasy Springs.
The doubleheader will re-air the first time this week as follows:
DAY CHANNEL
Thursday, Jan. 17, 10 p.m. ET/PT SHOWTIME EXTREME
Friday's fights will be available ON DEMAND beginning today/Saturday, Jan. 12.
Barry Tompkins called the ShoBox action from ringside with Farhood and former World Champion Raul Marquez serving as expert analysts. The executive producer is Gordon Hall with Richard Gaughan producing and Rick Phillips directing.