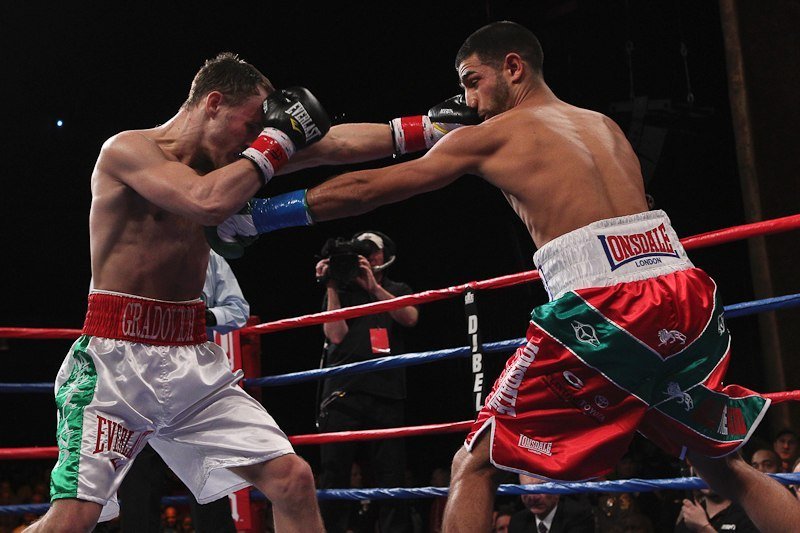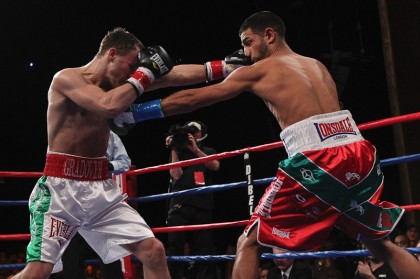 By Jeff Sorby: Unbeaten Evgeny Gradovich (16-0, 8 KO's) unseated IBF featherweight champion Billy Dib (35-2, 21 KO's) on Friday night in beating him by a 12 round split decision on Friday Night Fights at the Foxwoods Resort, in Mashantucket, Connecticut, USA.
The judges had it scored 114-112 and 114-112 for Gradovich, and 114-112 for Dib. Gradovich took the action to Dib, backing him up constantly throughout the fight, and hitting him nonstop. The fight likely would have been a lot more one-sided than it already was had the referee not broken up the action quite so often.
It was like watching a replay of the Marcos Maidana vs. Amir Khan fight where the referee kept pulling Maidana off Khan while he was trying to finish off Khan on the inside.
It was the same kind of fight with Gradovich unloading on Dib with both hands, and then having him pulled off of Dib and the action reset to the center of the ring with both fighters with distance between them.
In the 8th, the referee took points away from both fighters for clinching. Later in the fight, Dib was cut over his right eye in the 11th.
Dib faded badly in the last four rounds of the fight, and was really outworked by Gradovich during those rounds.
http://youtu.be/4j6YU7HqX_I
***
Light middleweight Willie Nelson (20-1-1, 12 KO's) annihilated Michael Medina (26-4-2, 19 KO's) in stopping him in the 1st round in a two knockdown performance. Nelson connected with a hard right hand that knocked Medina down while Nelson was backed up against the ropes. Medina got back to his feet, but he was clearly hurt because he walked across the ring and turned his back to Nelson. It looked like he wasn't thinking clearly.
When the action resumed, Nelson landed a huge right hand that sent Medina down for the second and final time. Nelson just barely missed a left hook while Medina was falling. During the knockdown, Medina hurt his right leg, and he had to be assisted out of the ring.
***
Other undercard results:
Luis Olivares TKO 1 Rafael Munoz
Shelly Vincent UD 4 Mikayla Nebel
Luis Rosa, Jr. UD 8 Jhovany Collado
Ryan Kielczwski UD 8 Gil Garcia