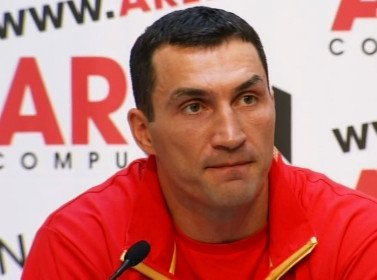 IBF/IBO/WBA/WBO heavyweight champion Wladimir Klitschko (61-3, 51 KO's) is taking on one of his smaller opponents in 6'0" Alex Leapai (30-4-3, 24 KO's) on April 26th of this month at the Koenig Pilsener Arena, Oberhausen, Nordrhein-Westfalen, Germany. The 6'6" Wladimir doesn't care that Leapai is small or that he was recently knocked out by journeyman Kevin Johnson. Wladimir is still taking him very serious as an opponent.
This fight might not look great on paper due to Leapai's less than impressive resume, but the World Boxing Organization chose to rank him at No.1 after his win over Denis Boytsov, leaving Wladimir no other choice but to fight Leapai or end up having his WBO title stripped from him.
"He [Leapai] is an underdog but he can also bite," Wladimir said via Sky Sports. "Leapai will try and beat me with pure violence. Technique and tactics aren't his strengths. He's lacking the experience and I'll use that against him. I'll demonstrate that I'm the strongest boxer in the world. My mission isn't over yet."
I think it's fair to say that a lot of the top 15 contenders could beat Leapai, and I wouldn't be surprised if a large number of 2nd tier heavyweights could beat him as well. Leapai has losses to Colin Wilson and Kevin Johnson, and neither of them are 1st tier fighters.
The sad thing is the WBO ranked Leapai high enough to have him fight Boytsov in their WBO eliminator bout last November, and it's difficult to see what the WBO was thinking in letting them fight in an eliminator. What the WBO basically did was given Wladimir another likely easy opponent for him to pad his resume with.
Leapai can punch if an opponent stands directly in front of him at close enough range for him to land his short punches.
Boytsov is a small heavyweight who looks more like a cruiserweight than a heavyweight, and he didn't have the mobility or reach to dominate Leapai. Wladimir is going to be able to pound Leapai at will with jabs, and blind him with his shots. I'd be surprised if Wladimir gets hit at all in this fight. I just hope the WBO gets their act together after this and starts letting better heavyweights fight in their eliminators because this is basically a freebie title defence for Wladimir.