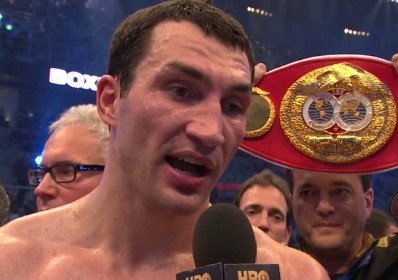 By James Slater: According to invaluable news site Fightnews.com, Puerto Rican veteran and long-time heavyweight contender "Fast" Fres Oquendo could be next for the mighty Wladimir Klitschko. "Dr. Steel Hammer" asked for permission to take a voluntary fight before his ordered defence against "regular" WBA heavyweight titlist Alexander Povetkin, and it looks like initial possibility Odlanier Solis is now out of the running and Oquendo, 35-7(23) is in pole position.
Of course, nothing is certain until contracts are signed. Still, Oquendo, now aged 39 and into his sixteenth year as a pro, is hoping he will get the next shot at the WBA, IBF, WBO, IBO king.
"My manager (Tom Tsatas) is working on it and it's possible that in the end Wladimir could face me on April 6th," Fres told Fightnews.com. "I'm training to get in the best condition to rip his head off. Give me the opportunity and don't avoid me!"
Oquendo, who has won three on the bounce since suffering debatable, controversial points losses to Jean Marc Mormeck and Oliver McCall, claims he sparred Vitali Klitschko ahead of "Dr. Iron Fist's" defence against Tomasz Adamek, and that Wladimir saw him "getting to him." Oquendo isn't likely to get too many fans believing him, but he says he feels Wladimir has ducked him for some time.
Okay, first things first, Oquendo would enter the ring with Wladimir as a substantial underdog, probably a massive underdog, and a number of fans would likely groan if he indeed got the shot. But name a heavyweight out there who wouldn't be a big underdog against either Klitschko? Also, is Oquendo really that bad a choice? Far better a fighter and would-be challenger than Mormeck, who Wladimir destroyed inside four effortless rounds, and also a far more accomplished boxer than the tough but very limited Mariusz Wach, Oquendo has all the experience in the world and he has a proven chin.
During his long career, Oquendo has been stopped just twice – on TKO's to David Tua in 2002 and to John Ruiz in 2004 (a premature stoppage according to Tsatas). The other losses on the Puerto Rican's ledger came via close decisions, against Chris Byrd, Evander Holyfield, James Toney, McCall and Mormeck. A very good case could be made that Oquendo was robbed in ALL FIVE of these bouts. But, what does Oquendo have left today?
Not a fighter to have taken too much punishment, Oquendo has also been a guy who likes the gym. Having worked with a vast number of notable fighters (think David Haye, Vitali and Solis to name just three) in sparring – a lot of this work done at the legendary 5th Street Gym in Miami under the late, great Angelo Dundee – Oquendo has always kept his skills sharp. Maybe, just maybe "The Big O" can put it all together and give Wladimir a tough night? Of course, going against Oquendo and his worth as a challenger is the fact that he has not beaten a legit contender since way back in 2003.
Long-time manager Tsatas, a man who has never given up on Oquendo through all the bad times (as in bad decisions) has long maintained that his fighter is the man to shock a Klitschko:
"Fres has more rounds of pro experience than anyone apart from the Klitschkos," Tom told this writer during one of the many interviews he kindly granted for ESB. "People overlook him but, mark my words, he will get a title shot at a Klitschko, and he will surprise a lot of people that day! Will Fres get the decision if he doesn't stop Klitschko? We don't know, but he will fight [one of] them and he will win."
Needless to say, if Oquendo did stop Wladimir the win would rank amongst the biggest boxing upsets ever; as would an Oquendo points win over Klitschko. But for all the things he's endured during his long career, and for not giving up, does Oquendo maybe deserve another shot before he walks away? Doubtless most fans will shout out a resounding "NO!" but it could be Klitschko-Oquendo in April.