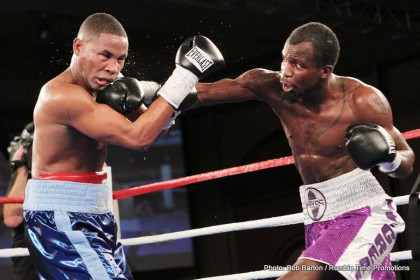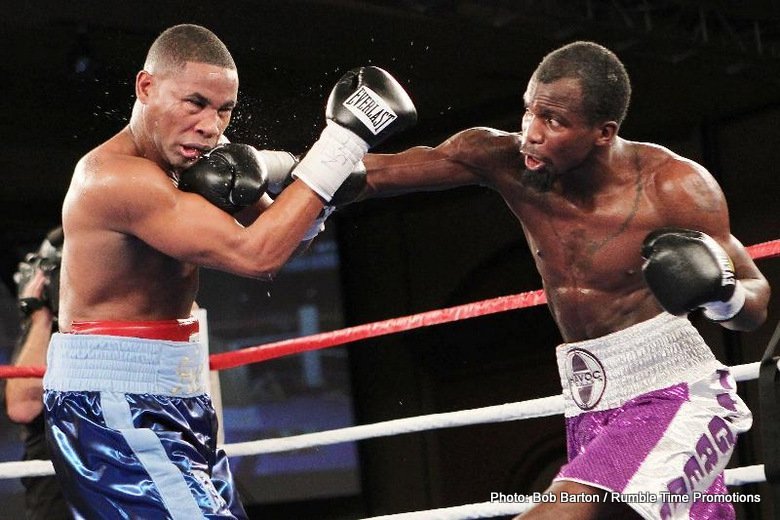 Rising light middleweight contender, Willie "The Great" Nelson (20-1-1, 12KOs) is a born fighter who knows how to battle adversity and come back stronger. As a young child, he survived on the tough streets of East Cleveland, Ohio without any parents, who were dealing with substance abuse issues, living with one family member after another, until his older sister, Raviele took custody of him, when she was only 17 years old. Even after Raviele became Nelson`s guardian, life was still extremely difficult, as they struggle daily to make ends meet.
"I owe a great deal of my success in life to Raviele who sacrificed her life, so that she could take care of me and my younger siblings and that is why every time I step into the ring, I'm not only boxing for myself but I'm also fighting for my four children and my siblings," said Nelson. "God only know where I would be in life if Raviele didn't take custody of me, but I know I wouldn't be where I'm, if it was not for her."
Life started to come together for Nelson as Raviele introduced him to boxing at the age of ten and he fell in love with the sport right away. Nelson garnered an outstanding amateur career, was undefeated in his first 17 professional bouts and was considered an up and coming prospect in the 154 pound weight class, until he suffered his first professional loss to Vincent Arroyo (10-1, 7KOs) on Shobox. This was a fight he was winning, however he got knockdown three times in the third, sixth and seventh round, losing a close eight round majority decision.
Instead of quitting, Nelson, the 26 year old, six foot, three inch orthodox pugilist with only six percent body fat, took this challenge head on and became an even better boxer than before. He hired well known trainer, Jack Loew, the past trainer of the former middleweight champion of the world, Kelly Pavlik and then proceeded to win his next four fights in impressive fashion, all of which came against extremely good competition.
"I don`t care what individuals think of me. After my first professional loss, several boxing experts considered me a failure and said I would never accomplish anything in boxing," said Nelson. "Yet, I didn't listen to them because I`m used to adversity and overcoming it, so I worked even harder and came back a stronger, faster and better boxer than I was before my loss."
After the loss, Nelson defeated Brad Johnson (13-7, 7KOs) by way of a second round knockout after knocking him down in the first round. He then took on Yudel Johnson (12-0, 9KOs) on less than two weeks notice and beat the undefeated former Cuban Olympian, by way of a unanimous decision. Nelson considers this his best fight of his career. Nelson knockdown Johnson in the second round, nevertheless Johnson came back and violently had Nelson down on the canvas in the fourth round by an overhand right. Nelson resiliently came back and controlled the later rounds, helping him prevail.
He then won another unanimous decision over undefeated fighter, Jack Johnson (13-0,12KOs), a former Virgin Islands Olympian and with the victory he earned the vacant North American Boxing Federation ("NABF") light middleweight title. In his last outing, less than three months ago, he retained his NABF belt by dominating Michael Medina (26-3-2, 19KOs), knocking him down twice on his way to a first round knockout win.
"I credit a great deal of my success to my trainer, Loew who has really helped my boxing skills," said Nelson. "Before he was my trainer, I was confused as to what fighting style I should use and he told me to use my best asset, my height and throw jabs a great deal more. He taught me to become a much more patient boxer who times his punches better, instead of throwing 100 punches a round and being wild and trying to knock fighters out."
Nelson looks to work his way to a world title fight in the near future as he takes on tough Argentina boxer, Luciano Leonel Cuello (32-2, 16KOs) on Saturday night, June 29th at the MGM Grand at the Foxwoods Resort in Mashantucket, Connecticut, in a ten round bout. Cuello`s only two losses were to world champions, Saul Alvarez and Julio Caesar Chavez, Jr. Nelson is ranked number three by the World Boxing Council ("WBC") and number fourteen by the International Boxing Federation.
"Training is going really well for this bout and I can't wait for the fight to happen," said Nelson. "Cuello is a durable, strong boxer who has fought great competition, yet he`s also a slow fighter with a weak defense and throws big looping punches which I'll be able to counter nicely. I'm the better fighter and I'll defeat him."
He`s hoping a victory over Cuello will lead him to a significant fight at the end of 2013 and then a potential world title fight in 2014.
"Even though I hold the NABF title and have performed well thus far in my career, I know I`ve accomplished nothing as of yet and this is why I train so hard each and every day and why I`m always looking for ways to improve myself, so that I can accomplish my goal of becoming a world champion," said Nelson.
Nelson had a strong amateur pedigree with 230 victories and only 22 defeats. He's a two time PAL Tournament Champion, an Under 19 U.S. National Gold Medalist and a former member on the U.S. National Boxing Team. He beat Vernon "IceMan" Paris and WBC champion, Danny "Swift" Garcia in the amateurs.
Raviele and the rest of Nelson's family will be attendance for his fight against Cuello, hoping that Nelson continues his boxing success, which they are all apart of.