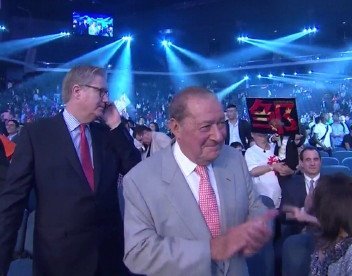 Manny Pacquiao's lawyer Franklin Gacal Jr. thinks Bob Arum of Top Rank should be a good one and free Manny Pacquiao up from the remainder of his contract with Top Rank so that Pacquiao can fight Floyd Mayweather Jr. in a history-making bout in 2014. Pacquiao is still under contract with Arum for the whole of 2014, and as long as he's with him, Mayweather will not agree to fight Pacquiao.
Would Arum agree to let Pacquiao leave Top Rank for the good of Pacquiao? There's no question that a Mayweather fight would be a big boost for Pacquiao's career right now. He's lost 2 out of his last 3 fights, his last fight against Arum's fighter Brandon Rios was disappointment in bringing in only 475,000 pay-perv-view buys. Arum says fans weren't interested because the fight took place in Macao, China instead of the United States. Getting beaten in back to back fights probably didn't help Manny any.
"History is waiting and Bob should free Manny," Gacal said via the Asiancorrespondent. "That would be Bob's greatest contribution to boxing history. Manny should be a freelancer for that fight to happen."
Without Pacquiao, Arum might find it difficult to scratch up PPV events that interest boxing fans. Having Tim Bradley as your headliner in PPV events without Pacquiao is probably going to be a recipe for disaster. Then there's the whole thing about Arum wanting to open up China for PPV cards. How would Arum be able to do that without Pacquiao? I don't think Arum will be able to do it with Zou Shiming alone. He needs a popular fighter that can actually fight at the world class level to open the Chinese market. This is why I don't think Arum is going to let Pacquiao go from his contract with Top Rank early.
Without Pacquiao re-signing with Arum, it would be a huge loss for Top Rank. Pacquiao has been putting on two big PPV cards year after year. You take that away and what is Arum going to replace it with? Julio Cesar Chavez Jr., Mikey Garcia or Bradley? No, I don't think so.