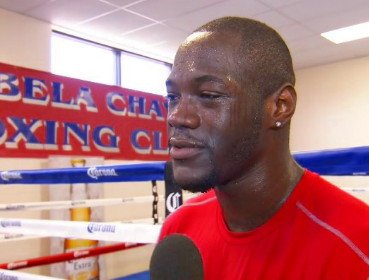 Share the post "Wilder vs. Stiverne and Garcia vs. Postol purse bids ordered for September 12th by WBC"
It looks like boxing fans won't get to see a fight between IBF light welterweight champion Lamont Peterson and WBA/WBC 140 pound champion Danny Garcia for later this year, because the World Boxing Council has ordered a purse bid for the fight between Garcia and his mandatory challenger #1 WBC Viktor Postol (26-0, 11 KOs) for September 12th.
Garcia and Peterson could still face each other instead by getting permission by the WBC for a unification match, but it's unclear how much interest there is in such a match-up. There was talk that if the fight did happen between them, it would be another catch-weight fight like Garcia's recent bout against Rod Salka and Peterson's fight last year against Lucas Matthysse.
That way if Garcia or Peterson lost the fight, they'd still have their titles. But that's not going to happen now with the WBC ordering Garcia to start negotiations for a fight against Postol.
Now the only thing to see is whether Garcia chooses to take the fight or vacate his WBC title. He'd still have his WBA title so it wouldn't be a total loss, but it would definitely make some boxing fans think that Garcia is ducking a dangerous fight.
There really isn't a ton of interest in a Garcia-Peterson fight, so it's not that big of a deal if a fight between them doesn't take place. Some hardcore boxing fans want to see them fight, but overall the interest in a fight between them is low. Peterson's recent knockout loss to Matthysse might help explain the lack of interest in a Garcia-Peterson fight. How can anyone get excited about seeing Garcia fight someone who was obliterated by Matthysse.
Peterson has unfinished business with Matthysse, but it's doubtful he'll ever try and avenge that loss. Boxing fans prefer to see Garcia fight Mauricio Herrera, who arguably beat Garcia earlier this year in March. Fans also want to see Garcia fight Matthysse again. Garcia clinched and low-blowed his way to a 12 round decision over Matthysse last September. It was surprising Garcia didn't get disqualified for the many low blows he landed in the fight. He was able to take the steam out of many of Matthysse's attacks with his accidental low blows. Garcia's constant clinching was also something he arguably should have lost points for because it was excessive, especially in the later rounds of the fight when Matthysse was getting to him.
Unbeaten heavyweight Deontay Wilder (32-0, 32 Kos) has a purse bid scheduled on the same day as the Garcia-Postol purse bid on September 12th for a WBC ordered fight against WBC heavyweight champion Bermane Stiverne (24-1-1, 21 KOs). Wilder and Stiverne are still in the free negotiation period and can put together a contract before then, but one gets the sense that this fight will go to a purse bid.
Deontay recently defeated journeyman Jason Gavern by a 4th round TKO on August 16th. Deontay fought like he was taking a stroll through a park as he rarely threw any right hands with mean intentions. Some sports writers perhaps not familiar with Deontay thought that he was forced to go 4 rounds by Gavern, but it was obvious that Deontay carried him to the 4th rather than knocking him out in the 1st round. Gavern was one of Deontay's former sparring partners and he seemed to take it easy on him.
Share the post "Wilder vs. Stiverne and Garcia vs. Postol purse bids ordered for September 12th by WBC"