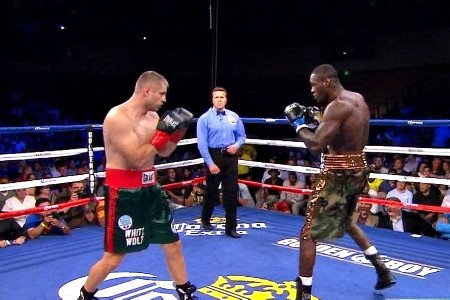 Showing devastating power, unbeaten heavyweight contender Deontay Wilder (29-0, 29 KO's) poleaxed Sergei Liakhovich (25-6, 16 KO's) in an impressive 1st round knockout on Friday night at the Fantasy Springs Casino, in Indio, California, USA.
Deontay, 27, ended the fight with three straight right hands to the head that put Liakhovich down flat on his back on the canvas where he laid with his hands and legs going into a knockout spasm. It was scary to watch because Liakhovich looked badly hurt.
Liakhovich was okay until he got nailed by the 3rd right from Deontay, and at that point, Liakhovich hit the canvas like a sack of potatoes with his legs and arms pointing up in the arm in the way that fighters do after they've been concussed.
Next up for Deontay could be the winner of the September 6th fight between Chris Arreola and Seth Mitchell. Chances are, Deontay will be facing Arreola next in November. If so, Arreola is going to have problems because he's been stunned before, and the way that Deontay punches, he's going to put Arreola down and break whatever he hits. Arroela suffered a broken nose in his last fight against Bermane Stiverne. You can only imagine what Deontay will do to him if he's able to nail Arreola with a number of hard right hands for four or five rounds.
For Deontay, this is his second consecutive 1st round knockout win. His last knockout was against Audley Harrison. No one has ever made it past the 4th round against Deontay, and as we saw tonight, his power is no joke. Liakhovich has never been stopped this early in a fight before. Before tonight, the earliest that Liakhovich had been stopped was in the 9th round.
—
Other boxing action on the card:
Francisco Vargas UD 10 Brandon Bennett
Jamie Kavanagh KO1 Antonio Meza
Jermall Charlo TKO 2 Antwone Smith
Gary Russell Jr US 12 Juan Ruiz
Gerald Washington KO 2 Jerry Forrest
Robert Easter TKO 2 Lowell Brownfield
Rigoberto Hermosillo US 4 Allen Nevarez
Juan Gonzalez UD 4 Leshon Sims