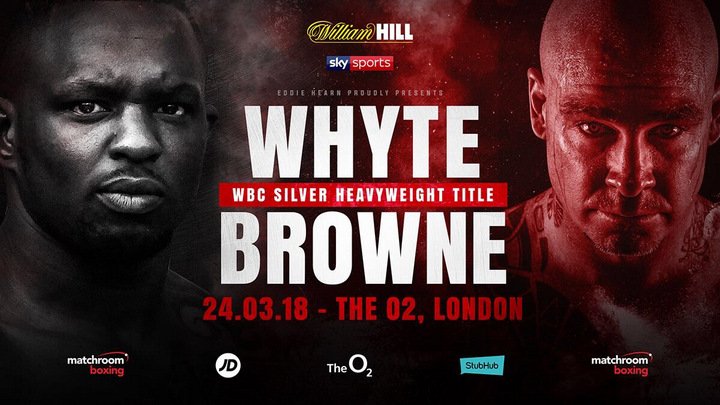 The hate between Dillian Whyte and Lucas Browne is real – but both men say that there's more than pride on the line when they clash for Whyte's WBC Silver Heavyweight title at The O2 in London on March 24, live on Sky Sports.
The Heavyweight rivals came face-to-face at a press conference in central London today and left the media in no doubt that there is plenty of true venom behind their fierce social media spats are as they traded barbs before a face-off that ended in a frosty handshake.
That tense show of respect reflected the high stakes in the fight, with Whyte ranked number one in the WBC and former WBA champion Browne hunting a route to becoming a two-time champion – the pair will renew hostilities in two months' time knowing the winner is in a prime spot to fight for a World crown this year.
"I hope I can fight for a World title this year," said Whyte. "Sky Sports and Matchroom are behind me and now it's my time to shine. If I can put on a good show in front of a good crowd at The O2 then they can't deny me.
"I'm highly ranked in all the governing bodies and I think I could become mandatory in two of them, so this is a fight with a top contender against an undefeated former World champion – so you have to say that win this, I deserve a World title shot.
"He's a solid fighter and he's got KO power. Any big guy can chin anyone at any time, but he's just got power. A lot of people are in boxing because they are big men – not because they have skill or heart – they're just physically big and over-powering smaller fighters.
"The guy is a bully and calls himself 'an enforcer' so you have to deal with that in a head-on way. Robert Helenius wasn't like that, he was cool, so I was cool, but Lucas has stepped to me in a demeaning way that I don't like, I take that personally and I'm not going to let it slide. He's giving it the big one because he's got insecurities. This is my city, he's in my backyard, and I'm not going to let him take liberties with me.
"You can't intimidate me. I've been right at the bottom and I've risen up, so nothing fazes me and I'm not scared of anything, especially not Lucas Browne. I'm more scared of my Mum than him.
"Of course, I want the rematch with Anthony Joshua, but the fight with Deontay Wilder would make the AJ fight even bigger if I had the WBC belt. I'm always going to want the Joshua fight because we have history and we keep winning then the fight is inevitable, but there's more to this sport for just fighting for pride, it's business, and the fights have to fit my strategy. If you win a World title, you go down in history as a Heavyweight World Champion, it's the biggest accolade in sport and that can never be taken from you."
"The build-up will be spicy and fun, but I think it's going to a great fight and all that matters is winning on March 24," said Browne. "He calls me a 'bully' – well I'm going to show him what a 'bully' can do. I made my points today, I'm coming to fight, not for a payday or to roll over, I want his belt and I want to be a World champion again.
"I asked him if he was going to shake my hand and he did – I'm a gentleman. I still hate the guy and want to smash his face in at The O2, but man to man, this is a sport and we should respect each other for fighting.
"I don't like judges' decisions – it's not good for me to have my life and my career in the hands of three people outside the ring. If I KO someone – there's no argument, that's what I like.
"We're both at the point in our careers where we need to put in a big performance to stake a claim to fight for a World title, that's going to make me put it all on the line, and I think it'll do the same for him."
Tickets for Whyte vs. Browne at The O2 in London are on sale now priced £40, £60 and £100 from www.theO2.co.uk. VIP tickets priced £200 are exclusively available from www.matchroomboxing.com
Dillian Whyte will defend his WBC Silver Heavyweight title against Lucas Browne in a crunch clash at The O2 in London on March 24, live on Sky Sports. Whyte is hunting World honours after he landed the title in his last outing in Cardiff in December against Robert Helenius and the 29 year old puts his number one ranking in the WBC on the line against the Browne.
'The Body Snatcher' is gunning for WBC king Deontay Wilder with the ultimate goal to land the title and set up a huge unification rematch with old foe Anthony Joshua, and Whyte knows he must put an end to his bitter online feud with Browne in style in Greenwich.
"I can't wait, I hate Lucas Browne and I want to hurt him," said Whyte. "He's said some nasty things and he's going to have to pay for them.
"I don't think he really wanted this fight. A deal was in place before then he started to try and change the terms. He kept delaying things after we gave in to his demands and started saying there was a fight in America he was chasing. We've bent over backwards and up till now he's been more interested in making excuses than taking the fight. It's been frustrating but we've finally got over the hill now so let's go.
"He's a big guy with an unbeaten record so you have to rate him a bit. He carries some power. You have to respect Heavyweight power, it only takes one punch.
"I'm not overlooking Browne, I'm focused on going to town on him. If I don't knock him out, I will not be happy. The plan is to beat Browne and move closer to a World Title shot. Beating him should make me a mandatory challenger for a World Title – I'm highly ranked across the board, I'll be a more than credible World Title challenger. I've been building my way up so we're set for a big year."
Browne is a dangerous customer for Whyte to put his World title dreams on the line against, with the unbeaten Australian already tasting victory on the road at the very highest level when he KO'd Ruslan Chagaev in March 2016, climbing off the canvas in Russia to land the WBA title.
'Big Daddy' is no stranger to fighting in England as will be looking to claim a fifth KO win in his sixth outing on English soil, and launch himself into World title contention.
"I'm genuinely looking forward to coming over to the UK again and bashing Dillian," said Browne. "If Helenius and Dereck Chisora hurt him, wait until he feels how I hit. I don't like anything about him. He's a loud mouth and I want to take his head off.
"I have absolutely no fears about coming to London and facing Dillian. After you go to Chechnya to fight, nothing else compares. I've fought in England five times already and love fighting there. I know if I stop Whyte impressively I'll be getting another World title shot."
Browne's manager Matt Clarke added: "Lucas has an incredible fan base in the UK and Ireland. You'll never see him turn down an autograph or a photo with fight fans and consequently he gets a lot of support.
"His social media is full of messages begging him to knock Whyte out and that's exactly what he plans on doing. Knock out Whyte and then challenge for the World title, that's our plan."
"This is going to be an electric fight that I'm very happy to finally get over the line," said Eddie Hearn. "There is no love lost between them and it's a fight that is very important in the World Heavyweight landscape.
"These two can't stand each other and I think that's when you get the best out of Dillian – this is the high profile fight that he has been craving now for some time. He is the number one challenger with the WBC and ranked highly with every other governing body – win this and it's a World title shot next for Dillian."