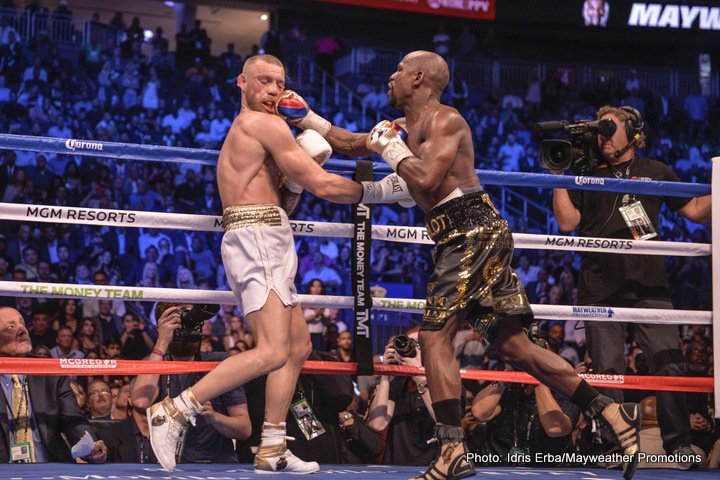 'The Best Ever'. Three small words, yet they carry a ton of weight in today's boxing landscape. When we survey the talent from past generations, each era has a list of candidates. And each candidate has a growing list of fans eager to plant their flag in the sand and declare their guy as the man! As great as they all were, each came with his own set of strengths and weaknesses. Some had speed, but no chin. Others had a chin and no power. Some were blessed with both power and speed, yet limited skill and stamina prevented them from reaching this peak. All of these talents were profound enough to put cheeks-in-seats, but at the highest level, star power alone isn't quite enough to claim the mantle.
Enter Floyd Mayweather Jr. From the day he arrived in the sport expectations were high, and with each fight they seemed to grow higher. When assessing his overall value, there are a few key points of distinction that give him quite a bit of leverage in this conversation. A few legendary fighters were perceived to have had greater overall talents, but what the history books show that supports Mayweather from the rest of the pack, even in his older age is the never-ending list of immeasurable expectations and how they grew for him, yet diminished in the latter career stages for others.
When you talk resume and records, four names often mentioned to be 'The Best Ever' include 'Sugar' Ray Robinson (151-21-9), Willie Pep (229-11-1), Henry Armstrong (151-21-9) and Julio Cesar Chavez Sr (108-6-2). The reason "expectations" play such a key role in consideration for 'The Best Ever' is simple. When we look at each of these men and parallel their resume with the expectations surrounding them at age 40, only one of them totally removed complications from the job of an oddsmaker. Despite looking less than himself, even at age 40, everyone on the welterweight landscape would enter the ring as a relative underdog against Mayweather today.
Taking a look at the resumes solely, few understand that the true gauge of a Champion is not only beating the men the world thinks they can't; but also defeating the men the world says they should. Week in and week out in the world of sports we see top seeded teams drop to 'Cinderella' squads that no one gave a shot. In Boxing, we witnessed Tyson lose to a 42-1 underdog named Buster Douglas. We watched a 6-0-1 Leon Spinks defeat "The Greatest", Muhammad Ali. We saw Ricardo Mayorga defeat the talented Vernon Forrest (RIP). We also witnessed Willie Pep (known for his great defense) enter the ring with a record of 62-0, only to lose to an opponent with 17 losses in a fight that so few felt would be competitive that the venue saw one of its lowest attendance outputs ever.
Fan logic says once a fighters "O" goes, he'll take on all-comers, as there's no need to protect his legacy. The career of Henry Armstrong sheds light on this thought process. Some historians view him as 'The Best Ever', yet few consider the fact that he started his career 1-3, and by the age of 26, had 10 career losses, many to opponents whom the world barely knew. By the end of his career, he had suffered 20 Losses and 9 Draws, most to unrecognized talents whom had accomplished very little aside from defeating him. This is perhaps the best example of "legendary" fighters accomplishing monumental things on one night, yet not meeting that same standard on other nights.
Sugar Ray Robinson is arguably the most commonly used name when it comes to 'The Best Ever' discussion. Similarly, his resume contains quite a few losses and draws to several men whom no one at the time felt should have defeated him. One of the most notable was Puerto Rican Jose Basora, who entered the ring as a 7 to 1 underdog. Observers watched him outbox the legend in a fight some felt he should have pulled out on the cards, yet it ended in a draw. He ended his career with 30 contest in which he failed to earn the victory (21 losses, 9 Draws). Whether we look at the career of Ali, Robinson, or anyone else, only one name in the discussion can boast the claim of winning against both the 'boogeymen', as well as the 'Cinderella' men. In each of those fights, the statistical domination for Mayweather throughout his career was the same.
One intricate argument made for fighters of yesteryear to cement their greatness is the fact that they fought more often, and the Robinson's of the world were able to find success in multiple divisions. How does Mayweather's legacy combat such triumph's? Consider this:
In the good ole days, if you walked around at 147lbs, you probably fought at 147lbs. There were no extended 5, 6, 7 month periods between fights to burn off unnecessary calories and weight. At its best, what made historians feel made Robinson iconic (in example) was his ability to win a Middleweight title (160lbs) as a natural Welterweight (147lbs). Quite an incredible feat in those days, but where it loses steam in this era is that fighters aren't natural for their weight classes today, so a fighter like Floyd Mayweather has to do that every night out!
Records reflect that Floyd Mayweather has tipped the scale at 147lbs or less at each Welterweight weigh in, and entered the ring at within 3lbs of the very same weight on fight night. The men across from him meet the same 147lb weight limit, yet enter the ring on fight night closer to 165-170lbs plus. For Robinson, this was 'legacy'. For Mayweather and many in this era, it's typical. Just another day at the office. Mayweather's competition has outweighed him by 12 or more pounds since he became a lightweight in 2002. Modern day fans and media never placed historical significance on it, despite his legendary predecessors gaining great acclaim for the same thing.
Take that reality and add to it the lofty expectations placed on Mayweather. Those legendary figures didn't have those expectations in their 20's. Mayweather was expected to take on these challenges night in and night out well into his 30's, yet continued to be the odds-on favorite, despite brittle hands and an aging body. Statistically, Mayweather's argument strengthens even more. Not only was he physically gifted, but his ring intelligence over a 20+ year career prevented him from situations that typically got the best of the other legendary fighters on the ledger. In example: After defeating Lamotta, Robinson would face him again in a rematch.
A decision to prove to the crowd that he could slug it out, rather than simply box like he did in the initial fight resulted in Robinson being badly hurt and knocked through the ropes for a 9 count before the bell saved him. He would go on to lose unanimously after 10, despite being a favorite to win. The same 'Sugar' Ray Robinson dropped a decision to an opponent most would say was nowhere near his class who had entered the ring on a 5 fight losing streak (Ralph Jones). This loss came at the young age of 33. Robinson's final 10 opponents were 261-182 overall. Hardly an A-team of opposition. He was 5-4-1 during that stretch. Floyd Mayweather's final 10 opponents were 435-57. Six of which were both former Champions and eventual Hall of Famer's.
Mayweather concluded that stretch 10-0 with the same statistical domination that mirrored his first 40 pro fights. Critics will take a stab at his low KO ratio. Most would take note of it, yet fail to consider the many battles won with extremely brittle hands, or the fact that the last opponent he faced with a losing record came in his 11th pro fight (October of '97). Beyond that, there was only one opponent with double-digit losses in his final 40 fights, and that was the awkward and very difficult Emmanuel "Drunken Master" Augustus.
Just like we saw the once flawless KO record of the lightweight version of Duran diminish against greater competition, and just like we see the power of today's Gennady G. Golovkin diminish against greater opposition; we have to acknowledge that there won't be many KO's for a brittle handed fighter who's opponents own a collective 1318-318-42 all-time. Let the records reflect that this is 136 fewer losses than the final 10 opponents (alone) on Robinson's resume (182).
To amass over a billion dollars while living in Sin City, yet remain disciplined enough to stay in shape and prepared at all times is a mark of excellence that few are capable of pulling off. Similar to his dominance in the ring, his discipline outside of it had nothing to do with muscles, speed, or style. It was his intelligence. That same intelligence helped him avoid situations that could have compromised his legacy inside of the ring. On the strength of these merits, love him or hate him, he ABSOLUTELY has a place in the discussion. My opinion? 'TBE' sounds good to me…..
(Vivek "Vito" Wallace can be reached at 954.770.9807 or Wallace@eastsideboxing.com. Find his work here on Boxing247.com, or follow him on Facebook)