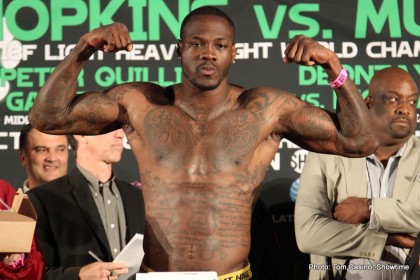 U.S. Olympic Bronze Medalist Deontay Wilder (29-0, 29 KOs) has been completely written off by some and praised as if he is the new Muhammad Ali by others, as you might know, this weekend he is scheduled to fight yet another out matched opponent, Nicolai Firtha (21-10, 8 KOs). Considering that this is his 30th fight and he still hasn't fought anyone of significance, it is easy to remain skeptical. There are many reasons why he could be a hype job and many reasons why he might not be. Whatever side you are on, here are some things to consider.
First of all, the question why Deontay wilder hasn't gotten any fights against tough opposition may not be as black and white as people think. It seems as though major consensus is that his promoters simply don't want him to fight anyone of skill, in fear that he will loose and no longer produce cash, but it is also entirely possible that fighters who are trying to work towards a title shot do not want to risk fighting him. Deontay Wilder is ranked very high for having a resume with as little good opponents as his and it might help other fighters' records to beat him. But the problem is that nobody really knows how good Deontay is. If you were Chris Arreola's manager you might not want to risk your fighter getting knocked out by a guy who turns out to be a lot better than we can tell so far. For all we know, Deontay's lack of good fights could be a mixture of these things.
Why he may be a hype job:
While a contender is rising through the ranks it is good to see that they can do multiple things well in the ring, an example of this is Tyson Fury who has shown inside and outside skills even if some of his fights haven't been pretty. The problem with Deontay wilder is it seems like he is a one trick pony and that trick is his right hand. So what would happen if Wilder is in with someone who can avoid his right hand? What if Wilder is in with someone who is durable and has head movement? Wilder has never been past four rounds and we have yet to see if he can keep up work for an entire 10 or 12 round fight. I can't imagine Wilder would know what to do when a decent fighter gets on the inside with him. Not to mention, he has been dropped before by less than stellar opposition. People often talk about Wilder as a young and hungry, but he is already twenty eight. If he is to make a move he needs to do it soon and by whatever means possible.
Why he might not be a hype job:
Aside from his obvious power, one undeniable advantage Deontay has is his size. He is the size of a modern heavyweight at 6'7" with an 84 inch reach. If he were to fight a Klitschko he wouldn't have to be punching up. This size coupled with his trainer can turn out to be a very good thing. Deontay is trained by Olympic gold medalist and two time world champion, Mark Breland. Breland has been is Wilder's corner since he turned professional which is a sign of stability in his camp. Just like Wilder, Mark Breland was a tall fighter as a 6'2" welterweight and used his size and reach to keep opponents at bay to set up straight punches. If he can really hone Wilder's outside skills, the big man for Tuscaloosa could give many heavyweights trouble.
Deontay has also been in two world class training camps. He became the chief sparring partner for Wladimir Klitschko in preparation for the Marius Wach fight. Afterwards, Wlad praised Deontay for his speed. More recently, Deontay sparred with David Haye to help him prepare for his fight with Tyson Fury (which has been postponed till February 8th). One would assume that Wilder picked up on a lot of skills and techniques at these camps which will help his preparation for fights in the future.
While Americas up and coming KO sensation is surrounded by question marks, I believe there is enough on both sides of the argument that he should not be written off, but he should not be praised yet either. We will just have to wait and see.