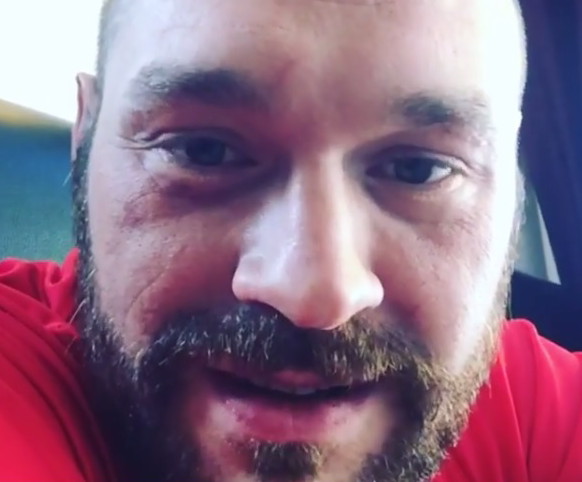 Anthony Joshua and Tyson Fury have been going back and forth on social media, engaging a war of words ahead of, we hope, a super fight between the two giants. Both men are unbeaten, talented and have a genuine claim to being the best heavyweight in the world – and it is their respective wins over Wladimir Klitschko that give both AJ and "The Gypsy King" the right to claim their dominance over the division.
The latest verbal attack launched by Joshua came earlier today, when he told Sky Sports that Fury's November 2015 win over Klitschko was "boring," and that fans will easily remember his April 2017 victory over Klitschko more so than they will his rival's win when they look back in years to come.
In terms of sheer excitement, Joshua is right: his fight with Klitschko was a modern day classic, full of knockdowns, switching momentums and a stunning finish. Fury by comparison, boxed, feinted, messed and moved against Klitschko, picking up a surprise decision win. But exciting wins do not always equal more impressive wins. As Fury is sure to point out if he hasn't already, Joshua went through hell to beat Klitschko, he was on the verge of being stopped a couple of times and of course he had to get off the floor to win.
Fury? He barely had a bruise on his face after his surprisingly effective boxing masterpiece. And of course, Fury defeated a younger, fresher Klitschko who was enjoying an 11-year reign of dominance at the time (last losing way, way back in 2004).
After all is said and done, it doesn't really matter who scored the more impressive win over Klitschko, at least it will not mean anything when Fury and Joshua face each other in the ring (if they actually do). Joshua probably knows this himself and his latest dig at Fury is merely another slice of mind games – perhaps Joshua hopes to rattle Fury, and force him to deviate from his clever boxing approach in an effort to be "more exciting?"
The talking has already gone on long enough between these two British big men: Deontay Wilder aside, there is no fighter other than each other that Joshua and Fury need to face!