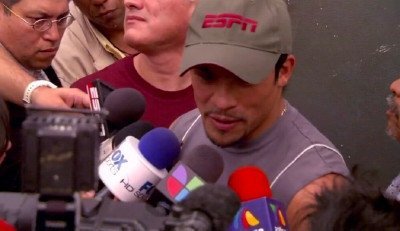 By Emilio Camacho, Esq. Mexico has an impressive imprint in boxing history. The current most dominant Mexican boxer is Juan Manuel Marquez. Several of you have emailed me asking where does Marquez stand in history.
Experts will argue that Julio Cesar Chavez Sr. and Salvador Sanchez rank above Marquez. This is not hard to justify. In addition, I believe that Ricardo "Finito" Lopez should be ranked above Marquez. Lopez was the most dominant force in Mexican boxing and retired undefeated. However, Chavez and Sanchez arguably had the better opposition.
What is important to think about is not how Marquez ranks in all-time Mexican boxing history but rather how he ranks in his own era. This is because there are two other fighters, Marco Antonio Barrera and Erik Morales, who dominated that era for a long time, and actually overshadowed Marquez for many years while all three had active boxing careers. This is significant because it is rare to have great talent at the same time, though it has certainly happened before (Ali, Frazier, Foreman as well as Leonard, Duran, and Hagler are some examples).
The history of these three is very interesting. First, Barrera was at the top, until he encountered Junior Jones (losing twice). Morales knocked out Jones in the 4th round and this meant that Morales was now on top. Subsequently, Morales and Barrera fought what I consider the greatest boxing match I have seen. Although Morales won, many believed that Barrera deserved the decision. Hence, Barrera was at least tied with Morales at this point. This is where things get interesting.
In 2001, another boxer was terrorizing the neighborhood. His name was Naseem Hamed (check out some of his clips if you have never seen him). He was flashy and devastating with a record of 35 wins, no losses, and 31 KOs. Barrera schooled him over 12 rounds. At this point, arguably, Barrera was back on top. Then there came a rematch between Morales and Barrera. This time, ironically, although Barrera won, many believed that Morales deserved the decision. Here again, Morales was at least tied with Barrera, again. This is where things get even more interesting.
In 2003, Barrera faced unknown Filipino Manny Pacquiao who was fighting at featherweight for the first time. In that fight, Pacquiao defeated Barrera by knockout (something never seen before and Barrera would never be the same). This is where we get to Marquez. Six months after Pacquiao defeated Barrera, Marquez fought Pacquiao and got knocked down three times in the first round (big props to the referee for not stopping the fight—I have seen worst stoppages— because it would have changed history). In the end, Marquez and Pacquiao fought to a draw and Marquez's controversial history with the Filipino was born. Here, Marquez was now on top for his gutsy performance against Pacquiao. Then, you guessed it, things got interesting again.
In 2005, Morales decided to take on Pacquiao and he defeated the Filipino star in a courageous unanimous decision (unfortunately, this would be Morales' last moment of greatness). Here, again, Morales was back on top. However, less than a year later, in a rematch, Pacquiao knocked out Morales in the 10th round. Just 10 months later, in a third match, Morales decided to remain on the canvas after being knocked down in the 3rd round and Pacquiao defeated him again, this time worse than before. Therefore, in theory, Marquez remained on top as he was the only one of these great Mexican fighters to have survived the Filipino assault.
In 2007 Pacquiao and Barrera fought a rematch, which Pacquiao easily won by decision. Marquez remained on top.
In 2008, almost 4 years later, Marquez and Pacquiao finally met again. In a very close fight, Pacquiao edged a razor-thin split decision. What made the biggest difference was a single knockdown that Marquez suffered during the fight (take away the knockdown and Marquez would have won). Yet, once again, many Marquez fans argued that Marquez should have won that fight. In this way, Marquez survived and competed with Pacquiao when Barrera and Morales could not.
In 2011, once again, Marquez and Pacquiao met another time. Since their second fight, Pacquiao had devastated decent competition (De La Hoya, Cotto, Hatton, Mosley, Margarito). The timing and quality of Pacquiao's the competition is a matter of debate and beyond the scope of this article. What is important to note is that no one could have anticipated Pacquiao to take on all of those guys and beat them in the way in which he did back when he was fighting Morales and Marquez. Because Pacquiao was hot, many people believed that he would destroy Marquez in a third fight (though some experts disagreed). In the end, Marquez gave his most solid performance against Pacquiao and his fans were outraged when the Pacquiao was declared the winner in their third match.
It is too bad that Marquez did not fight Morales and Barrera at the top of their game. Although he won a fight against Barrera in 2007, Barrera was past his best years. Nevertheless, besides Pacquiao, Marquez has fought many other good fighters and defeated almost all of them (Michale Katsidis, Juan Diaz, Joel Casamayor, Rocky Juarez, Orlando Salido, Chris John, and Floyd Mayweather).
In the end, Marquez is the best Mexican boxer of his era because of Manny Pacquiao. It is precisely his legacy as the best of his era that drove him to seek the Filipino for a fourth time. Is this a good idea? (You can email your comments at boxingcamacho@gmail.com)