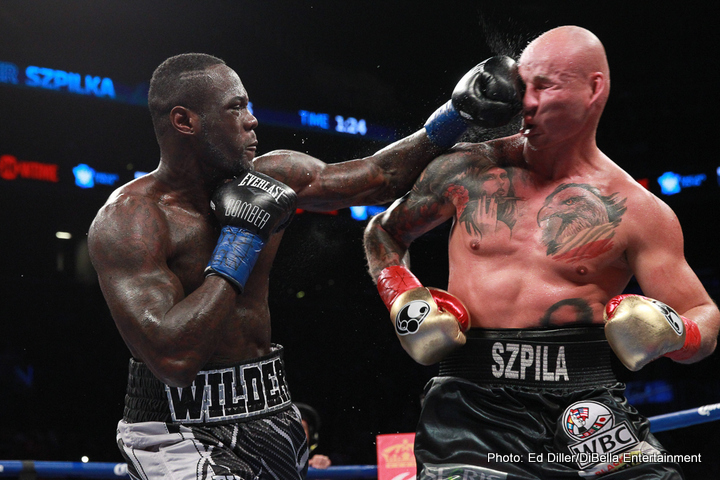 By John Hoolan: So with his proposed mandated fight against Povetkin falling through it now looks like Wilder will return to type and have an "easy" defence. Current names in the frame are Chris Arreola (third time lucky at the heavyweight belt), Gerald Washington and even Antonio Tarver has now thrown his name into the hat. Whilst the pullout of Alexander Povetkin due to a positive test for a banned substance wasn't Wilder or his team's fault, he must surely fight a name, somebody that will push him? Povetkin would have been his toughest opponent, now we are left with nothingness…
Of the three fighters mentioned now, the oldest (Tarver) is likely to be the most resilient to Wilder, however he's not ranked by the WBC, so that looks like a possible non starter. Washington is ranked 15th by the WBC and Arreola will be top 15 again once his misdemeanor for a positive test for marijuana is expunged in the next rankings.
Of the current top 6 in the WBC, Povetkin (1) is waiting for the WBC to decide his fate after testing positive for a banned substance, Johann Duhaupas (3) has already had his shot and was KO'd in the 11th vs. Wilder in 2015, Bermane Stiverne (2) lost the title to Wilder on points (only time he's gone the distance) and Joseph Parker (6) has just beaten Carlos Takam (5) to become IBF heavyweight champion Anthony Joshua's mandatory. That leaves Kubrat Pulev (4), who has just come out on top against Dereck Chisora over 12 rounds to win on points.
Pulev poses too many questions for Wilder, awkward and able to take a punch, his only loss was to a dominant Wladimir Klitschko in 2014, where he was stopped in the 5th round, having given the champ some problems at times during that fight.
Instead of Pulev though we will see Wilder fight somebody who really doesn't excite the fans or pose much of a test (I know heavyweight boxing can only take one punch, however, come on…).
Are we EVER likely to see Wilder step it up? I very much doubt it and eventually most if not all of the boxing fans who watch him will see the same…
Bronze Bomber? I say more like Bronze Bottler, more Fraud Squad than Bomb Squad, I guess time will tell…