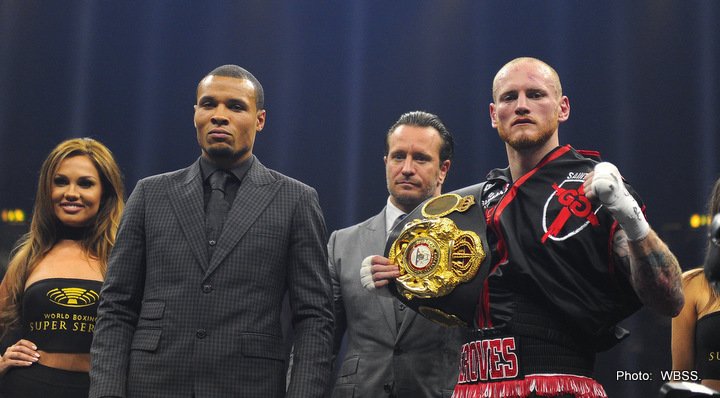 The two still ongoing World Boxing Super Series tournaments have been nothing but a glorious, great-for-the-sport success; of this fact there is surely no single dissenting voice. We fight fans have been spoiled with great fights, tremendous, best versus best action, and super-slick, gone without a hitch presentation.
In short the 168 pound tournament has been great (and could get even better over the coming months) and the 200 pound tournament has been even greater (and could well reach super-special status with the May 11 grand finale). What do we want now, what do we need? More WBSS tournaments; fought over other weight divisions, that's what.
If the cruiserweights and the super-middleweights can do it, then why can't eight good men and true operating at other weights do it? Imagine, for example, an eight-man WBSS taking place at welterweight; 147 arguably being the most talent-rich division in boxing today. Imagine top talent, Errol Spence, Keith Thurman, Jeff Horn, Terence Crawford, Shawn Porter, Adrien Broner, Manny Pacquiao and Danny Garcia taking part in such a classy tournament.
Some fans will groan how such a thing will never happen, that elite fighters like Crawford and Thurman will never take part in such a high risk event. But again, if elite names from two other weight classes can do it, then why not any and every other weight division? Tournaments such as the WBSS are the "way to go," so say a good number of boxing experts, and as great and as satisfying (no ducking and dodging permitted) and as much sheer fun as the two still ongoing tournaments have been, then the future could, indeed should, see more of them.
A heavyweight WBSS would of course be the ultimate, such is the sheer glamour of the division. Imagine the likes of Deontay Wilder, Tyson Fury (I bet he'd be up for it, and in a big way!), Anthony Joshua, Joseph Parker, Dillian Whyte, Jarrell Miller, Lucas Browne and Luis Ortiz all rumbling with the Muhammad Ali Trophy, along with millions of dollars, on the line.
Again, why not!? The best fighting the best should not be a rarity in boxing, it should be the norm. Just like it used to be back in the glory days of the sport. Glory days the WBSS has managed to bring back, at least partially.
(Note: in something of a similar tourey, albeit one that will take place over one night; similar to the now defunct "PrizeFighter" event, Ricky Hatton, along with Paulie Malignaggi, will launch 'Ultimate Boxxer' in Manchester in April – the one-night tourney featuring eight unbeaten boxers)