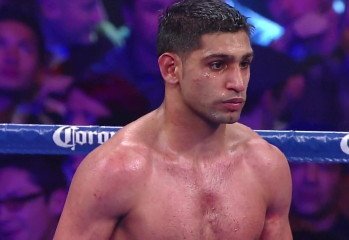 WBA super middleweight champion Andre Ward has gotten the chance to see Amir Khan (28-3, 19 KO's) up close now that he's training in the same gym as him in Oakland, California with trainer Virgil Hunter, and Ward likes what he seems. He feels that Khan is throwing with more power than he did previously now that he's with Hunter, and he thinks he could give anyone in boxing a tough time. Ward didn't touch on the subject of Khan fighting Mayweather, but obviously he includes him when he says Khan would give anyone trouble.
"He's [Khan] awkward and hits harder than guys realize," Ward said to Hustleboss. "He has an awkward style and it works for him. It's effective. Just the awkwardness, the speed and the pop that he has. I think that would give anyone trouble on any given night."
This is interesting because Khan has a decent chance of getting the fight against Mayweather Jr. on May 3rd. If Ward is right about Khan giving anyone troubles in the sport, then that means that Mayweather could be in for a tough time against him.
It's hard to imagine Khan punching harder than he did before, but it's definitely possible because he's put on weight in moving up to welterweight. He's filled out more and that could be showing itself in his punching power. If Khan hasn't lost anything with his hand speed then he could be a really tough fight for Mayweather, as long Khan fights with more intelligence than he has in his recent fights against Danny Garcia and Julio Diaz. Khan didn't look like he fighting with ring smarts in either of those fights. But with Virgil Hunter having worked with Khan for more than a year, he should be fighting with more cautiousness and with more of a plan than before.
Mayweather will likely be making his announcement for his next fight in a week or two. Hes probably not going to wait until March to announce his May 3rd fight because that would leave only 2 months to build up for it.