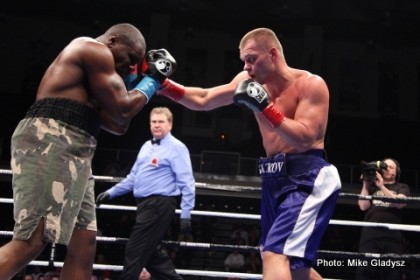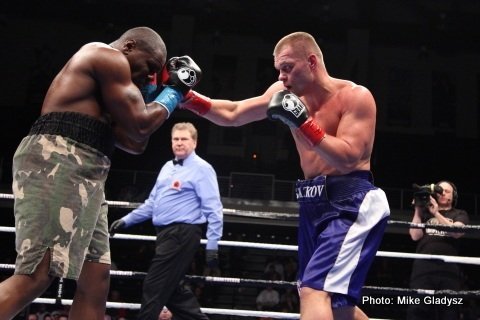 Vyacheslav Glazkov (16-0, 11 KO's) defeated the shorter replacement opponent Garrett Wilson (13-7-1, 6 KO's) by a 10 round unanimous decision that was a little more competitive than the scores suggested on Saturday at the Turning Stone Resort & Casino, in Verona, New York, USA. Wilson, a cruiserweight that was picked out to replace heavyweight Tomasz Adamek, seemed to energize the Verona crowd with huge heart in trying to win against a much bigger fighter than him in Glazkov. The judges scored the fight 97-93, 98-92, 99-91.
The 6'3″ Glazkov looked huge in the ring against the 5'9″ Wilson, and it seemed incredibly strange to have two fighters so different from each other fighting on national television in the U.S. Wilson gave it his all, but it's too bad that Main Events couldn't find an actual heavyweight for Glazkov to fight instead of a short cruiserweight.
Glazkov landed a lot of punches but his power just wasn't there to hurt Wilson. If anything, it was Wilson that appeared to stun Glazkov with a huge leaping left hook in the 2nd half of the fight that got his attention.
It was a meaningless fight for Glazkov because he didn't prove anything other than he can beat a 2nd tier cruiserweight. We're not even taking about a top tier cruiserweight. If it had been a top cruiserweight like Marco Huck, I have a feeling that Glazkov would have lost badly because he did not look impressive tonight at all against a guy that he should have impressed against. Glazkov is going to have to develop some power if he wants to go anywhere in the heavyweight division because he doesn't look strong enough right now to be competitive with the top fighters in the division.
***
Other action on the card:
Karl Dargan US 10 Michael Brooks
Isaac Chilemba UD 8 Michael Gbenga
Sevdail Sherifi draw 6 Quantis Graves
Andy Mejias MD 4 Latif Mundy