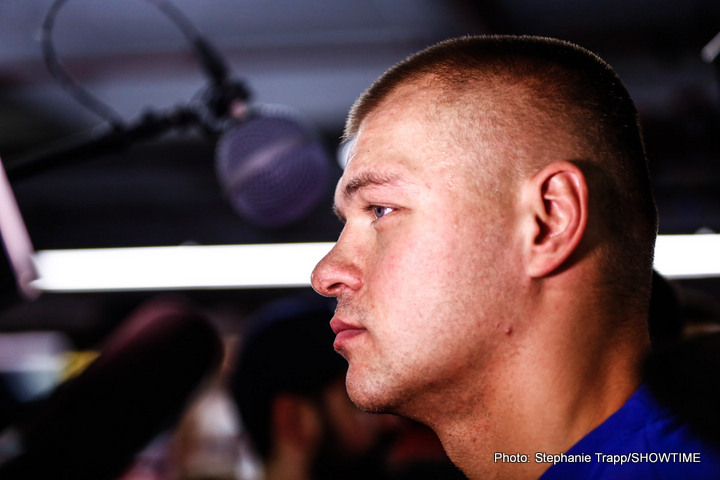 Share the post "Vyacheslav "Czar" Glazkov with big test against Charles Martin"
Brooklyn, NY: As undefeated heavyweight Vyacheslav "Czar" Glazkov (21-0-1, 13 KOs) prepares to face southpaw Charles Martin (22-0-1, 20 KOs) at the Barclays Center on Saturday for the vacant IBF Heavyweight World Title, the 2008 Olympic bronze medalist is feeling no pressure because he has already competed on the sporting world's biggest stage in Beijing.
The 31-year old from Lugansk, Ukraine received the bronze medal in Beijing after an injury forced him to pull out of his fight against Zhang Zhilei, whom Czar had defeated the year before in the World Amateur Championships. When asked which was more stressful for him, the Olympics or his upcoming title fight, Czar replied, "It is the same. The Olympics is a big competition. The title fight is a big fight. Finally. I feel good. I am not nervous. This is just fight. I am prepared. Yeah, it is title fight but just another fight. All is good."
For this Saturday's fight, Czar returned to his former trainer, Eduard Mienchakov. The two reunited when Czar knocked out Kertson Manswell in the fourth round in Krasnodar, Russia in August. Previously, they had worked together for many fights including his upset of former IBF Cruiserweight World Champion, Tomasz Adamek, in an IBF Heavyweight Eliminator in 2014. According to Glazkov, "I am back with my trainer, Eduard Mienchakov. We train many years in a row. We have good work together as a pro."
The purse bid for this fight was held on Dec. 18, less than a month before the date of the fight. When asked about the impact of a shortened training camp had on his preparations for this fight Czar said, "Not short. I train every day, every time. I am ready. We start training two months ago. This camp I have two months. It is no problem. All is good. I feel comfortable."
Glazkov and Mienchakov trained in Brooklyn for this fight at the Underground Boxing Gym in Sheepshead Bay. There is a strong Russian and Ukrainian community in Brooklyn and Czar is excited to fight at the Barclays Center. He hopes for strong crowd support from the community. He said, "Brooklyn is a big Russian and Ukrainian community. Many of my fans live here in Brooklyn. I hope many fans come to my fight. This is a good area for training. I have been training here for the last month. I am sparring here. I have good sparring partners. We have a good gym and all is good."
Share the post "Vyacheslav "Czar" Glazkov with big test against Charles Martin"