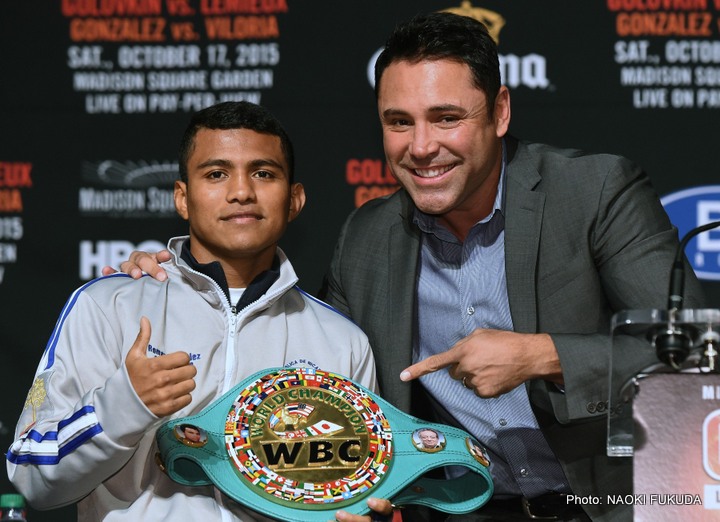 On the undercard of Saturday's eagerly anticipated Golovkin/Lemieux middleweight unification fight, veteran flyweight and former 2 division titlist, Brian Viloria, faces the prospect of dethroning one of the sports best P4P fighters in the undefeated Roman 'Chocalatito' Gonzalez, and claims he is more than ready to turn the spotlight firmly on the 'little guys' with his performance.
"You are going to see two warriors go at it. It is going to epitomize what boxing is. It is a great time to be in the lighter weight divisions," the 34 year old said. "They took a leap of faith with us and we are not going to disappoint, I promise."
"I have fought at swap meets and parking lots, and to be at a place like Madison Square Garden on HBO Pay-Per-View, this is a dream come true for me," Viloria said. "I want to do the best I can do to make this fight entertaining for all the fans."
Viloria has won four on the spin since a SD loss to Juan Francisco Estrada that cost him his WBA and WBO super-fly belts, although though fights were admittedly against lower-tier opposition. Despite this the opportunity to square off against the exciting Nicaraguan on such a massive stage, so late in his 14 year pro career, is spurring him on more than ever.
"I have been preparing myself very, very hard for this fight. I have never been this focused compared to any fight I have had in the past," he said. "This training camp is one of my best training camps, only because I know the type of challenge I am going to be facing. I am facing the No. 1 pound-for pound fighter in the world — the best fighter in the world — and I do not want to leave any stone unturned going into this fight.
"People have been missing out on some great fights in the lower weight divisions for a long time now. Thank you to everyone who is giving me this opportunity to showcase to the world what they have been missing out on," he added.
Twitter @Undilutedpoison