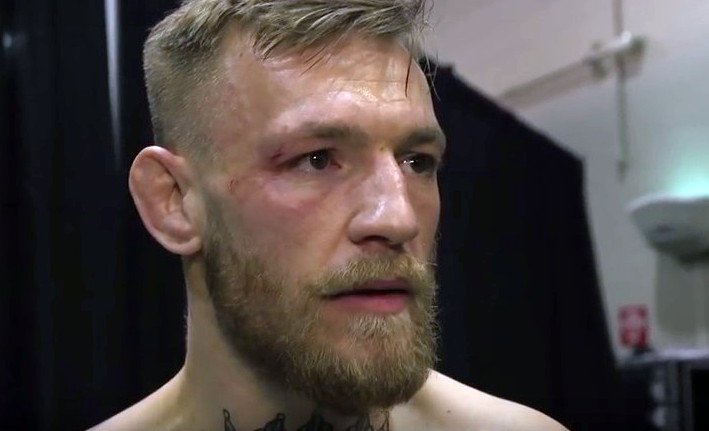 Conor McGregor is either doing a great job of selling his "super-fight" with Floyd Mayweather, or he genuinely believes he is going to win if and when the two titans clash later this year – maybe it's a bit of both.
For last night in New York, after he had walked fellow Irishman Michael Conlan to the ring for the 2016 Olympian's pro debut in Madison Square Garden, McGregor let loose with a torrent of confidence/arrogance/bombast. Speaking with reporters at ringside, the MMA star said that he is "The boxing guy," and that, "No-one in this boxing game knows what's coming."
What's coming? According to McGregor, a sight nobody in boxing ever thought they'd see: Floyd "Money" Mayweather being knocked out/stopped in a boxing match.
"I'm going to stop Floyd and you're all going to eat your words," McGregor vowed, adding that the fight is "close" to being signed. "No-one in this boxing game knows what's coming. I'm the boxing guy. Watch me take over boxing. Trust me on that. I'm 28 years of age, and I'm long, rangy, confident as a m*******r, dangerous with either hand."
If this fight does get signed and sealed (and it's looking more and more likely all the time; as even UFC President Dana White recently said, he "doesn't see how it doesn't happen"), we will of course all watch it. But what exactly will we see? From the standpoint of many people, we will see Mayweather put on yet another boxing master class as he thoroughly, even easily, outboxes the man who may be 12 years his junior but has never boxed before.
https://www.youtube.com/watch?v=tVooSnOuQdY
How many rounds will the bout be scheduled for? Will it be classed as a real fight or will it be an exhibition? We may well get our answers soon; the talking dates for the showdown now being June and September. It would of course be one almighty shock if McGregor did somehow manage to tag Mayweather – who will be a few months into his forties and inactive for almost two years come fight night – with a monster shot and took him out.
https://www.youtube.com/watch?v=iFoNFq4ffek
This is just what McGregor says will happen, as he continues to either sell or truly believe.