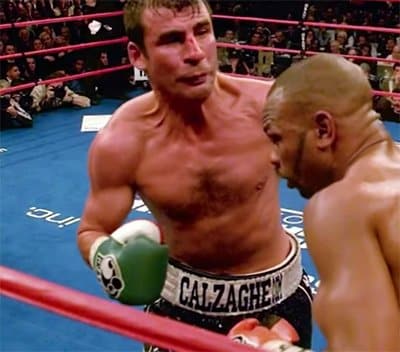 Inspired by the recent top-10 greatest living fighters poll by Ring Magazine, veteran British boxing writer Colin Hart has produced his picks for the ten greatest living British fighters (note: 'living' fighters, not all-time greats). With some six decades of covering boxing under his belt and the huge amount of knowledge that has been picked up along the way, the 80-something Hart is probably one of the most qualified writers to come up with such a list.
Still, as Hart himself wrote in his piece in UK tabloid The Sun, there are sure to be plenty of people who disagree with his top-10.
Here it is:
1: Joe Calzaghe
2: Ken Buchanan
3: John Conteh
4: Lloyd Honeyghan
5: Lennox Lewis
6: Nigel Benn
7: Carl Froch
8: Naseem Hamed
9: Ricky Hatton
10: Barry McGuigan
So let the debate begin.
Calzaghe, who retired with a perfect unbeaten record of 46-0 is a good pick for the top spot (even if, and for what it's worth, I would place heavyweight great Lennox Lewis at the top of such a list) and it's likely not too many fans will have a problem here. But where is Chris Eubank on Hart's list? If Benn is there, surely his arch-rival, his equal even, should be there as well?
Should welterweight great John H. Stracey be on the list? How about Carl Frampton (or is it a little too early for Frampton to be considered?) Some fans might have expected Hart to put the likes of Duke McKenzie in there, and maybe the enormously popular Frank Bruno.
But as Hart says, making such a list is a hard, even soul-searching task. And no way can you please everyone.
Here's what Hart – who covered the greats including Muhammad Ali, Sugar Ray Leonard, George Foreman, Mike Tyson and many others – had to write about his number-one pick, Calzaghe:
"Joe retired after a sensational 15 year career having won every one of his 46 fights and holding the world super-middleweight title for a record-breaking ten years. His victims included superstars like Bernard Hopkins and Roy Jones Jnr. But when Calzaghe beat Jeff Lacy it was the night he reached a boxing Everest. He dismantled Lacy, a world class opponent, with such a masterful display of box-fighting, the American, psychologically never recovered."
True enough. If only Calzaghe was fighting today. Would Joe have beaten the likes of Andre Ward and Gennady Golovkin? Now there's a tantalising question!