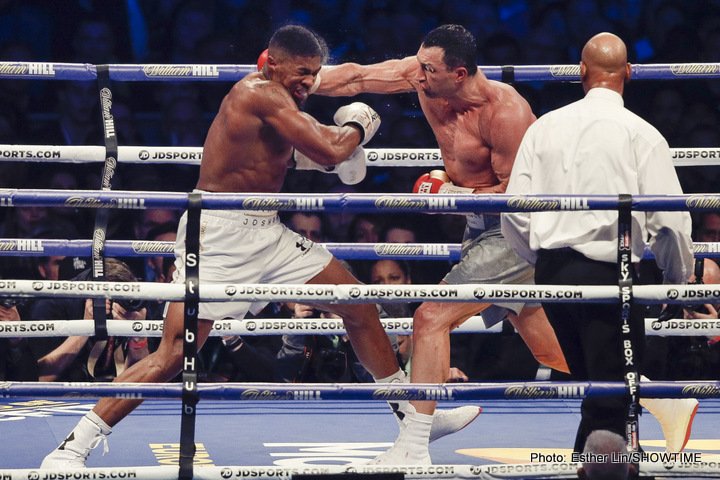 We are almost two-and-a-half months removed from the first fight between heavyweights Anthony Joshua and Wladimir Klitschko, yet we still don't know if there will be a rematch, and if so where it will be held.
Okay, in today's boxing world, where the big-name heavies fight on average twice a year, two-and-a-half months is not very long at all, but Klitschko did say, shortly after his exciting stoppage loss to Joshua, that he would make a decision on his future by the end of June. We are now approaching mid-July and we still don't know if the 41 year old future Hall of Famer will box again.
There have been reports that the rematch of the best world heavyweight title fight in some time may take place in Las Vegas, Nigeria or the UK. AJ promoter Eddie Hearn said recently how he is optimistic Klitschko will want the rematch, but only if the fight is a "huge event," as the first fight was. Hearn added how he doesn't think Klitschko wants to fight in the UK again, stating how "Dr. Steel Hammer" will, in his opinion, be tempted by the massive fight going down in Las Vegas.
According to a report in yesterday's Independent, Hearn is currently in Vegas, in "secret talks," and looking at possible venues along The Strip – Joshua is also expected to fly out to Vegas. So, once again, it appears as though Las Vegas is the frontrunner to play host to Joshua-Klitschko II.
But where, ideally, should the rematch be held?
Bringing back the big heavyweight excitement Vegas used to enjoy would be great; with Sin City hosting its first heavyweight extravaganza since the days of Holyfield-Tyson. But what about an African Adventure, similar to Muhammad Ali and George Foreman's unforgettable Rumble in The Jungle? Would a massive event of a fight in Nigeria excite the fans and give the sport another boost?
Or, despite his reluctance to want to box in the UK again, would Joshua-Klitschko II once again rock Wembley, making it another spectacular for London – with around 90,000 paying fans once again in attendance?
Of the three most likely locations for the rematch, where would you prefer to see the sequel take place? There really is something about Las Vegas; maybe that's why Hearn and co are there right now.
Joshua would fulfil a dream by fighting in Vegas, while Klitschko, who has fought in Vegas before, has never boxed a genuine Super Fight there. The return would almost certainly sell out either The MGM Grand or The Mandalay Bay, while the sequel could even fill The T-Mobile Arena.
Let's hope the heavyweight magic we last saw in the 1990s returns to where it belongs.