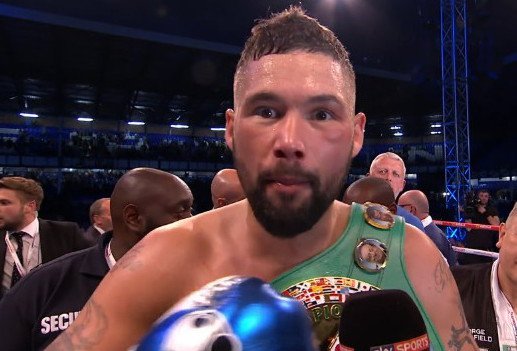 As fans may have read, it is now official how WBC cruiserweight champion Tony Bellew will make his first defence against long-time contender B.J Flores. Promoter Eddie Hearn is promising a "huge card" for Bellew's hometown of Liverpool on October 15, with a number of supporting bouts to be announced in the coming says – with appearances by David Price and Rocky Fielding likely and a fight between Gary Sykes and Sean Dodd at lightweight already confirmed.
The Bellew-Flores fight promises to be lively, both before, during and after the actual bout. The two do not like each other, have been exchanging barbs on social media for a long time now and both the 30-year-old champion and the 37-year-old challenger are promising a KO victory. Bellew says he will "smash Flores to bits," while Flores has vowed to "school Bellew before I knock his ass clean out." The pre-fight hype we can look forward to at press conferences and the weigh-in promise more heated exchanges (let's just hope there is enough able security on board whenever the two vocal fighters share the same room).
Where the dislike comes from is not all that clear. Flores has been calling for a fight with Bellew for some time, even before "Bomber" ripped the vacant WBC belt from Ilunga Makabu back in May. Maybe Bellew does not like the way Flores is so cocksure he will beat him. There could be another reason for the dislike though: Flores' good friendship with David Haye. Haye is the man Bellew really wants to fight, even up at heavyweight, and Flores stands by his man in saying Haye would crush Bellew.
That intriguing fight – maybe another catch-weight fight – will go clean out of the window if Flores can score the upset (he will undoubtedly be the betting underdog in Liverpool, Bellew's fans sure to back their hero with cold hard cash) and take Bellew's belt a couple of months from now. Bellew, 27-2-1(17) looked great (barring that 1st-round knockdown he suffered) against the dangerous Makabu but is he really the best cruiserweight in the world as he claims to be the case? This first defence is no gimme for Bellew and the fight should tell us more about the Liverpool man's chances of achieving another of his goals: that of unifying the belts at 200-pounds.
Flores, 32-2-1(20) is always in great physical condition, he has never been stopped, he is coming off a fight he feels he won but was robbed of the interim WBA cruiserweight belt he fought for (against Beibut Shumenov last summer, Flores hammering out a stoppage win up at heavyweight since) and he knows this will almost certainly be his last shot at a major title. Flores WILL be dangerous is this fight and Bellew would be foolish to fail to recognise this. That said, Bellew showed venomous punching power against Makabu and he has proven he is a better fighter up at cruiser compared to as a light-heavyweight.
As long as Bellew can keep his cool (perhaps easier said than done) he has to be the pick to get the win; although the stoppage win he is predicting looks a tough ask. But this one could go either way. Whenever two men really do not like one another, a fight can prove brutal, intense and tactics can go out the same window as Bellew's fight with Haye will go if he loses in October. Then again, will this fight live up to the pre-fight hype/war of words?
This is a tough one to predict. Bellew on points? Bellew by commanding KO? Flores via shock KO? Flores on points? Take your pick. How interesting it would be to get David Haye's thoughts on this fight.