Former IBO super middleweight champion Chris Eubank Jr.  (33-3, 24 KOs) steamed his way to a tenth round knockout victory over Liam Smith (33-4-1, 20 KOs) in a rematch at 160 on Saturday night at the AO Arena in Manchester.
Eubank Jr. knocked Smith down in rounds four and ten. The fight was stopped in the tenth round after Eubank Jr. trapped Smith against the ropes and threw a flurry of punches. Virtually all of them missed, but the referee stopped it anyway, to Smith's surprise.
Eubank Jr. used frequent clinching to keep Smith's offense in check and controlled the action on the outside with jabs.
By the ninth, Smith looked exhausted and appeared to have a right ankle problem that was causing him issues. Eubank ran away with the fight, throwing a lot of shots but missing a lot.
After the fight was over, Eubank Jr. said he was ready for anybody. Interestingly, he called out Gennadiy Golovkin, who hasn't fought for twelve months, is coming off a loss and is no longer a world champion.
That was an odd call-out because it would have made more sense for Eubank Jr. to call out one of the midweight champions, but none of them would give him the big payday that GGG would.
Boxing247 will give live updates & results below of tonight's action on the card.
– In the chief support bout on the card, undated light welterweight fringe contender Adam Azim (9-0, 6 KOs) labored his way to a dull ten round unanimous decision over Aram Fanyan (22-2, 4 KOs). The scores were 98-92, 100-90 and 99-91.
Many of the rounds were close, with Fanyan fighting the 21-year-old Azim to a standstill. In the later rounds, Azim got the better of the action with his work rate. Neither fighter had much power.
If Azim is going to win a world title one day, he's going to need to increase his strength and improve his boxing skills because he would have a lot of problems with fighters like Teofimo Lopez, Gary Antuanne Russell, Regis Prograis, Richardson Hitchins, and Arnold Barboza Jr., to name just a few.
– Heavyweight bronze medalist Frazer Clarke (8-0, 6 KOs) stopped journeyman David Allen (25-6-2, 18 KOs) in the sixth round of a fight with numerous fouls from both fighters. Allen quit after the sixth round due to what is believed to be a jaw injury.
Clarke landed repeated low blows during the contest, resulting in two deductions in the sixth. The referee gave Clarke a huge break by not disqualifying him after he hit Allen with a third low blow in the sixth.
– Super middleweight Jack Cullen (22-4-1, 10 KOs) scored a highlight reel third round knockout of British and Commonwealth super middleweight champion Mark Heffron (29-3-1, 23 KOs). The tall 6'3″ Cullen landed a textbook version left hook that cleaned Heffron's clock, sending him down hard on the canvas.
Surprisingly, Heffron got up quickly, leaning momentarily against the ropes, took two steps, and fell. The referee immediately stopped the fight. The time of the stoppage was at 2:43 of the third.
– In an impressive performance, former female super featherweight champion Mikaela Mayer (19-1, 5 KOs) pounded her way to a ten-round decision win over Silvia Bortot (11-3, 3 KOs) in a contest at light welterweight. Steve Gray scored it 100-90.
– Welterweight Florian Marku (13-0-1, 8 KOs) stopped Dylan Moran (18-2, 8 KOs) in a speedy first round knockout. The heavy-handed Marku was pounding Moran with huge shots without much coming back. Referee Mark Lyson stepped in and waved it off at 0:54 of the round when he saw that Moran was in distress.
– Unbeaten female welterweight Lauren Price (5-0, 1 KO) beat Lolita Muzeya (18-2, 10 KOs) by a sixth round technical decision. Muzeya, 32, was down in the fifth and suffered a cut over her left eye from a head clash. The bout was stopped at 0:24 of the sixth.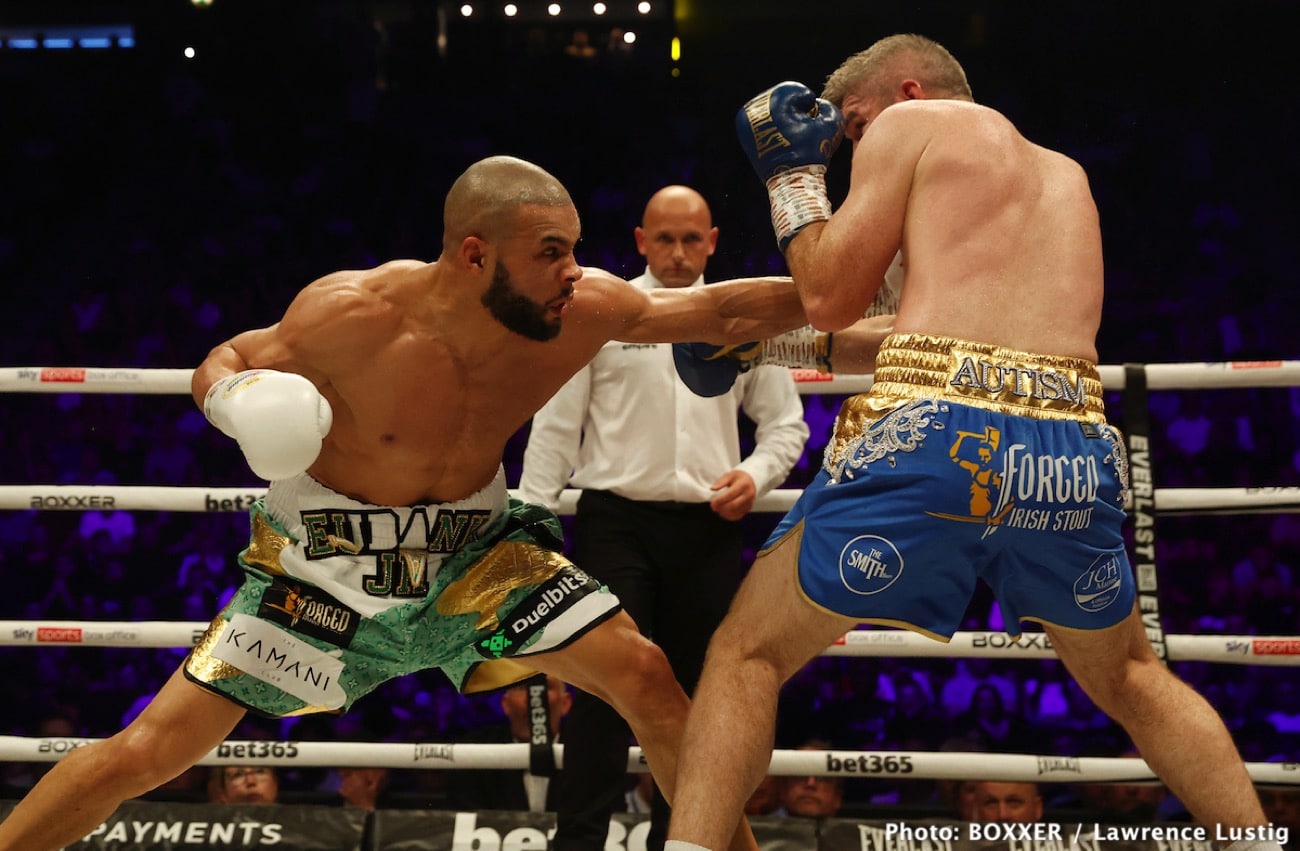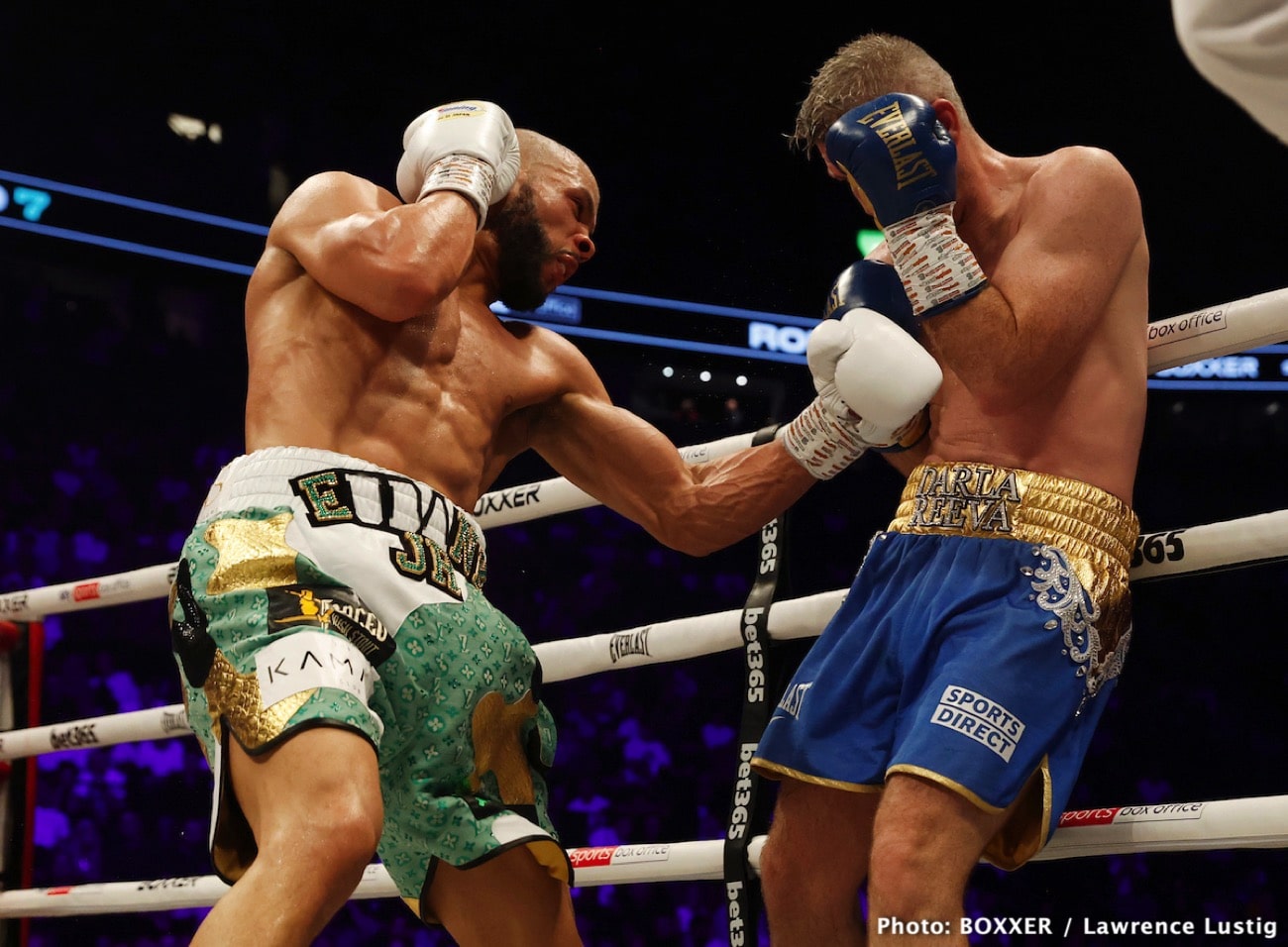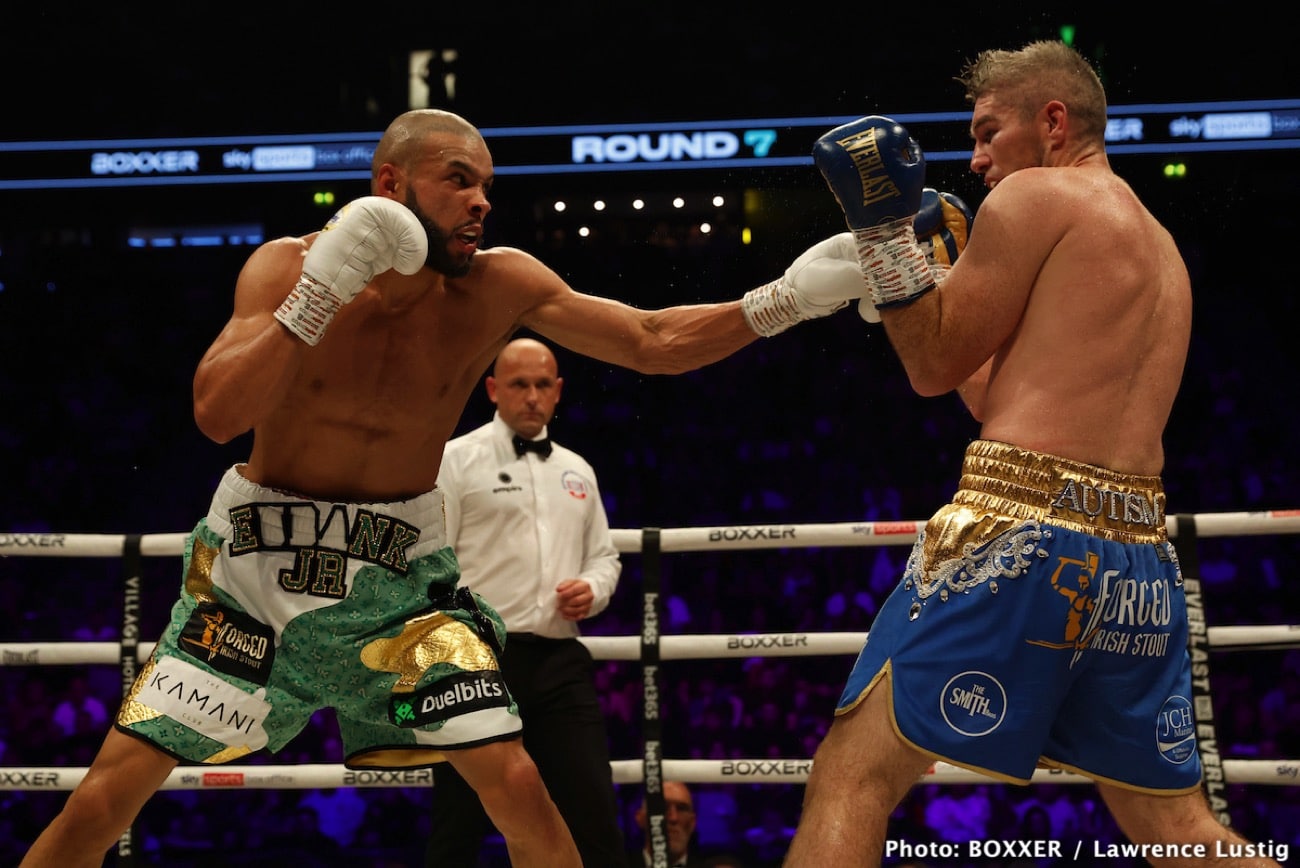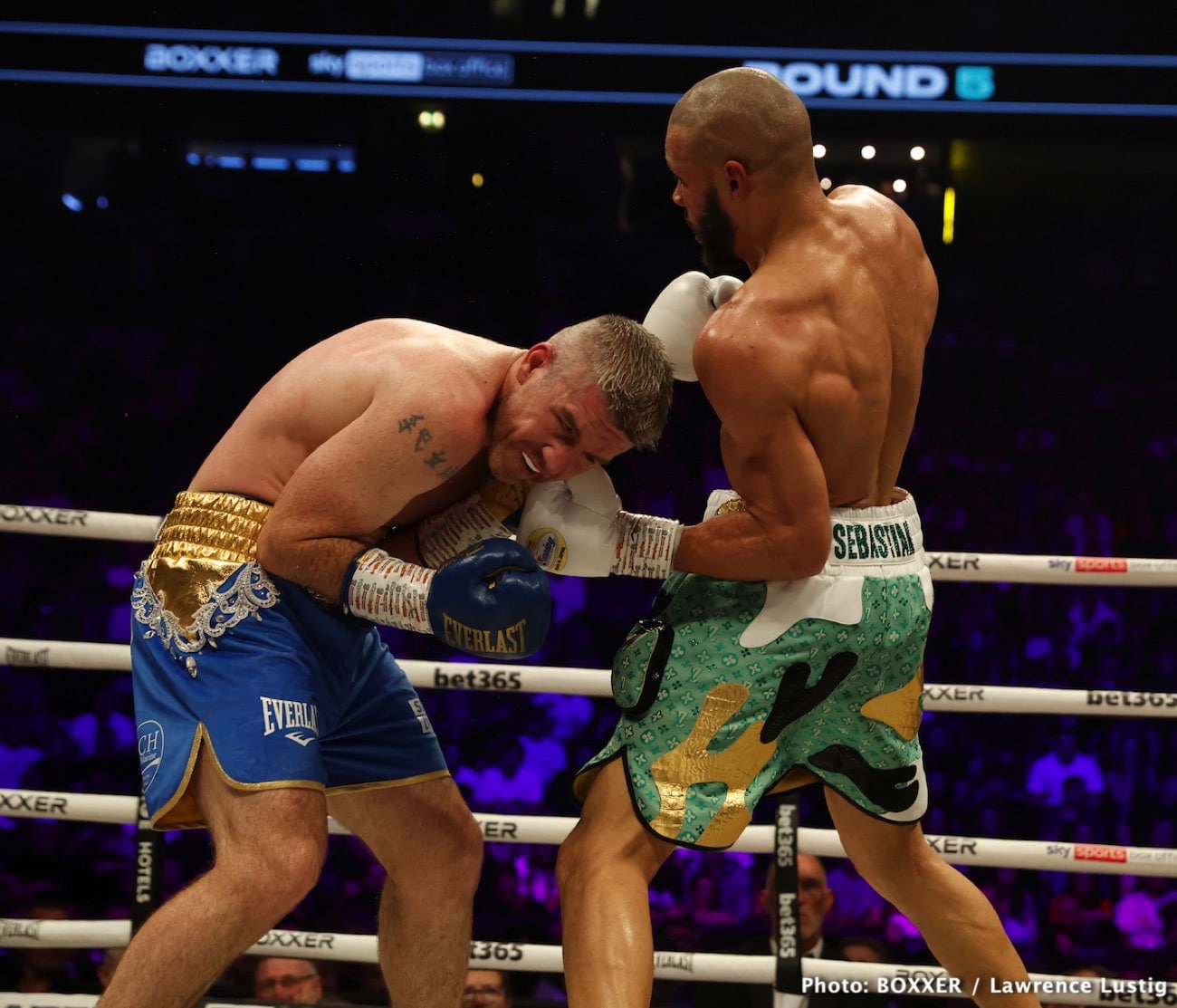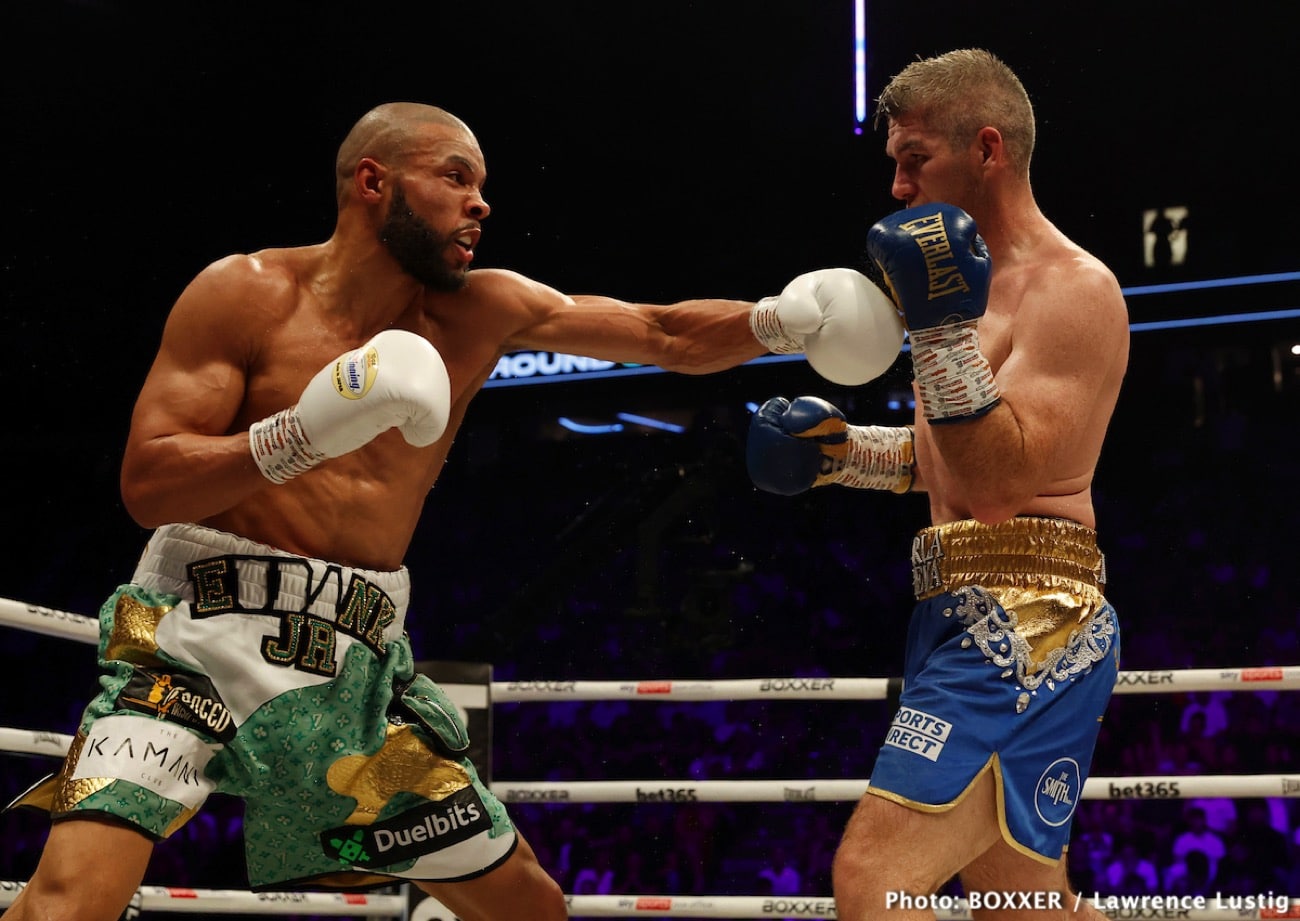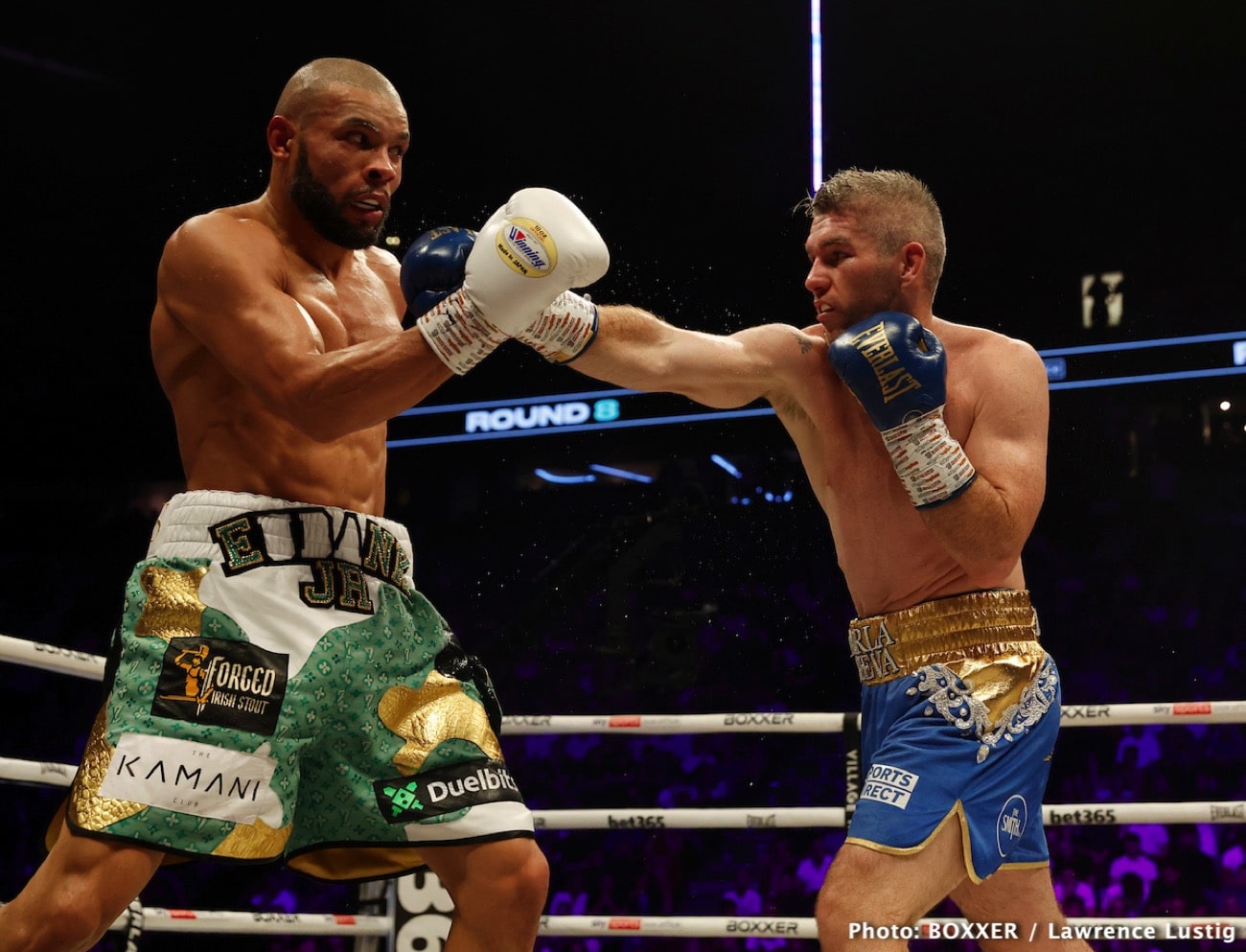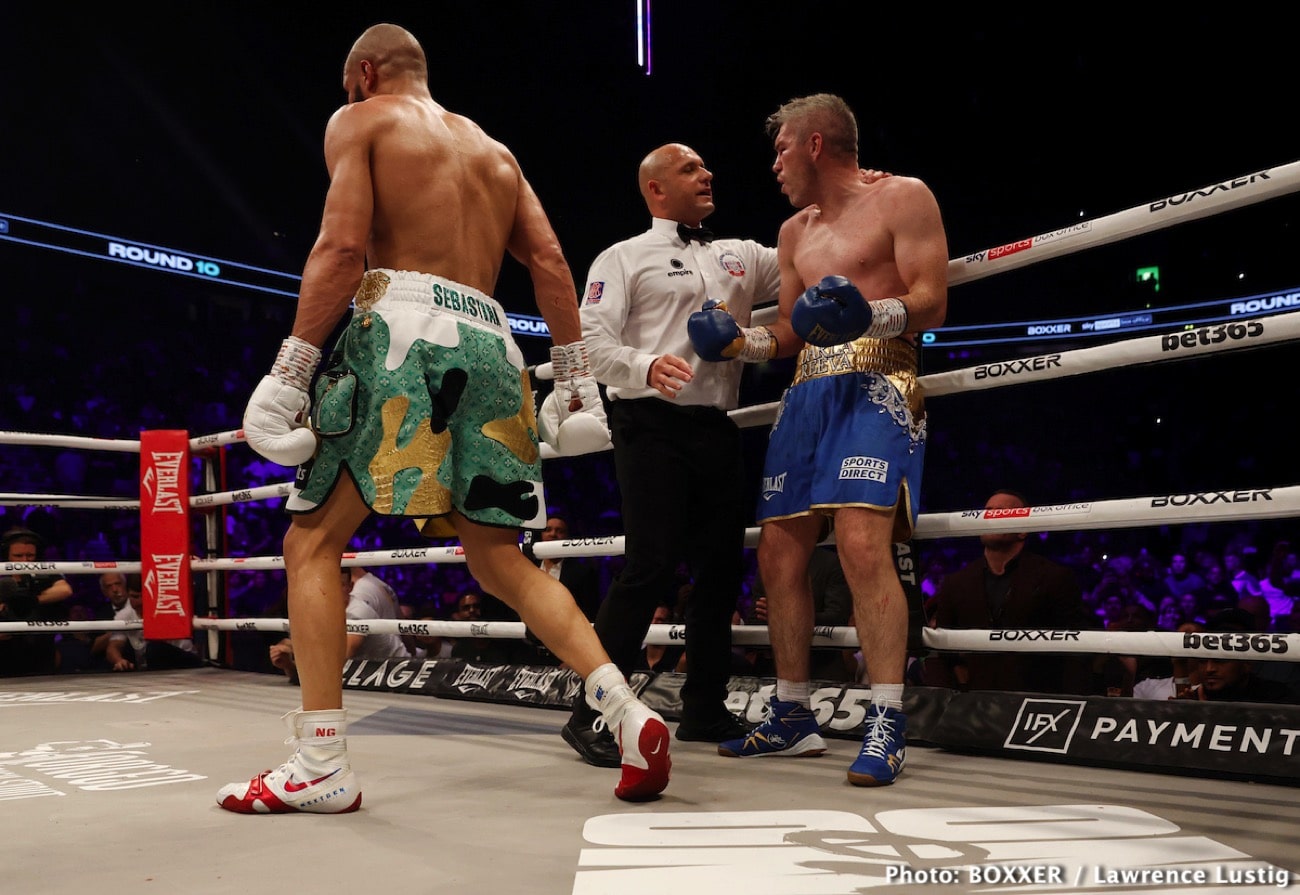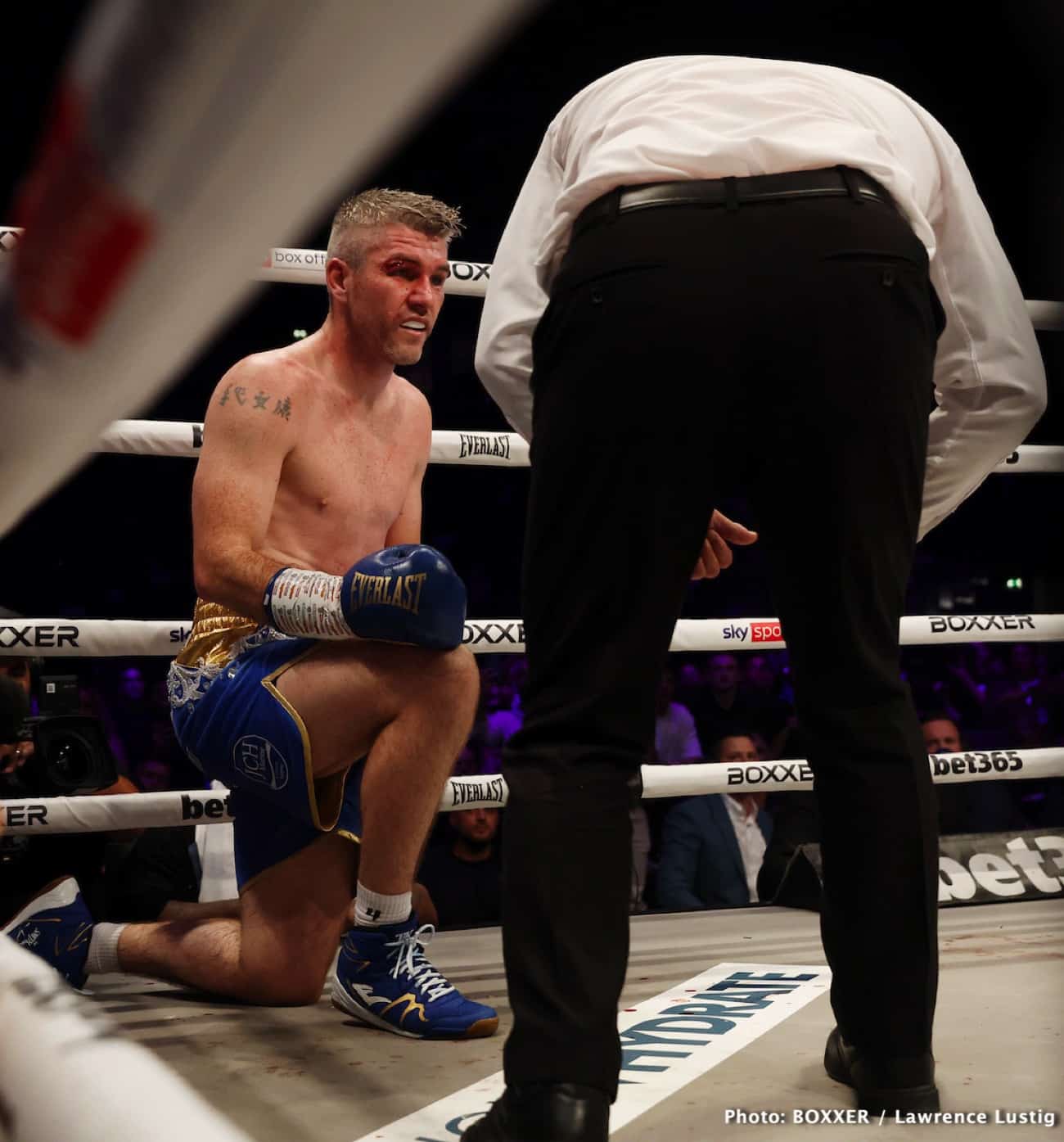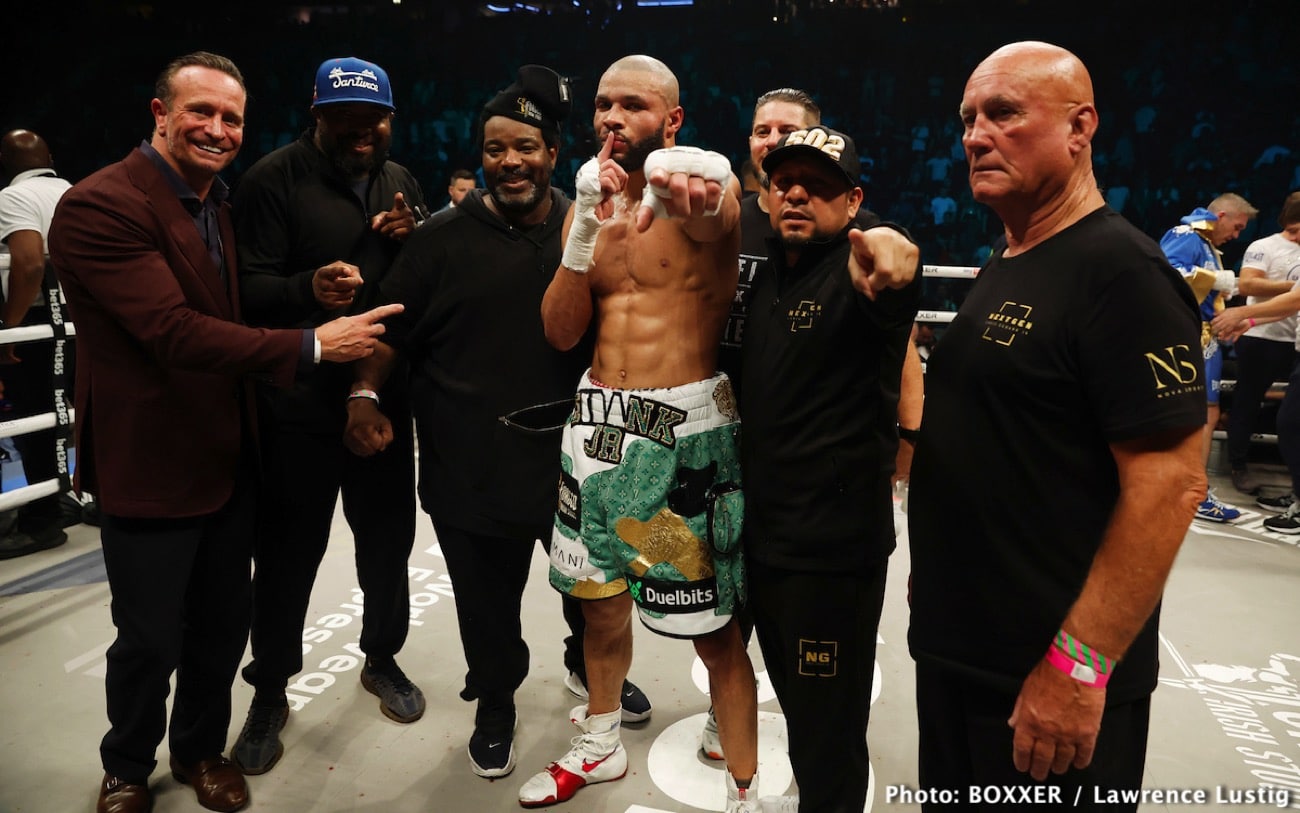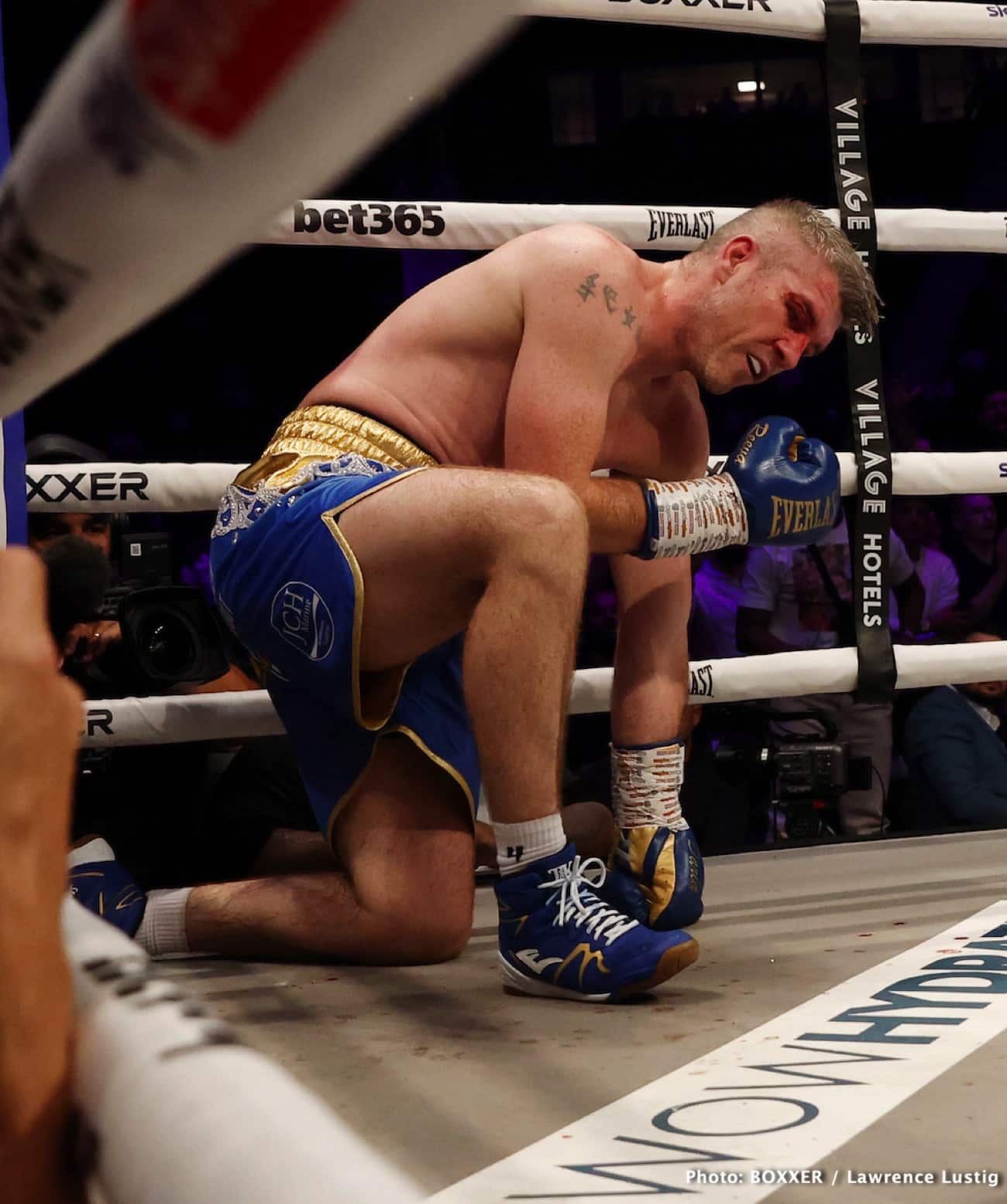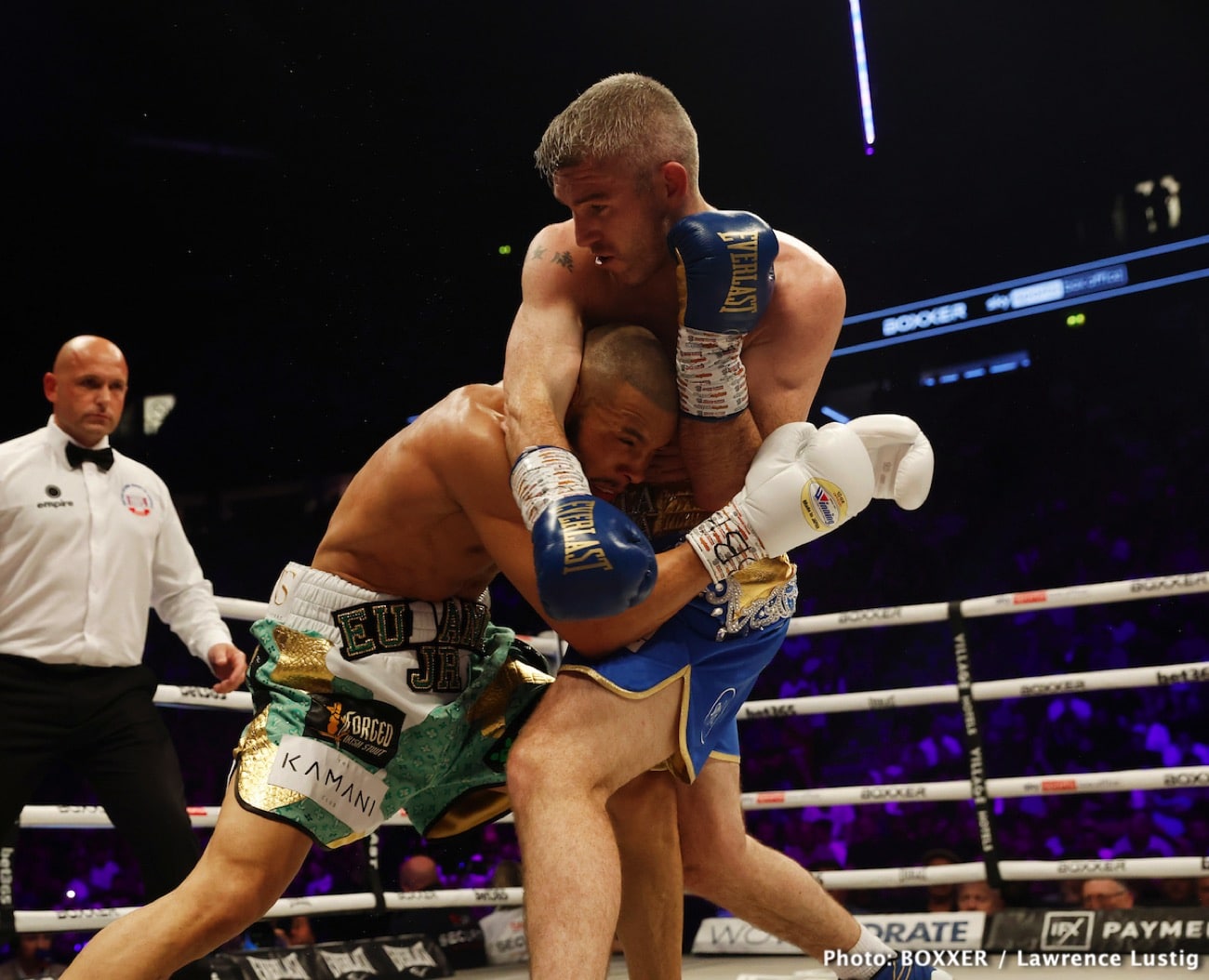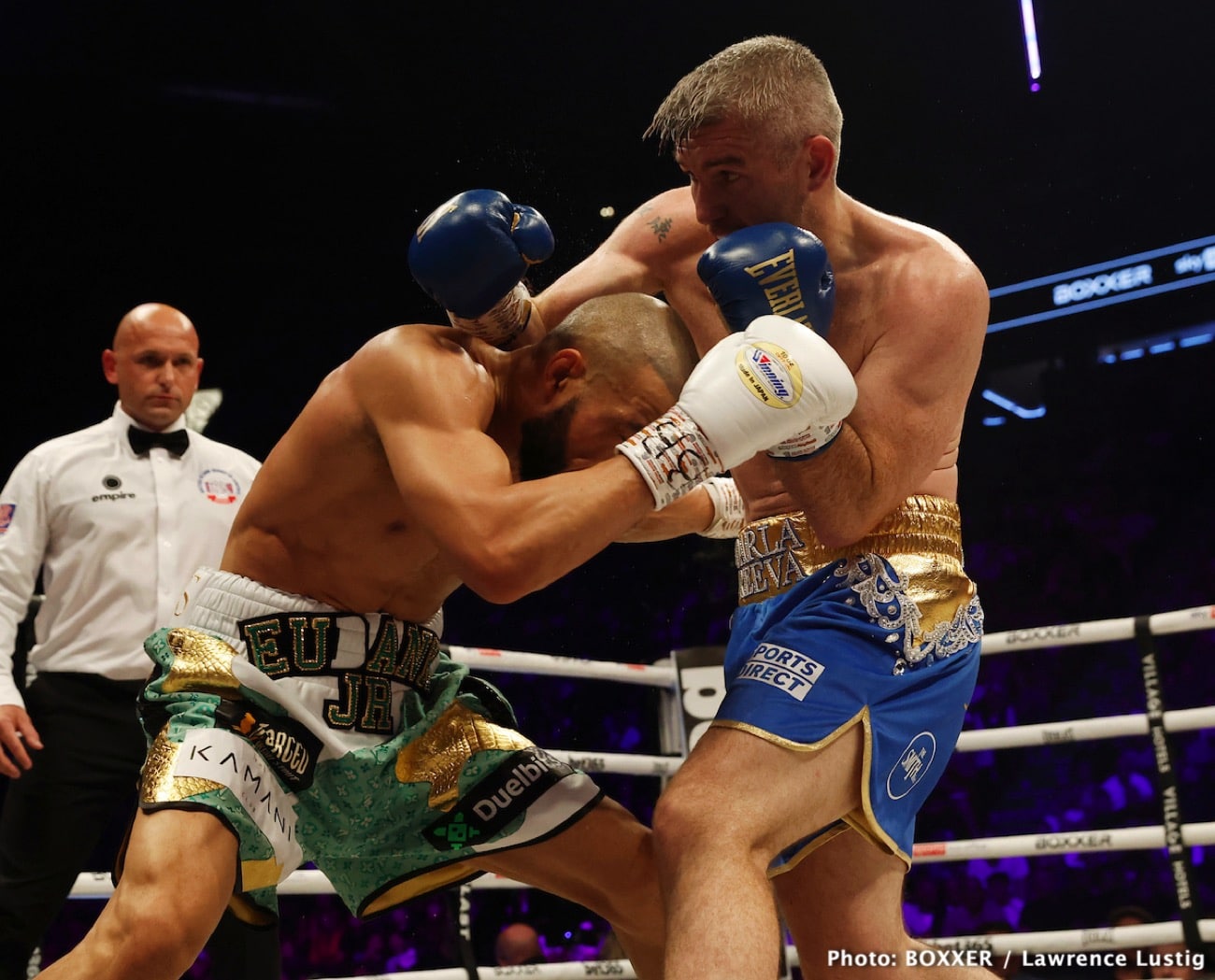 Chris Eubank Jr. (32-3, 23 KOs) will need to find a way to be consistent enough to hold off the train-like Liam Smith (33-3-1, 20 KOs) tonight in their twelve round rematch live on ESPN+ and Sky Sports Box Office at the AO Arena in Manchester, England.
Smith-Eubank Jr Undercard
Adam Azim vs. Aram Faniian
Frazer Clarke vs. David Allen
Mark Heffron vs. Jack Cullen
Mikaela Mayer vs. Silvia Bortot
Florian Marku vs. Dylan Moran
Lauren Price vs. Lolita Muzeya
Frankie Stringer vs. Engel Gomez
The Smith vs. Eubank Jr. fight action will be shown on ESPN+ beginning at 2:00 p.m. ET.
Why Liam Smith will win tonight:
Punching power. Smith showed in the first fight that he had the power on his shots to hurt Eubank Jr. If he did it once, he could do it again, and perhaps just as fast.
Eubank Jr.'s shaky punch resistance
Stamina. Liam has never shown signs of gassing out in his fights and is dangerous even in the later rounds. In contrast, Eubank Jr. tends to fade late, losing rounds, and getting hit a lot.
Why Eubank Jr. can defeat Smith tonight
Smith's elbow played an important factor in his upset win in the first fight.
Eubank Jr. won't fight off the ropes.
Youth. Chris is younger than the 35-year-old Smith and has taken less punishment during his career.
Speed factor. Eubank Jr. has the faster hand speed and will use it in the center of the ring to dominate the slower, easy-to-hit 'Beefy' Smith.
"There's a little bit of talk about it was an elbow. We've never seen Eubank get hurt like that before. Even if it was an elbow or a punch, can we trust Eubank's chin to hold up now to take a punch and take a shot?" said Paulie Malignaggi to BOXXER about tonight's rematch between Liam Smith & Chris Eubank Jr.
"Can he show that he can hurt Eubank without a possible elbow? There were so many what-ifs in the first fight, and that's why you needed to have this rematch to clear up all the fog and all the clouds to get a clear winner.
"We need to get a no-controversy type of winner. The thing about Smith. He gives up the early rounds, but he's kind of like a locomotive. He picks up steam. He's nothing fancy, but he's constant. You're not going to get him off with this cute stuff.
"It seems like Eubank was trying to use a lot of cute stuff [in the first fight with Smith]. It may have worked a little with Roy Jones. There's only one Roy Jones. Ultimately, you need the consistency to hold off Smith. Only the very best are going to beat Smith," said Malignaggi.