Gervonta 'Tank' Davis (29-0, 27 KOs) had too much firepower, experience, and surprising boxing ability for the hapless Ryan Garrcia (24-1, 19 KOs), who he easily stopped with a vicious body shot in round seven on Saturday night in their 136-lb catchweight fight at the T-Mobile Arena in Las Vegas.
In round seven, Tank nailed an overly aggressive Ryan with a hard body shot that put him down on the canvas. Surprisingly, Ryan chose to stay down and be counted out by the referee. The time of the stoppage at 1:44 of round seven.
In the second round, Ryan was knocked down by a powerful left hand counter by Tank when he overcommitted on one of his left hooks. After that knockdown, Ryan became timid, afraid to throw more than jabs until the sixth.
Tonight's undercard results
In the performance of the night, WBA 'regular' super middleweight champion David Morrell Jr (9-0, 8 KOs) absolutely obliterated sub Yamaguchi Falcao (24-2-1, 10 KOs), blasting him out in the first round in after dropping him twice.
Morrell Jr, one of the guys trying to get a shot at undisputed 168-lb champion Canelo Alvarez, knocked the 2012 Olympic bronze medalist Falcao down along the ropes. Moments later, Morrell finished him with a brutal right hook to the head that knocked him out cold.
The way Falcao went down, there was no way he was going to get back to his feet, as he was out cold from the right hook that the talented Cuban Morrell hit him with.
You can argue that Morrell needed a better opponent for the co-feature spot on tonight's expensive $84.99 card on DAZN & Showtime PPV.
When you're the chief support bout on a highly watched, expensive card like this one, you must fight better opposition than Falcao.
With the win tonight, Morrell could be facing David Benavidez next, as that's a fight that is being talked about. Obviously, that's going to be a whole different kettle of fish for Morrell than what we saw tonight because Benavidez can actually fight.
It would be nice to see Morrell fight Caleb Plant, Demetrius Andrade, Jermall Charlo, or Edgar Berlanga before tackling Benavidez because if he could chop those guys up first,  it would be an excellent setup for the mega-fight.
It's fair to say that Canelo will add Morrell to his list of fighters he must avoid at all costs. Morrell and Benavidez are two guys that have little chance of fighting Canelo before he hangs up his gloves.
In Morrell's previous fight, he stopped Aidos Yerbossynuly in the twelfth round last November in a fight that left Aidos with a subdural hematoma.
Super middleweight fringe contender Bektemir Melikuziev (12-1, 9 KOs) had an easy time avenging his past loss to journeyman Gabe Rosado (26-17-1, 15 KOs), beating him by a 10 round unanimous decision in their rematch. The scores were 99-91, 99-91, and 99-91.
Understandably, "Bully" Melikuziev looked gunshy early, not interested in opening up for fear of being knocked out cold by Rosado again like he was in their first fight in 2021.
Melikuziev became more courageous after several rounds when it became apparent that Rosado wasn't letting his hands go.
With nothing coming back from the 37-year-old Rosado, Melikuziev teed off on him for the final seven rounds, landing painful-looking power shots to the head and body at will.
Overall, it was hard to get excited about Melikuziev because he didn't show the talent that suggests he's ever capturing a world title in his career.
It might be a good idea for him to move down to 160 if possible, where his short arms won't be as problematic as they would at 168 against killers like David Benavidez and David Morrell Jr.
19-year-old middleweight Elijah Garcia (15-0, 12 KOs) stayed undefeated by beating Kevin Salgado (15-2-1, 10 KOs) by a ten round unanimous decision. The judges scored it 95-94, 97-92, and 97-92. In the seventh, Salgado was docked a point for a low blow.
Middleweight Fiodor Czerkaszyn (22-0, 14 KOs) beat Elias Espadas (22-6, 15 KOs) by a ninth round knockout. The fight was halted at 2:07 mark.
Super welterweight prospect Vito Mielnicki Jr (15-1, 10 KOs) looked impressive tonight, blowing out Jose Charles (20-4-1, 12 KOs) by a fourth round knockout.
Mielnicki, 20, dropped Charles three times in the contest. Twice in the third and once in the fourth. The fight was stopped at :33 of the fourth after Mielnicki knocked Charles down.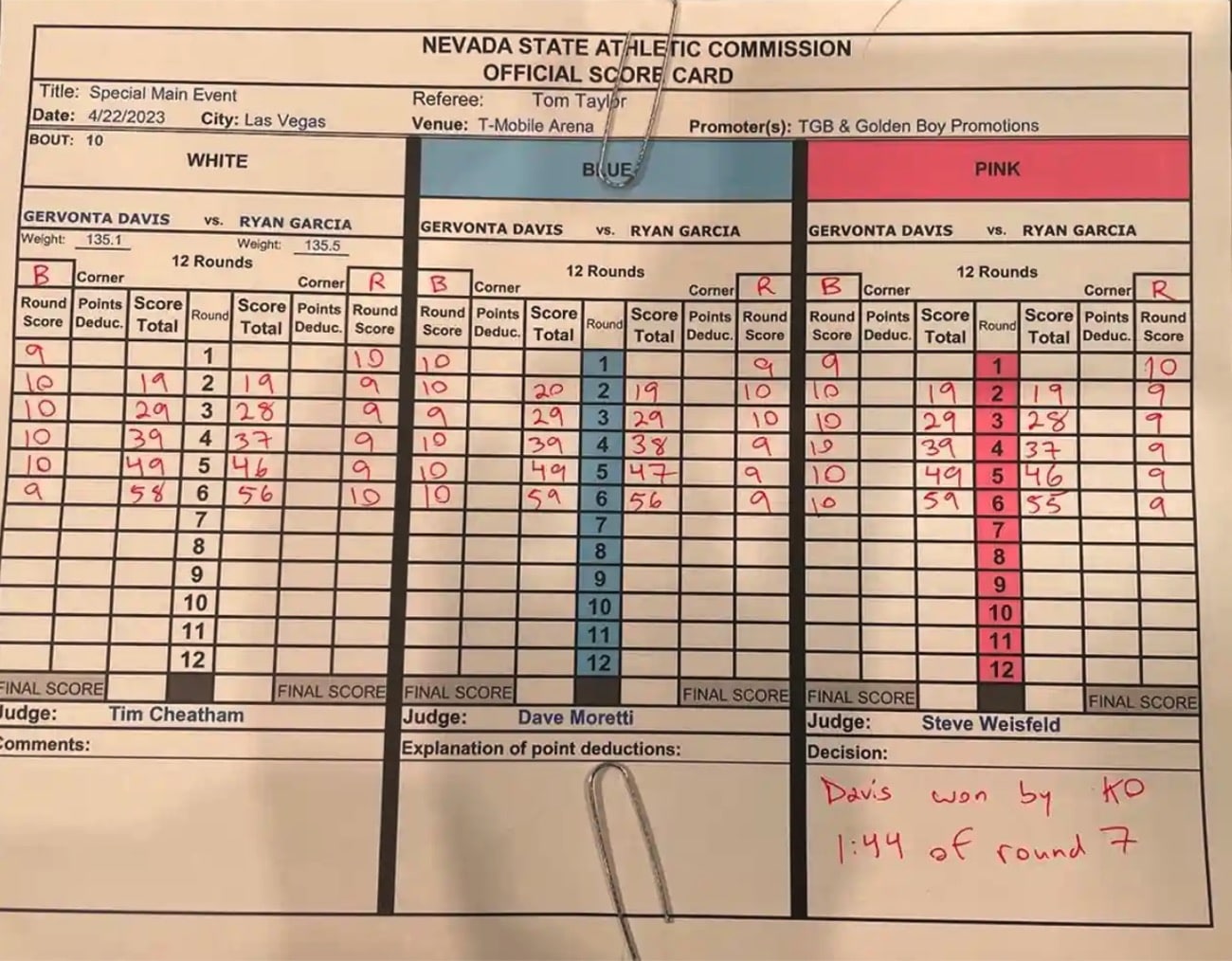 Preview Davis vs Garcia
The untested, inexperienced light welterweight contender Ryan Garcia (23-0, 19 KOs) is confident he'll pull off the upset against the former three-division world champion Tank Davis (28-0, 26 KOs) in their 136-lb catchweight/10-lb rehydration clause fight.
In the undercard fights on PPV, WBA 'regular' super middleweight champion David Morrell Jr defends against Yamaguchi Falcao in the chief support bout.
Journeyman Gabe Rosado will fight a rematch against super middleweight fringe contender Bektemir Melikuziev in a bout scheduled for ten rounds. Rosado (26-16-1, 15 KOs) knocked out 'Bek The Bully' Melikuziev (11-1, 9 KOs) in the third round in 2021, but now they're going to do it again.
The first fight of the pay-per-view portion of the card will have middleweight prospect Elijah Garcia fighting Kevin Salgado in a 10-round fight.
Ryan Garcia: "You know why you can't get sponsors. I don't even have to describe why you're the bad guy. They automatically know," said Ryan to ESPN, slamming Gervonta Davis as someone that lacks the persona to get sponsors
"I don't need to say anything, dude. Take a good look in the mirror, dude."
Gervonta Davis: "I didn't look too much on it. He just got caught with a shot," Davis said when asked about Ryan getting dropped in the second round by Luke Campbell in their fight in January 2021.
"It ain't nothing to look too deeply into it. He got caught with a shot, and his hands were down. Hopefully, he corrected it in the gym."
Ryan: "I didn't prove anything to myself. I proved it to everyone else. I know what I'm going to do when adversity comes, straight up. I know what I'm going to do and how I'm going to respond. It's going to be no different.
"I'm ready for the same type of battle. No matter what, I'm ready to fight. I know how to box; I've been boxing my whole life. It's nothing new.
Tank: "I'm in his head. He's mad. He's mad."
Ryan: "You're not in my head."
Tank: "What it's going to do for me?  It's going to open up a lot of doors for me."
In a thrilling fight tonight, two powerful undefeated warriors, Gervonta 'Tank' Davis & Ryan Garcia, will mix it up in their highly anticipated, mouth-watering clash on pay-per-view at the T-Mobile Arena in Las Vegas in a PBC event. The card starts at 8:00 p.m. ET/5:00 pm PT, live on DAZN & Showtime PPV.