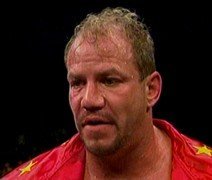 44-year-old former WBO heavyweight champion Tommy "The Duke" Morrison has passed away in Omaha, Nebraska. Morrison died last night with his wife at his side. The cause of death hasn't been revealed yet. Morrison started in the movie "Rocky V" with actor Sylvester Stallone. One of the top boxers in the late 80s and 90s, Morrison was said to have Gullain-Barre Syndrome, according to his wife Trisha.
Morrison tested positive for HIV back in 1996, which halted his promising boxing career. Morrison would later fight two more times in stopping John Castle in the 2nd round in 2007, and Matt Weishaar in the 3rdnd round in 2008. Morrison didn't look good in the Weishaar fight, as he was badly out of breath before finally halting him.
The highlight of Morrison's career came in 1993 when he defeated 44-year-old George Foreman to win the WBO heavyweight title in June of that year. Morrison was able to get the win by fighting defensively, and not trying to mix it up with the bigger Foreman. Morrison shockingly lost his WBO title two fights later in the 1st round against Michael Bentt in October 1993.
That was the last time Morrison held a world heavyweight title. Morrison did later win the IBC heavyweight title in 1995 in stopping Donovan Ruddock in the 6th round, but that's a not one of the four big World heavyweight belts.
In October of that year, Morrison lost his IBC title in a 6th round TKO loss to a young Lennox Lewis. After the loss to Lewis, Morrison had one more fight in stopping Marcus Rhode in the 1st round in 1996 before going into a long 10-year layoff from the ring.
In 1996, Morrison tested positive for HIV. At the time that Morrison tested positive, he was on course for a big money fight against Mike Tyson. The positive test ruined Morrison's chance at what would have been a career-high payday against the hard hitting Tyson.