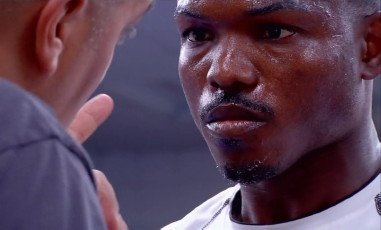 By James Slater: With his likelihood of getting a lucrative return fight with Manny Pacquiao looking ever more doubtful (Bob Arum has said a rematch of the controversial June 9th fight does not appeal to enough fans willing to part with pay-per-view cash), unbeaten Tim Bradley has publicly asked whether or not the man he shocked and out-pointed just over two months ago is "scared" of facing him again.
Speaking exclusively with Mydesert.com, "The Desert Storm" said he needs to know if he's going to get the rematch or not, that way he can get busy planning his next move. Bradley's preferred option is definitely a return with Pac-Man, though – and Bradley feels he can do oh, so much better with two healthy legs.
"To be honest with you, I think a lot of people on that side are scared," Bradley said. "He couldn't KO me with two peg legs. Me healthy, I'm going to beat him worse. If Manny wants to do it, let's do it. I've been sitting around here waiting. I want the fight, but he hasn't decided yet.
"You said you're going to knock me out. What are you scared about? On November 10th, come get yourself a nice, sizeable pay check. Then you can do whatever you want. Are we going to get it on? If not, tell me, so I can move on."
Bradley may be the champion, but as he's discovered to his annoyance, it's Pacquiao who is still calling the shots. The latest word is that Pac-Man may opt for a return with either Miguel Cotto or Juan Manuel Marquez. Maybe Pacquiao isn't concerned with avenging a loss many people feel was just a bad, bad decision in the first place. But there are a number of fans who are curious to see what Bradley can do in a second fight with the Filipino legend. How will history remember the strange Pacquiao-Bradley saga if there is no part-two and we are left only with that controversial, debatable, shocking first encounter?
Another question is, who will Bradley face next if he cannot get a second date with Pac-Man? According to The Desert Sun article, Bradley, 29-0 has not really given this much thought; seeing how he so much wants that return with Pacquiao. But Bradley did mention one other name – can you guess who it might be?!
"Let's dance," Bradley said. "Floyd's just got to call my number."
A Mayweather-Bradley fight? How would that go down with the public? "Money" has yet to comment on what his next move might be, but a fight between he and Bradley sure would be intriguing. And if you think Bradley sent shockwaves through the sport by defeating pound-for-pounder Pac-Man, just think what he would do if he were to upset the 43-0 master!