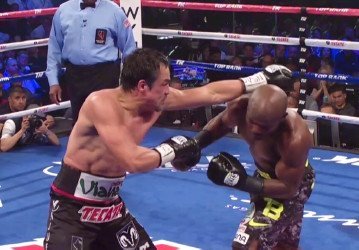 The narrative for Timothy Bradley's career before last night was that of negativity and spoiled success. Bradley has been a fighter more criticized than praised on his rise to prominence and his time in the limelight has been one of turmoil. Boxing fans and pundits alike have had a slow transition to giving credit to Bradley after his ugly technical decision win over Devon Alexander in 2011 and his controversial decision over pound for pound boxing icon Manny Pacquiao.
In a fight that was supposed to propel Bradley into stardom and millions of dollars he got his hand raised but it did little to advance him to the public and media. In a comeback defense of his World Boxing Organization Welterweight Title he was matched against an "easy" opponent that he was supposed to win and look good against in order to make people forget about the Pacquiao controversy. This was a sound plan but Russian fighter Ruslan Provodnikov deviated from the script and rocked Bradley early and dropped him late to win in a moral victory despite losing the decision.
Last night's fight was a difficult bout to predict and in an age of pay per view blow outs a tough to pick fifty-fifty sort of fight is just what boxing needed. Seeing the fan poll on the bottom of the screen reflected the feel many fans had with the narrative of Bradley's career. For many it has been difficult to put a finger on what the secret of Bradley's success is and it has made it difficult for some to pick him to win. Bradley has never been a knockout artist as his knockout percentage shows with only twelve stoppages in his thirty fights. He is fast but nobody is comparing him with Floyd Mayweather. Bradley can take a punch but visited the canvas twice versus Kendal Holt at junior welterweight and was out on his feet at times and knocked down against Ruslan Provodnikov. Nonetheless Bradley has always come out on top despite on paper not seeming superior in most categories.
Juan Manuel Marquez was riding high heading into this fight having knocked his supreme rival Manny Pacquiao out. It was expected by many that Marquez would be the harder puncher and the better boxer. That Marquez would be able to catch Bradley like Provodnikov did and that unlike Ruslan he would be able to finish a wounded Bradley. So it appeared that Bradley was not good enough to out box Marquez and didn't punch hard enough to take him to the trenches and win in a slugfest. So the narrative of Bradley's career as that jack of all trades master of none sort of fighter would carry into this fight and it was a curious situation as the bell rung for round one to see just how Bradley would approach this daunting task.
The first round in March against Provodnikov almost ended in disaster as Bradley was in danger of being stopped early and received some crushing blows that took the fight in the direction it would go. Last night the first round was a measured start with both men showing great respect for each other and it was a race to establish the jab. Bradley did not go in looking to make it a war of wills but used his legs very much like he did with Pacquiao and chose to engage at the right moments and got out before Marquez could deliver the big counter punches that he was predicted to land. Marquez won the first round but there was not much separating the two. It appeared at this point in a tactical approach that Bradley could hang with Marquez.
As the rounds went by Bradley began to take command and display a large variety of skills, skills that he has displayed in other fights that have been over looked by the controversy of some of his fights. Unlike the Provodnikov fight Bradley stuck to the game plan and remained patient and poised. It was clear that Bradley's eyes were in a deep focus and his plan relied heavily on taking the right risks and making himself scarce for Marquez's responses. The other most impressive aspect of this fight is that Bradley in ways out "Marquez'd" Marquez. The Mexican veteran in his great fights with Pacquiao was like a great politician at the debate podium, he always got the last word in the exchanges. When Pacquiao landed the left, Marquez would come right back. He has been one of the best at responding to being hit and earning back with not just the judges but the opponent that any attempt to claim the mantle would result in a quick response.
Bradley competed to be not just first as many old school trainers say but he wanted to be last as well. A motif in the fight became clear that when Marquez landed anything substantial Bradley came right back in force to land something of his own and sometimes two of his own. Early on Bradley did the same kind of bobbing and weaving and ducking that he employed against Pacquiao to avoid the hard punches but in this fight he would bring a hard overhand right with the slick dodging maneuvers. He did this to great effect in the second round when he dodged a Marquez punch and got in a hard over hand right and again did so in the fourth. The best example of this is in the sixth round when Bradley countered Marquez's right with a hard right of his own. Bradley also in the same round took a solid left hook and as previously mentioned stormed right back in the face of Marquez and took back the momentum responding with two punches of his own.
Heading into the sixth round the fight was going in a direction that was probably for most onlookers not quite what was expected. Not that many reputable sources hadn't picked Bradley based on his youth and his conditioning but the boxing display he put on had the Thomas and Mack Center's very pro Marquez crowd relatively quiet. The Bradley corner was very excited and up-tempo and for the right reasons as Joel Diaz was shouting expletives in with words of positive encouragement to keep the ship on path. This was a far cry from the last two fights when Bradley was struggling to stay in the fight with Pacquiao with injuries that hampered his mobility and being groggy and dazed versus Provdnikov. Bradley was winning the fight without the difficulties and pain that had plagued him in his past fights at this stage. It was becoming apparent that Marquez was in need of something dramatic.
Marquez at this stage with Pacquiao was also behind but he was able to deliver by perfectly timing Pacquiao and delivering a fight ending right hand in the sixth round. Sure Pacquiao had broken Marquez's nose and dropped him in that fight but he still fought with a style that Marquez knew and a style that provided the opportunities for Marquez based on Pacquiao's aggressive mistakes. Bradley through five rounds did not make the sort of offensive mistakes that Marquez could capitalize on as he picked where and when the fight happened with his legs. He would get in and get out with great awareness. The ball was now put in Marquez's court and he had to figure out the cagey Bradley and deliver some big punches to sway the tides in his favor or he would be in jeopardy of losing the fight on the cards.
This fight could ultimately be chalked up to the plan and Bradley's ability to stick to it but it also relied heavily on Bradley's versatility, which is the secret to his success. Because he cannot rely on his power and he does not excel in any one category he just has to make do with what he has and piece together a win and that is the story of his career and that was the story of last night. Bradley gave Marquez all kinds of different looks and troubled him greatly with his jab, which offset Marquez's ability to counter. The jab is best seen on display in round three were he was seen doubling his jab and even going to the body with it which then set up a lunging left hook.
Down the stretch Marquez began to try and turn the course of the fight throwing right hands to the body and trying to force more exchanges where he could get Bradley to make a mistake. However, Bradley and not Marquez landed the shots that moved his opponent. In the tenth round Marquez landed a right uppercut and definitely one of his best punches of the fight and Bradley like a bull just charged back in and moments later landed a right of his own that moved Marquez. In the final round the most telling punch of the fight landed with less than ten seconds when mid exchange Bradley landed a left hook that sent Marquez off balance wobbling backward and Bradley turned and raised his gloves. It was hard to tell if he thought the round had ended or if just believed he was going to fall down but for whatever reason he did not pursue.
In conclusion, Bradley won the fight despite the one card in disagreement seeing it for Marquez and the crowd booing Bradley. Marquez cried robbery post fight but Bradley was most certainly the victor and there should not be any kind of controversy here. The only question looming now is what's next? Being a Top Rank fighter and looking at the stable it would seem that if Alvarado looked great beating Provodnikov he would earn the fight and if Provodnikov won in good fashion then who wouldn't want to see a rematch with he and Bradley? The fights that advance the legacy of Timothy Bradley would be a rematch with Manny Pacquiao to remove all of the nay sayers that still hang on to the decision in that fight and obviously a showdown with Floyd Mayweather. A fight with Mayweather of course has its boxing business roadblocks as far as promotions and television goes but that is a fight that seems more and more necessary now more than ever.