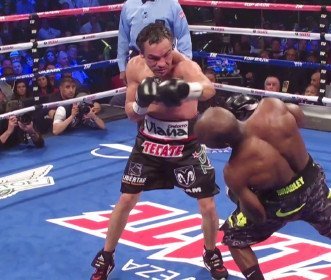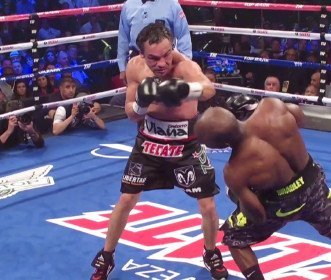 HBO PPV viewers and the live crowd at the MGM Grand saw Timothy "Desert Storm" Bradley out-box and out-fox Juan Manuel "Diaminta" Marquez twelve championship rounds for the welterweight championship. Marquez was forced into a fight where he needed to be the aggressor. As most fans know, Marquez' strong suit is counter punching. He is at his best when he can draw his opponents into traps. He welcomes their aggression, and generally makes them pay for mistakenly thinking they made a good move.
His problem Saturday night was he waited and waited, while Bradley kept sticking him and sticking him with a good jab and quick combinations. He darted in and out, or ducked under most of Marquez' attempts to counter. When Marquez did land anything, Bradley would roll with it,, and then counter Marquez' counter. Bradley controlled the pace and the distance. However, Marquez did manage to connect a few times, but Bradley once again proved he can take it both to the head and body. He is in superb physical condition.
Two judges correctly scored the fight in favor of Bradley. Those two judges saw Bradley out working and out landing Marquez. Bradley was the ring general, controlling the action with his jab and calculated moves. Marquez was stymied, and obviously frustrated at not being able to get Bradley to fight his fight. The few times his was able to land anything significant, Bradley would immediately answer and maintain his dominancy.
Neither fighter got beat up in this tactical fight. There was never any danger of stoppage due to head butts, low blows or cuts. From an action standpoint, it fell far short of being a candidate for fight of the year, but it was a "piece of work" conducted by a damn good fighter in one Timothy Bradley. Despite the controversial decision over Manny Pacquiao, and the punishment he took in his win over Ruslan Provodnikov, Bradley once again demonstrated he is a very good boxer. Just because he isn't known for having a big knockout punch, he has proven, not unlike Andre Ward, to have superior boxing skills. Both men have the ability and intelligence to deal with any style their opponents big to the game. Watching them adapt and adjust as needed is fun to watch. Do you remember Carl Froch saying, after his loss to Ward, that Ward either had him too far out or too close where his punching ability would be smothered. Viewers saw more than a little of that Saturday night.
The sad part of the whole affair was once again seeing Marquez' failure to be a gracious loser. In his and Nacho Beristein's way of thinking, they got screwed in all of his losses. They moan about the the judges in those losing fights were not only wrong, but incompetent or maybe worse. The truth is the two of them are poor losers. They don't recognize there's a better way of handling it. Instead of crying "foul", they could should simply state they thought they did enough to win, and leave it at that. They should have learned from Manny, watching him control his emotions after the Bradley loss. While others screamed outrage, Manny stayed silent. When he did talk, it was only to say he respected the judges. By doing so, he came away a winner. The "woe is me" attitude exhibited by JMM and Nacho resulted in them not only losing the fight, but the respect of the fans.