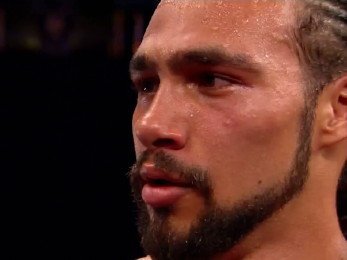 It's a fair question to ask, can Luis Collazo (36-6 19Kos) overcome his perceived deficiencies against Keith Thurman (25-0 21Kos) on July 11th in Tampa Florida? Bookies aren't in favor of him (he's sitting as a 14-1 dog), he's 8 years his opponent's senior, has boxed more than double the rounds of Thurman, and has been in some very entertaining WARS throughout his career.
Now I'm a betting man (admittedly not a very good one), and this fight intrigues me. Keith has been vocal about fighting Floyd Mayweather, and showcasing his talents for all to see; could he possibly be overlooking Luis Collazo? This statement is purely conjecture, but if true, he wouldn't be the first guy to do so. Ricky Hatton and Andre Berto both had aims of a fight with Mayweather when they clashed with Collazo, and both men were very fortunate to be awarded wins in those respective bouts.
Those two previously mentioned names plus the likes of Amir Khan, Carlos Quintana (Thurman shares a victory over him as well), Victor Ortiz, and Shane Mosley, are all guys who Luis has faced off against inside the ropes. More than just names, those fighters represent talent and pedigree far greater than what Thurman has faced as a whole to date. Granted, those fighters represent one win and all six of Collazo's career losses, pretty much telling us a step up in competition hasn't been kind to Luis.
Almost every gambler who is down on their luck has placed all their money on one bet, hoping, praying, panicking, that they get lucky this "one time" and they drastically improve their fortunes. This is the place where Luis Collazo currently finds himself, or really, where his career is. He's at what looks to be his final shot at a significant fight and he's hoping that a win over Keith "One Time" Thurman is his golden ticket to the litany of lucrative fights available at 147lbs.
I have found that both fighters are worth the price of admission and more, inside the ring. I've always looked forward to Collazo bouts because the man brings his heart and soul to each and every fight, and he leaves it all inside the ring once the bell tolls. The logical side of me is telling me to not bet this fight for either side; too much to put down to win anything on Thurman, and I'd be pissing away money that I laid down on Collazo. However, the fan in me is having a hard time letting go of the notion that Luis Collazo is probably done after this. He's the elite gatekeeper, St. Peter wielding two fist of leather, for the Welterweight division, unlike the apostle, Luis' post isn't an eternal gig.
The odds are in Thurman's favor, and he's a fighter to be reckoned with, but I'd like to see Collazo take Keith into deep waters in Tampa Bay, and let's see how well the native son can swim.
Twitter @HAOndrizek