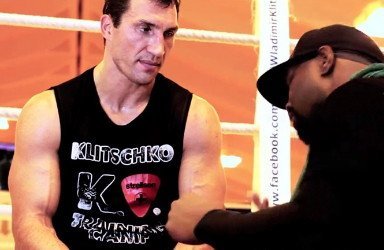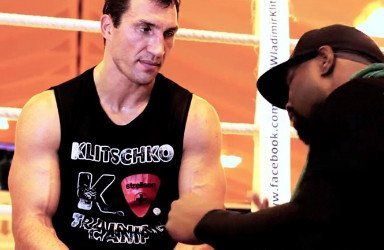 How fit and healthy is today's heavyweight division? Did we fight fans have a better time of it in previous decades, or are today's big men holding up the "glamour division" in good stead?
Picking up an old issue of Ring Magazine recently, the August 1992 issue, I scanned the top-10 heavyweight rankings. A great bunch of fighters are listed on the page of that 21-year-old issue, that's for sure – but would the likes of Holyfield, Lewis and Mercer have beaten the cream of today's crop?
Read on and see what I think!
The heavyweight top-10: Ring Magazine, August issue 1992 VS. Today's heavyweight top-10: Ring Magazine
Champ: Evander Holyfield, 27-0(22) Champ Wladimir Klitschko, 60-3(51)
1: Riddick Bowe, 29-0(25) 1:Vitali Klitschko, 45-2(41)
2: George Foreman, 71-3(66) 2:Alexander Povetkin, 26-0(18)
3: Larry Holmes, 54-3(37) 3:David Haye, 26-2(24)
4: Donovan Ruddock, 25-3-1(18) 4: Kubrat Pulev, 17-0(9)
5: Tim Witherspoon, 37-3(24) 5:Tomasz Adamek, 49-2(29)
6: Michael Moorer, 28-0(26) 6:Ruslan Chagaev, 31-2-1(20)
7: Lennox Lewis, 20-0(17) 7: Robert Helenius, 19-0(11)
8: Ray Mercer, 18-1(13) 8:Tyson Fury, 21-0(15)
9: Tony Tucker, 44-1(36) 9: Tony Thompson, 38-3(26)
10: Francesco Damiani, 28-1(23) 10: Bermane Stiverne, 23-1-1(20)
Wladimir Vs. a peak, unbeaten Holyfield! What a dream fight to start us off.
Holyfield has trouble getting inside Klitschko's telephone pole of a jab, as has almost everyone else who has faced "Dr. Steel Hammer," but Holyfield has a heart as big as a lion's and he refuses to give in. At times using angles and positioning himself where he can sling hooks over the top and then get out again with his 210-pound speed, "The Real Deal" scores points. Ultimately, though, Evander – clubbed with right hands to the head and then held and leaned on – loses a largely dull fight on points.
Vitali Vs. an unbeaten, peaking Riddick Bowe – yet another fascinating fight.
The elder Klitschko is a rusty fighter the peaking Bowe can match in both size, physical strength and power. Vitali has retained his granite chin, but his giant body has suffered more than a couple of injuries and his motivation levels are not what they once were. Bowe outboxes his slower, less active rival, to win a clear 12-round unanimous decision.
Povetkin Vs. Foreman! Forget it!
"Big" George simply walks through the much smaller Povetkin, trapping him in a corner in the 5th-round and clubbing him mercilessly until the referee dives in.
Holmes Vs. Haye.
Holmes, at this stage a crafty 40-something veteran on the comeback trail, has enough to mess Haye around, but the younger, faster, more powerful Brit will not be denied. This is not the great Holmes of yesteryear, and Haye, though he shows Holmes respect, has nothing much to fear. Holmes holds on to the final bell but is well beaten on all three cards.
"Razor" Ruddock Vs. Pulev.
This one is a genuine power Vs. chin battle. Ruddock comes out looking to land his "smash" and does so in the early rounds, hitting and hurting the somewhat lumbering Pulev. But Pulev manages to survive and then Ruddock's gas tank begins to empty. It's a real battle of attrition as the two men slug, maul and somehow make it to the final bell. Ruddock wins a debatable split verdict.
Adamek Vs. Witherspoon.
A fitter, more disciplined Adamek, though he is giving away a fair amount of weight, wants it more than does "Terrible" Tim, and the tough, fast-handed Pole bags enough rounds to take home a points win.
Moorer Vs. Chagaev.
An unbeaten Moorer, having recently made the move to heavyweight from 175-pounds, is way too hungry, powerful and vicious for the shop-worn, inactive Chagaev. Dropping Chagaev to his knees in the 4th, Moorer, see his rival take the full ten-count.
Lewis Vs. Helenius.
Lennox, approaching his peak and a few months away from his crunching KO over Ruddock, instead enjoys his coming out party at the expense of the rusty Helenius. Lewis destroys his man with a series of sizzling right hands in the 2nd-round.
Mercer Vs. Fury.
The teak-tough Mercer, having proven his worth, is too hard a man and too experienced for the still-learning Fury. Mercer bullies the younger man, takes his jab away from him and pounds away. Fury is game, yet Mercer overwhelms him in the second half of the fight, forcing the ref to come to the aid of a tired and bloodied Fury in the 7th-round.
Tucker Vs. Thompson.
Two veterans, past their best yet still tricky and occasionally flashy. Tucker, the younger man, does just enough to win a dull fight, with a close but unanimous decision.
Stiverne Vs. Damiani.
Which version of Damian turns up: the one who outboxed Mercer before getting tagged, or the less than inspired version who laboured against Greg Page? Stiverne, bigger, stronger and a harder hitter, makes the Italian remember the pain of the Mercer fight, taking Damiani's heart and making his corner throw in the towel in the 7th-round.
So, for the record, that's a count of seven to four for the heavyweights of 21 year ago. But what do you guys think?