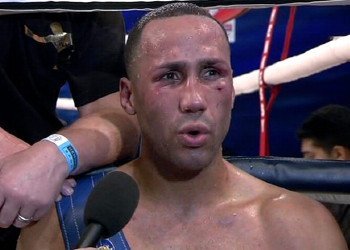 A week Saturday, British gold medal winning Olympian James DeGale (20-1, 14ko) will attempt to make history when he turns road warrior and travels to Boston to challenge Andre Dirrell (24-1, 16ko) for the vacant IBF 168lb strap.
Should the talented Londoner succeed in his mission, he will become the first gold medal winning Brit in history to then go on and win a world title. Only Chris Finnegan who won gold at the 1968 Melbourne games ended up coming close – losing his shot to light-heavyweight legend Bob Foster in 1972 in the Ring Magazine's Fight Of The Year.
DeGale (Beijing 2008) is just 1 of 6 post-war gold medalists Britain has produced that includes Terrence Spinks (Mexico 1956) and oft ridiculed Audley Harrison (Sydney 2000) – the most recent of which being Luke Campbell and Anthony Joshua (London 2012.)
DeGale , who touched down in the States last weekend, told Sky Sports
"This was on my mind from the moment I got that gold medal. You know you are going to turn professional and it was never far from my mind. It's always been there but now it's here I'm not going to waste the opportunity. Believe me – I am ready and I will make history."
DeGale is also seeking to once again dedicate his performance (and hopefully the world title) to old amateur rival and friend Darren Sutherland, who won bronze at the same Beijing games as DeGale.
Following a brief, yet promising start to his career, the Irish fighter was found hanged just over a year later in his London bedsit after a struggle with depression. Ever since that day, "Chunky" has worn the late Dubliner's initials on his fight shorts in tribute.
He has stated that when he is victorious, as he believes he will be, he will dedicate the title to his old friends memory.
But first he must negotiate the tricky Michigan fighter Dirrell, whose brother Anthony recently surrendered the WBC title to US based Swede Badou Jack.
British fans may best remember Dirrell from the Super Six tournament back in 2009 when he came to Britain and dropped a controversial decision against Carl Froch in Nottingham – the Cobra's back-yard.
He was awkward as hell that night and gave Froch all sorts of trouble with his speed, footwork and southpaw stance. A crudely edited highlight video exists on YouTube called "Robbery Of The Year 2009" should you wish to see Dirrell's best work in that fight.
May 23rd's Boston clash, as part of Al Haymon's revolutionary PBC brand, promises to be an intriguing clash of slick, awkward southpaws – both of whom can bang. In fact stylistically, these two fighters are so similar that one can clearly see why Carl Froch vacated the IBF title they are now fighting for rather than fight the Londoner himself.
There would have been no home-town decision in England for Carl.
It also quickly became apparent that was why the 'Al Haymon affiliated' Warriors Boxing dug so deep to win the purse bid too. By considerable margins. Andre Dirrell didn't wish, nor trust, coming to the UK again.
When you describe their duelling southpaw styles it does sound like this fight could have stinker written all over it – both are thinking fighters – extremely tricky and likely to negate the other's best work naturally. Yet one is trusting the hunger and history making desire of the traveling fighter is going to prevail.
De Gale says he has studied limited footage of the American fighter and claims not to have seen many of his fights, preferring to trust in trainer Jim McDonnell and his own natural ability.
He said;
"I don't like looking at his fights too much because the guy's he's been fighting against are not me. When I get in that ring with Dirrell I am going to be so much faster, so much more elusive and I will punch harder than anyone he's faced."
De Gale is certainly riding a knockout wave of momentum. Destroying highly regarded American Brandon Gonzales a year ago inside 4 rounds, followed by a 3rd round stoppage of Marco Antonio Periban. The Harlesden man, whose sole loss was a MD to George Groves in a close fight way back in 2011 said;
"Dirrell can expect a fully focused, strong, ambitious Olympic champion ready to make history and become the first Olympic gold medalist to win a world title."
And it's of the opinion of this writer not to bet against him. While as I've said, tactically, I think we may well get off to a slow start – DeGale gives off the aura of a man who simply will not be denied and is full of belief. He won't want to leave this in the hands of the judges and allow a robbery that Dirrell would see as karma coming around to benefit him after Froch. He will have to impose himself on this contest and get Dirrell's respect early.
And we must be mindful of how the American himself will come in. He has been incredibly inactive over recent years. After his 2010 Super Six fight with Arthur Abraham he was out for a year and a half due to neurological injuries sustained in the fight. He then boxed a return bout in 2011 and not again until 2013 when he boxed just the once. Since then he's had just 3 warm-up fights last year against low-level opposition.
For me this tips the scales massively in DeGale's favour. It's been a while since Dirrell has fought any opposition of calibre in my opinion and James DeGale IS world-class. He realises this is the culmination of everything he has worked his entire life for, and much like IBF welterweight champion Kell Brook did against Shawn Porter in California last year – the belief and natural ability will be telling on fight night and will surely see him through.
His old friend Darren Sutherland will be looking on with pride.
I can't wait for May 23 in Boston
Many thanks for reading
ALL my boxing content is on my Twitter @Undilutedpoison