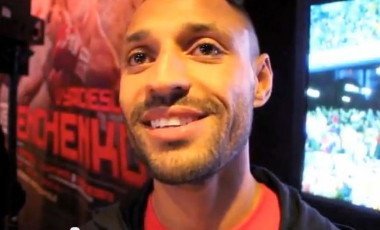 Whether or not he chooses to use his former "funtime" moniker on May 30th, IBF world welterweight challenger Frankie Gavin has insisted he will be all business when he steps between the ropes to face Kell Brook at London's O2 on Matchroom Sports bumper triple-header-world title card.
It's no secret Gavin is going to be up against it fighting the slick Wincobank world champion who was excellent last time out returning from a nasty stab wound to the leg to destroy limited mandatory challenger Jo Jo Dan.
The former world amateur champion, who has long been criticised for not fulfilling his obvious potential in the paid ranks, has spoken to Sky Sports about the fight – promising he will be the man to upset Brook on the night.
"I expect to come out on top. I know Kell Brook is a great fighter but I can beat him. I've got the style to beat him."
"When the fight first got announced I was over the moon but now I'm on the business side of it – training very hard, harder than I've ever trained."
Acknowledging the frustrating pace of his career thus far, the Birmingham fighter said;
"I expected to be here a bit earlier than I am. I had a few problems early in my career but I think now is the right time and I'm as ready as I'll ever be. I really do think I'm going to win this fight."
"I'm a good counter puncher and I think technically I'll be the best fighter that Kell has been in with. I think many would agree."
Gavin, who lost his own undefeated record to tough European Leonard Bundu last year, feels he has benefited as one can from such a thing – learning tough but valuable lessons from the MD loss.
"Before you've lost you are so keen on protecting your '0' that you forget about other things. I've proved a lot to myself – when it gets tough I can go with it."
"A lot of people thought I won, some thought he won. If anything it has given me strength and I'm not really thinking about the loss now."
Of May 30th's fight and the fact that most fans are tipping Brook to win – and comfortably – Gavin said;
"There is no foregone conclusion. I can understand him looking past me as he's the champion but I'm coming to take his title and push him as far as I can. Hopefully that is enough."
Not sure that sounds like a confident man to me…..
Thanks for reading
Twitter @Undilutedpoison