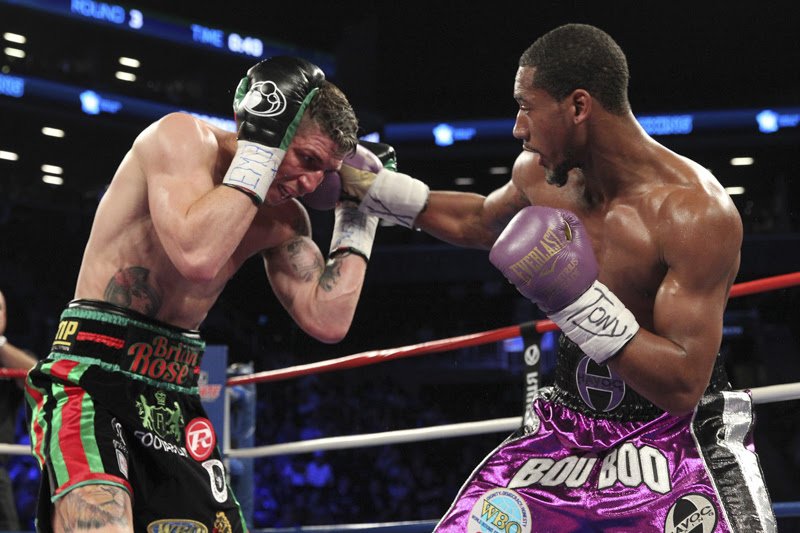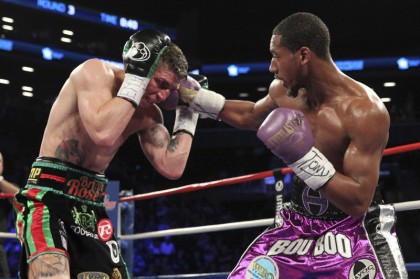 As the epic Wu-Tang anthem 'C.R.E.A.M.' declares, 'Cash Rules Everything Around Me'. Should Eddie Hearn and Matchroom have a ringwalk entrance theme, you'd imagine this particular track would fit the bill. Although Sky Sport's single boxing juggernaut undoubtedly does a lot of great thing's for British boxing, they also in many way's can hinder it's development overseas. The negative as much as the positive should be pointed out and addressed accordingly.
Epitomised by Demetrius Andrade's obliteration of a the lamb brought for slaughter in Brian Rose this weekend, Matchroom's process in developing (or under developing) young British prospects for any level past European and Commonwealth seriously needs revaluating. The obsession with having their boxers fighting eliminators for mandatory positions to World Title's is a great way of manoeuvring and forcing a governing bodies hand, but a ranking without a legitimate resume is JUST a ranking.
A good portion of our lambs, who've found themselves in a mandatory position to face a lion for a World Title overseas without ever having fought abroad previous is ridiculous. We're sending fighter's into battle without the proper equipment. Although hindsight wasn't required to predict Brian Rose's demise this weekend, as it was fairly obvious from the bouts announcement this was an un-winnable fight (and don't give me the 'anything can happen in boxing' line) for the sea-sider. I'd never begrudge him the chance, but this crushing 7 round beat-down will only serve to knock confidence and hinder the man's development rather than help it. We need to be smarter, better set for these kind of opportunities. Luckily the referee saw sense, as did Bobby Rimmer in the corner, they saved the evident potential of a sickening ending.
Sometimes it feel's like Eddie Hearn's Matchroom Promotions are content with filling British arena's with popular local boxers living off of padded records. If Kell Brook for example is helping to sell out show's around the country making Matchroom a truck load of money, why would they risk his zero versus a tough opponent who would offer a strict learning curve? (No, Jones and Senchenko are not said fighters). Kell's been a mandatory to some version of a world title since early 2010, but in the four years since. he's still yet to face anyone noteworthy in preparation for his eventual shot at the WBC strap. Although he possesses a stronger resume than Rose, Kell's opponent has been in there with the likes of Devon Alexander, Pauli Malignaggi, Julio Diaz and even Alfonso Gomez. Even though Kell's fought on the undercard's in the U.S, he's yet to face anyone anywhere near the level Porter operates at, which at this stage of his career to me is inexcusable.
But not to worry, Matchroom are making plenty of money watching Kell take out Alvaro Robles in front of a sold out Echo Arena.
To the untrained eye, our fighters are demolishing Latin American warrior's with fancy names in front of 10-15000 people week in week out. The financial side and popularity of boxing in our country is healthy no doubt, to Matchroom's credit. But these ticket's are sold on 'half-fights', announcements that single well-known fighters will be appearing on a particular card vs TBA and the general public lap it up. The Smith brothers will be appearing in Liverpool, instantly their local arena is sold out but who're they actually scheduled to fight? Who really cares? Not necessarily every time either, but a good portion these are empty announcements used by Matchroom to drive ticket sales. No surprise when half of the fighter's original scheduled to appear have pulled out of the show, AFTER the ticket's have already flown out.
Sometimes these 'empty cards' can surprise us and produce competitive scraps, but it's the ultimate progression of each individual prospect that worries me. The Matchroom illusion isn't aiding our fighter's as much as it's filling the pockets of their promotional stable. From what I can see, this should be a two way street that's currently poorly constructed one-way system culminating in a nasty cul-de-sac abroad. Until we start testing our fighters before putting them on a plane and sending them over to face former Olympians and top World level amateur boxers abroad, we're going to have far too many Rose vs Andrades and not enough victories on enemy soil.