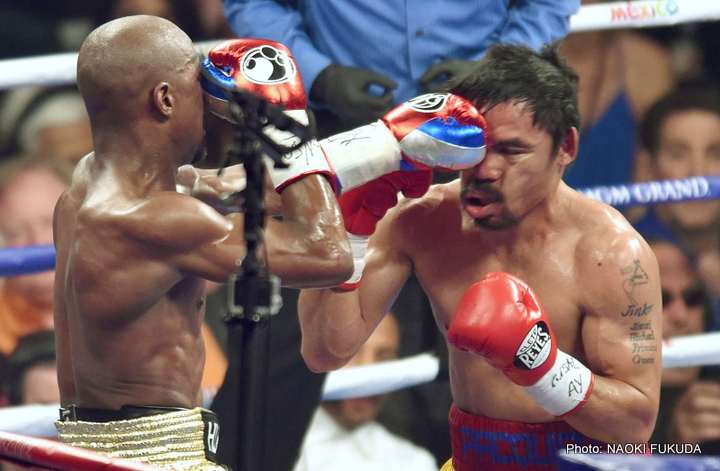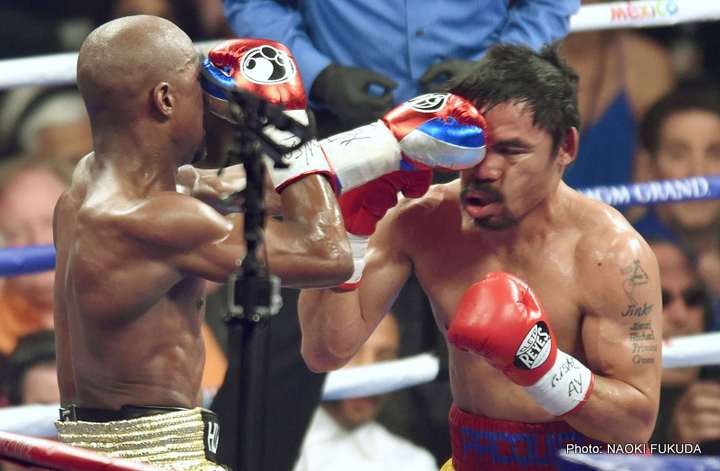 The triumph of politics and hype over the sport of boxing is unanimous, professional boxing exists as a sport only nominally and has turned into a financial instrument. Show business likes scripts and scenarios and everything was under control last night, judging/scoring and even punch stats calculations occurred independently and irrespectively of the action in the ring or of the actual number of landed shots. The fight definitely did not live up to the hype except perhaps financially – the alleged fight of the century will hardly qualify for a fight of the year candidate.
Mayweather may be a very gifted boxer, perhaps even great but he did not shine in the ring on May 2 against a smaller fighter with no illusions of grandeur. Mayweather's superior boxing skills did not discourage the faster and fearless Pacquiao who has every right to feel he did enough to win or at least that he did not lose. The Filipino looked one division smaller but his fighting spirit, speed and offensive determination proved too much for the muscle-bound US mega star who was mesmerized by the dexterity and mobility of his rival. Pacquiao made the fight happen, after the 3rd round Mayweather who was three points ahead went into semi-survival mode and was trying to negate and spoil the bout while keeping his point advantage. He did not look like he wanted to be in the ring a second longer than required, much less fight while Pacman was enjoying himself. Manny was going through the motions of his game plan, Mayweather ran and held and simply saw the fight through. Floyd waited and reacted to whatever his opponent did, very often just waited and the majority of his power punches were counters. He fought as if he had a subscription to the UD and if it wasn't for Pacman's offensive initiative, a bizarre event would have taken place – a boxing match without full contact, a semi-contact long range simulation of a fight. Here is a quick review of the lackluster affair:
Round 1: Floyd started confidently form his wide upright stance and stayed outside of Pacquiao's range throwing single calculated shots. He landed cleanly several times while Pacquiao seemed to be out of his depth and mainly out of range. Floyd exaggerated the distance between them with leaning back and to his side and leaning forward with his pot shots deterring his opponent and then sliding away. Mayweather won the first clearly.
Round 2: Pacman adjusted his range and found the rhythm for his darts into position. He was easily slipping or blocking Mayweather's rapier stabs and answered with two or three punch combos. The congressman took the initiative while ex-Pretty boy in a slow-mo version of his former self was missing often while taking lighting body and head counters. Pacman appeared to turn the momentum in his favor, however I'll follow the Money – 20:18 Mayweather.
Round 3: Mayweather opened the score with hefty straights and master class hooks which he threw with pivots. He appeared to land at will and even landed a mini check-hook while Pacman found himself circling the wrong way, missing and looking befuddled. 30:27 Mayweather.
Round 4: Mayweather got off first with a jab and a right hand when Manny burst into a combo and landed all three to the body with loud thuds. He then dashed forward two more times with wild combos that sent Mayweather into retreat against the ropes. Mayweather tightened his guard, hunched and stiffened even more trying to meet speed with force. With a little over a minute left Pacman countered Floyd's usual lean back-single shot routine with a flush left to the chin. This was the tipping point of the fight for Pacman. The American was stunned and staggered back on the ropes while Manny energetically poured punishment on him. Mayweather covered up and stayed in his shell till the bell losing the round convincingly. 39:37.
Round 5: They matched each other punch for punch and the game was too close for me to call. I'll give it to Mayweather for style- 49:46 for him
Round 6: Pacquiao had grown in confidence and while Mayweather landed spectacular single shots now and then, he was out landed decisively by his opponent's close range volleys which he met with his back against the ropes covering up without any answer. Perhaps Pacman's scoring shots were too fast for the judges to see as well as for Floyd but Manny won the round on my card – 58:56.
Round 7: "I don't know what is wrong with you, man." said Sr. to his son b/n rounds and threw a shadow series faster than Jr. The American came out aggressively and missed with two wide slow right hooks. After that he landed two good jabs but Pacquiao started landing two punch combos evening the score and rallied late to take the round – 67:66 Floyd.
Round 8: Mayweather stated with a tentative jab meant to lure the Filipino into attacking and opening himself for counters. Manny did just that but landed his combos while Floyd could not pull the trigger on time. Pacquiao landed more shots than Mayweather threw in this round and in one instance landed two clubbing lefts in a row as counters to a jab which Floyd threw and "fell asleep" with his arm extended and eyes closed. 76:76.
Round 9: Manny was getting more relaxed and comfortable landing lead backhands while Floyd lumbered and uncharacteristically loaded up and missed with single power shots. Pacman landed disparaging one-twos and his simple but effective strategy was to get off first and go straight forward. His speed advantage worked really well for him at this stage – Floyd clinched even after he landed aiming to disrupt the action instead of following up. 86:85 Pacman
Round 10: Floyd's size and strength advantage had dissolved and the fight was all about speed at this stage. Floyd's timing and coordination had deserted him while Pacman rounded him up and unloaded combos on his opponent effortlessly. The sound effects were as if Floyd was using a bolt-action rifle picking his shots while Pacman's automatic weapon shot bursts of rapid fire. 96:94 Pacquiao.
Round 11: Pacman appeared to be running out of steam and Mayweather took control of the action landing with authority and out boxing the Filipino throughout the stanza. It may have been Floyd's best round. 105:104.
Round 12: Mayweather did not do much in the round while Pacquiao was going forward and scoring with mixed success so he won the round due to activity – 115:113 for Pacquiao on my card.
Fans were excluded from this fight completely, prohibitive prices and limited availability ruled out attendance and pay-per-view prices were overly optimistic. Fight fans are the reason fights happen but they have no say in any fight-related matter, especially scoring and judging. My say in this is – as an ex-boxer I should not divulge it – that I have not paid to watch boxing for a very long time, if ever, and I see no reason to start anytime soon. .