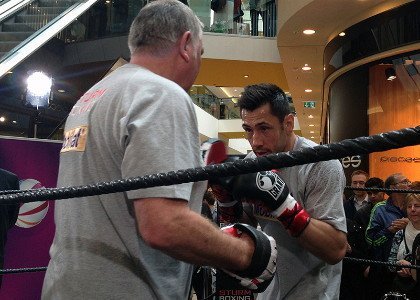 (Photo credit: Sturm Box Promotions) Former Super World middleweight champion Felix Sturm (37-3-2, 16 KO's) fights tonight against unbeaten and completely untested #4 IBF, Predrag Radosevic (27-0, 9 KO's) in a 12 round bout at Westfalenhalle, Dortmund, Nordrhein-Westfalen, Germany. With a victory tonight, Sturm, 34, could put himself position to face the winner of the August 17th between IBF middleweight champion Daniel Geale and Darren Barker.
That seems to be the idea that Sturm faces one of those guys in a fight that will likely take place in Sturm's home country of Germany where he's fought most of his fights during his 12 year career.
Radosevic, 28, is listed at 5'10", but at the weigh-in he looked to be at least 3 inches shorter than the 5'11 ½' Sturm. Radosevic doesn't have much power to speak of; so if he's going to have to try and beat Sturm the same way that Sam Soliman did by outworking him for 12 rounds.
Soliman's win was overturned the outcome of their fight last February was changed to a no contest after Soliman tested positive for a banned substance. Soliman fought well and was able to really take the fight to the tiring Sturm in the last six rounds after having a shaky start in the first two rounds.
Radosevic hasn't been beaten yet, but he also has never faced a 1st tier fighter before, and that's going to be a problem for him tonight. He's going to be facing a good fighter in Sturm, and he's going to have to fight at a higher level than he's shown in the past against the weak opposition he's faced. The IBF has Radosevic ranked for some reason at #4.
He's got to have some kind of talent for him to be ranked as high as high as he is. We're going to see how much talent he has tonight. If Radosevic can survive the first four or five rounds, he has a chance of beating Sturm if he can throw a lot of punches and jump in and out the way that Soliman did.
Radosevic can't stand in front of Sturm all night because he'll get jabbed to pieces if he does this. Sturm mainly likes to jab because it doesn't use a lot of energy and he's got a great jab. Sturm has problems when his opponents have high work rates and/or good inside fighting skills. Radosevic is going to need one or both of those skills if he wants to beat Sturm tonight.