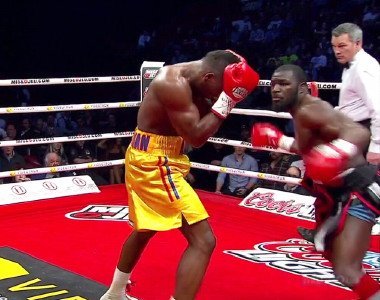 MONTREAL (September 25, 2013) — World Boxing Council (WBC), The Ring Magazine and lineal world light heavyweight champion Adonis "Superman" Stevenson (21-1, 18 KOs) defends his crown for the first time this Saturday night against former International Boxing Federation (IBF) light heavyweight champion Tavoris "Thunder " Cloud (24-1, 19 KOs). The titanic collision will take place at the Bell Centre in Montreal and will be televised live in the United States by HBO as part of its World Championship Boxing series.
"Superman Returns," is being presented by Groupe Yvon Michel (GYM), Don King Productions (DKP) and Gary Shaw Productions (GSP ), in association with Mise- O -Jeu and Videotron.
The 36-year-old Stevenson, fighting out of Blainville, Quebec, won his world light heavyweight title by destroying "Bad" Chad Dawson (31-3, 17 KOs) in only 76 seconds this past June 8. That fight, however, is now a thing of the past. Stevenson's immediate future is Cloud, 31, who has a style opposite of Dawson, a pure boxer, as opposed to the brawling Cloud, from Florida.
"My goal is to win by KO," Stevenson said, "but I'm ready to do 12 rounds, if necessary, to show that I'm a complete fighter."
Cloud believes Stevenson hasn't fought anybody comparable to him in terms of quality opposition. "To win at this level of talent takes skill," Cloud countered, "and power is secondary. Anyone can be hurt, if you give up. I guarantee that I will leave Montreal with all the belts."
According to the president Yvon Michel of GYM, Cloud is the perfect opponent for the champion's first defense. "Against Dawson," Michel noted, "Adonis proved he was dangerous and against a seasoned fighter like Cloud, Adonis will have the opportunity to demonstrate his versatility and why his reign will last."
Stevenson arrived in Montreal last Friday and Cloud two days later. Both are in great physical shape, as they showed during training workouts before the media on Monday and Tuesday. They were both obviously very eager to do battle in three days.
The powerful left-handed Stevenson is riding an eight-fight streak of knockouts over Dawson (KO1), Darnell Boone (KO6), Don George (TKO12), Noe Gonzalez (TKO2), Jesus Gonzales (KO1), Aaron Pryor Jr. (TKO9), Shujaa El Amin (TKO1), and Derek Edwards (KO3). In fact, the last time a Stevenson fight went to the limit dates back to 2007.
The 31- year Cloud lives in Tallahassee, Florida. During his illustrious career of more than nine years, he was the IBF 175-pound division world champion for four years. He won his title in 2009, earning a 12-round decision over Clinton Woods (42-4-1, 25 KOs) and successfully defended his world title four times. First, against former world champion Glen Johnson (50-13-2, 34 KOs), then versus an aspiring Fulgencio Zuniga (24-4-1, 21 KOs), followed by wins against Yusaf Mack (29-3-2, 17 KOs) and Gabriel Campillo (21-3-1, 8 KOs). His winning streak was stopped at 24, the same time as his reign as world champion, last March in New York as he lost a unanimous decision to the inimitable Bernard Hopkins (52-6-2, 32KOs).
According to The Ring Magazine, Cloud is ranked third among the best light heavyweights in the world, and he is considered the number one U.S. heavyweight contender. Cloud has only suffered one defeat during his professional career and he has never visited the canvas. Cloud has a definite advantage over Stevenson in terms of experience having fought a total of 123 rounds, including 68 world championship, almost as many total rounds (80) fought by Stevenson.
The Stevenson-Cloud final press conference will be held today in Montreal. Their official weigh in will take place this Friday (Sept. 27) at Delta Hotel in Montreal, starting at 1 p.m. ET.
Doors at the Bell Centre will open Saturday night at 6:30 p.m. ET with the first fight scheduled to begin at 7:00 p.m. ET. Stevenson vs. Cloud is slated to start around 10:30 p.m. ET with Stevenson in the red corner, the challenger Cloud in the blue corner.
Tickets are available at Bell Centre, on www.evenko.ca, at GYM (514) 383-0666 or Boxing Club Champion (514) 376-0980. Ticket prices range from $ 50 in the red up to $ 300 on the floor.