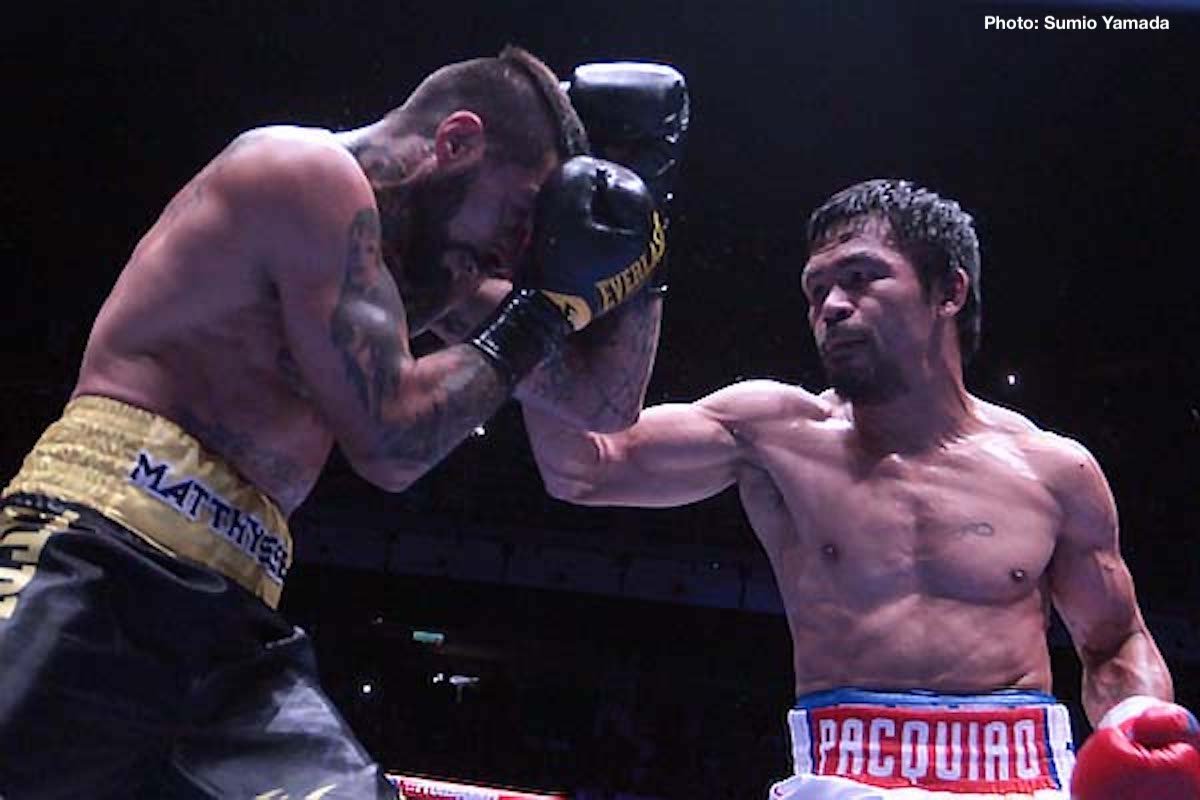 Manny Pacquiao's career reviving win over Lucas Matthysse has caused quite a buzz in the boxing world, with fans now asking a whole bunch of questions. From the ridiculous: was the fight "fixed?" – to the slightly more plausible: will Pacquiao now fight Vasyl Lomachenko or Terence Crawford and can he actually beat either man?
Another unlikely scenario was called for by Pac Man himself, Manny stating how he and the retired Floyd Mayweather could "do a second one." There seems to be zero chance of Floyd returning to the ring to fight anyone, let alone a fully fit Manny Pacquiao (Mayweather has hinted that he may fight again, but only in MMA).
But for as long as either man is still fighting there will it seems continue to be some calls for a Mayweather-Pacquiao II.
"If he decides to get back in boxing then that's the time we are going to call the shots," Pacquiao said of Mayweather as quoted by ESPN.com. "I have the belt. It's up to him if he wants to come back to boxing and do a second one."
Maybe, just maybe, another $100 million pay day would actually lure Mayweather out of hibernation, but would a return bout between he and the man he soundly outpointed back in May of 2015 do those kind of huge, huge numbers? Is there that much fan interest and desire is seeing a sequel to what was, let's face it, a duller than dull fight? It doesn't seem so.
British star and former spar-mate Amir Khan is another name Pacquiao has mentioned as a possibility for his next fight but it does seem as though Bob Arum wants Manny to fight either Lomachenko or Crawford next. With Lomachenko's manager Egis Klimas coming out and saying the fight can only happen if it takes place at 135 pounds, maybe it will actually be the undefeated Crawford next for the 39 year old living legend.
What chances of a Pacquiao victory there? Slim and none.