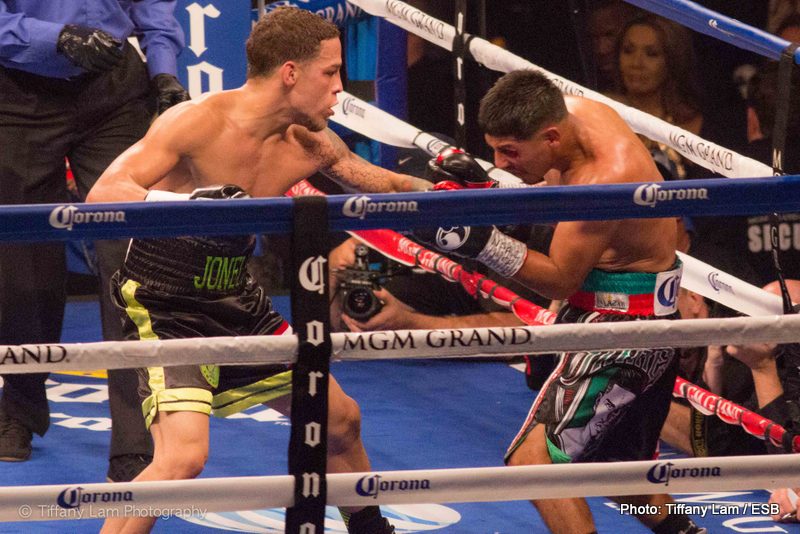 The crowd had filled in by the start of the third bout of Showtime's PPV broadcast, as Mexican Abner Mares made his return to the ring after almost a year off against Puerto Rican Jonathan Oquendo. The last time we saw Mares in the right was last August at the StubHub Center in Carson, California, were he was stopped in the first round by veteran Johnny Gonzalez.
The "Mexico, Mexico" chants started seconds after the opening bell, as both fighters met in the center of the ring. Both men looked sharp and focused on their strategies, trying to set the pace. It was a close first round that could've went either way. It was more of the same through the early rounds, with Mares staying disciplined, keeping his hands up and working behind his jab. As the rounds progressed, Mares took advantage of Oquendo's high guard and began to rip shots to the body.
In the fourth round Mares was cut over his left eye from what appeared to be a punch, which seemed to bolster Oquendo's confidence. Mares remained calm with the cut on his eye, no panic in him, as he continued with his game plan. Into the middle rounds neither man had concisely set the pace, it felt like a close fight. Even though Oquendo was having his moments, Mares was more consistently busy and he was investing in the body, and that would prove to be the difference. As the fight moved toward the later rounds, Mares looked fresher.
The crowd favorite elected to play things safe in the final round, staying most in a defensive mode. Oquendo knew he was behind on the cards and tried to come forward to inflict damage, but Mares smartly tied up when necessary. He didn't exactly set the world on fire, but got in some much needed rounds in what amounted to be a confidence builder of a ring return for Mares.
The judges scored it 96-94 and 98-92 twice for Mares, who improved to 27-1-1 (14KO). Oquendo fared well for himself, but simply was not busy enough. Mares landed 163 of 424 punches (38%), while Oquendo landed 84 of 385 (22%). The most telling stat was that of the Mexican's body work, as Mares landed 65 power punches to the body.
Questions, comments, hate mail? You know what to do.
Twitter.com/MonteroOnBoxing
Facebook.com/MonteroOnBoxing
YouTube.com/MJBDetroit