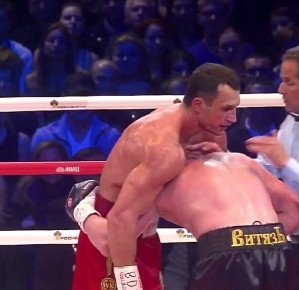 IBF/IBO/WBA/WBO heavyweight champion Wladimir Klitschko (61-3, 51 KO's) showed very little interest in mixing it up with WBA heavyweight champion Alexander Povetkin (26-1, 18 KO's) in beating him by a 12 round unanimous decision last Saturday night by the scores 119-104, 119-104 and 119-104 in Moscow, Russia.
For those who thought they were going to see an actual fight it must have been disappointing to the extreme because Wladimir immediately started clinching after every punch in the 1st round of the fight. I lost track of how many times Wladimir opted to clinch Povetkin, but I counted close to 30 after 3 rounds and it was shocking that he been allowed to get away with it by the referee Luis Pabon.
The fight reminded me of the 1976 match between Muhammad Ali and wrestler Antonio Inoki in Tokyo, Japan. It was billed as a boxer vs. wrestler match, but it turned out to be something of a joke with Inoki lying on the canvas kicking at Ali's legs for 14 long rounds. There wasn't any wrestling due to the rules and Ali threw only 6 punches in the entire fight. The Klitschko-Povetkin fight reminded me a lot of that bout because there had been a great deal of hype about it, and it was thought that the two fighters would get into some good exchanges.
It didn't turn out that way due to Wladimir clinching Povetkin to the point where he rarely had time to throw more than a punch before he was grabbed by Wladimir and bent over to where his face was staring at the canvas. Sometimes Wladimir hit Povetkin in the face while he had him bent over like that, and the referee neither warned Wladimir nor took points off.
I think Wladimir should have points taken away by the 4th, and disqualified by the 6th when it was clear that he wasn't going to let Povetkin get his offense started. You can't have fighters choosing to nullify another opponent by grabbing because that ruins what boxing is. It's like MMA, but worse at least in that sport guys are doing something when they grab somebody.
Wladimir looked like he was just stalling out the rounds with the grabbing.
I'm not sure if HBO will be televising any of Wladimir's fights in the future after this fight. The HBO analysts seemed almost embarrassed about the product that they were showing because there wasn't much of a fight to analyze.
Even some of Wladimir's 4 knockdowns were questionable. I saw him push Povetkin to the canvas twice and get credit for knockdowns. While Wladimir did get docked a point in the 11th for the pushing, he should have lost a lot more than just one point.