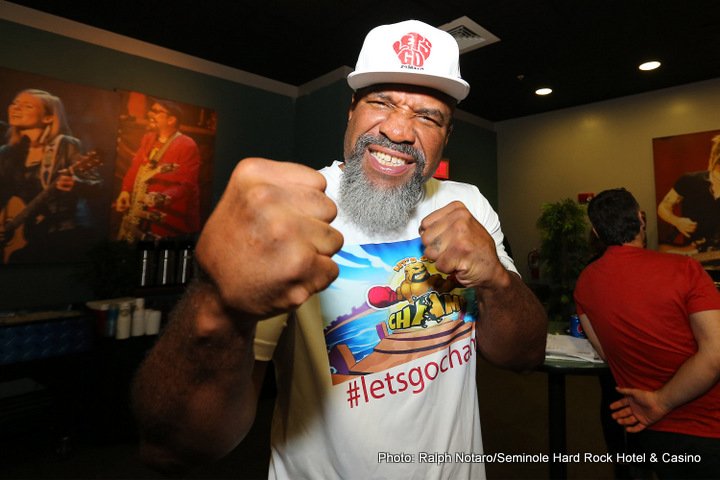 Former two-time claimant of a heavyweight title Shannon Briggs has been hit with a six month ban by the WBA, for failing a drugs test back in June; this event putting to bed his scheduled title fight with Fres Oquendo (a fight that might have seen Briggs make history, on paper at least, and seen him become a "three-time" champ).
The ban, which will expire on November 13 of this year, is a pretty soft penalty all things considered – Briggs was found to have taken anabolic agents, hormones and other stuff that is so frowned upon – and as the 45 year old has missed just one fight (the Oquendo affair) it hasn't really done his career too much harm – even of that aborted Oquendo fight would have been a real Godsend for the veteran; very possibly his last shot at getting his hands on anything resembling a major belt.
With Briggs, who maintains he is a clean fighter, free to box again before the end of the year, the question is, who could he fight? Briggs, far from the only big name heavyweight to have tested positive for something nasty in recent times, remains a big name and it seems extremely likely "The Cannon" from New York will continue with his career.
Briggs, 60-6-1(53) last fought back in May of last year, when he blasted out Emilio Ezequiel Zarate in a round on a David Haye under-card in London. Briggs was at the time chasing a fight with Haye, hence his appearance on "The Hayemaker" card. Who knows, now that both Briggs and Haye are free to fight at the end of this year (Haye getting to go ahead after recovering from the Achilles injury he suffered in his March loss to Tony Bellew) the two could dance after all?
Briggs, though, finds himself in the same position he was in before his ban: he is too dangerous for most heavies to want to mess with, and he offers them too little reward. Can Briggs get himself one last meaningful fight before his colourful, up and down career finally reaches its end? Does Briggs deserve another shot at redemption?