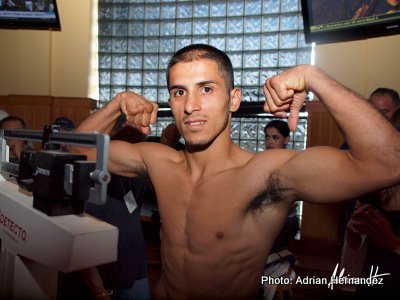 By Adrian Hernandez – On October 26th, at "Casa de Amistad" in Harlingen, TX, Bantamweight prospect Sergio "Time to Shine" Perales will be making his return to the ring since stopping Rafael Casias in three rounds on March 23rd of this year.
The 25 year old fighter is currently rated number 8 by the IBF, but has not been active over the last year due to lingering injuries as well as his scholastic requirements at the University of Texas at Brownsville.
Trainer Robert Campos is excited for the fight but has expressed a bit of concern coming into the scheduled bout.
"Sergio and I are excited for the fight," stated the veteran fight trainer. "We look forward to getting back in the ring and hopefully shaking off some of the ring rust. I have total confidence in my fighter and the skills he possesses, but as of late we have not been as active. Any fighter or coach will tell you that inactivity is always something to be a bit concerned about."
Perales owns an impressive record of 21 wins with 13 knock-outs, and only 1 loss. His only defeat comes at the hands of Caril Herrera (31-1, 20KO's), which took place in a Super Bantamweight Tournament (Reto de Campeones) held in Mexico by the WBC. The tournament was similar to NBC's "The Contender". The slick Texas fighter fought once a week to maintain his spot for a shot at the finals with the possibility of taking home $100,000.
Controversy however plagued the tournament according to Trainer Robert Campos.
"That tournament was very shady and corrupt at many times," professed Campos. "We had fighters not making the required weight which would ordinarily disqualify them from the tournament, yet these fighters who were the network favorites to win and were often given several days to make weight therefore postponing scheduled fights for a later time. Even then, most of these fighters still came in extremely heavy."
Perales fought through a nagging hand injury that occurred during his first fight in the tournament, but still managed to make it all the way to the semi-finals.
"We don't want to make excuses," explains the devoted fight coach. "We aren't ashamed that we lost to a tough fighter with an impressive record. Sergio fought the whole tournament with a hand injury and I am very pleased with all of his performances. Most fighters nowadays won't take a fight knowing they are hurt, but that just shows me the kind of heart my fighter has. It was a dangerous move to continue fighting in the tournament but Sergio felt it was necessary to keep on going to take advantage of the opportunity. I know we could have won the whole thing but we made a few mistakes in the last fight and we got caught."
Another bit of controversy in the "Reto de Campenos" tournament was the idea that wins and losses in the televised competition were originally not supposed to go on the fighters' official record.
"The original agreement was that if we won or lost any bout it would not appear on our record," stated Campos. "This however is not the case as they did add two wins on the record and our loss but they still didn't add another victory that we had during the tournament. The whole ordeal is all screwed up when it comes to the record and the tournament overall. But like I said, we aren't worried about it. We fought several hard bouts each week and I'm very happy with Sergio. Most people are afraid to have a loss on their record but we know what we have and this will not hold us back."
Perales is looking to get back into the swing of things and bring back the momentum he had before his time off.
"This fight is somewhat of a tune up for Sergio just to shake off some of the ring rust, but I'm not looking past it. Any fighter you get in the ring with could be the most dangerous fighter you've fought."
If everything turns out well tonight, Team Perales is looking for bigger opportunities in the talent enriched Bantamweight division.
"This coming year, we definitely need to have a title shot or title eliminator bout. I mean my fighter has over 20 fights already and he's currently ranked 8th by the IBF. I feel he's already there to step up and fight the big boys."
"It can be anyone in the top 3 or eventually some kind of title opportunity. We don't want to come off as being cocky by any means, but we just feel that with a couple more fights we should start to make things happen. Sergio is hungry right now and this is going to be our year coming up. I feel we have proven ourselves with whoever they have put in front of us, and we have never backed down from a fight."
"It is time to start stepping it up."
This Friday night, Sergio Perales will be taking on Super Bantamweight fighter Saturnino Nava of Mexico and ultimately hopes to get back on the road to one day becoming a world champion.