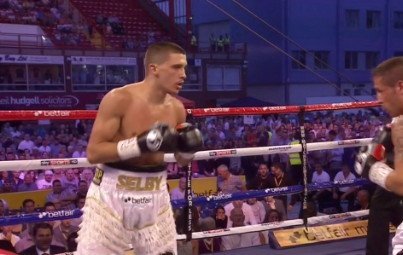 Lee Selby (16-1, 6 KO's) proved that he's world class tonight in beating WBC International featherweight champion Viorel Simion (16-1, 7 KO's) by a 12 round unanimous decision at the Craven Park Stadium, Hull, Yorkshire, United Kingdom. The judges scored the fight 118-110, 115-113, and 116-112.
I had the fight scored a draw. Selby proved that he's world class by the simple fact that the 31-year-old Simion is ranked #4 by the WBC. However, Selby showed that there is a wide gulf between him and the current WBC featherweight champion Abner Mares.
If that fight happens anytime soon, Selby is going to be up a creek without a paddle because he was lucky that he won tonight. The scores were kind of joke, especially the 118-110 score. That didn't reflect what happened in the ring. What actually happened was that Simion put a lot of pressure on the light hitting Selby all night long and nailed him with the faster and harder shots.
By round 8, Selby was looking tired and he was pretty well dominated in the last five rounds. I couldn't give Selby any of the last part of the fight because he was either running or holding. When he would land, he's quickly grab Simion or keep moving. It wasn't pretty to watch, and you couldn't give Selby any of those rounds because spoiling way too much and preventing the action from happening.
Simion hurt Selby with a big right hand in the 11th round. Simion continued to pound Selby with big shots in that round and in the 12th.
When the scores were read it was pretty shocking how wide one of the scores was for Selby. I don't know how you could watch this fight and see Selby winning 118-110. With all the running and holding he did, he's lucky he didn't lose points for spoiling because Simion was the one making the fight for the full 12 rounds.