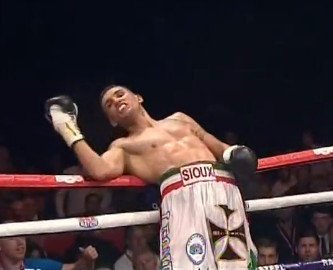 #3 WBO, #5 WBC Billy Joe Saunders (20-0, 11 KO's) passed the biggest test of his career in stopping a game but limited #13 IBF, #15 WBC Emanuele Blandamura (22-1, 5 KO's) in the 8th round tonight in an impressive performance by the 24-year-old Saunders at the Phones 4U Arena in Manchester, UK.
Fighting in the main event because of Tyson Fury pulling out of his dangerous fight against Alexander Ustinov, Saunders showed a lot of maturity in calmly dealing with a very difficult opponent in 34-year-old Blandamura. Saunders had to stay patient because Blandamura had better hand speed, and he was putting a lot of pressure on him all fight long.
Saunders' moment came in the 8th when he caught Blandamura with a looping right hand that the Italian fighter ran into while moving in on him. The shot knocked Blandamura almost senseless. He was able to somehow stumble to the ropes and perch himself there with his arms outstretched like a large bird. Saunders then calmly came up to him and tagged him in the head. At that point the referee jumped in between them to stop the fight.
It was a good performance from Saunders. He showed that he's ready to challenge IBF champ Sam Soliman and/or WBO champ Peter Quillin. Saunders would have a good chance of beating either of those guys. Gennady Golovin is obviously out of Saunder's class right now.
—
Unbeaten middleweight Chris Eubank Jr (17-0, 12 KOs) made short work of Ivan Jukic (19-3, 12 KOs) in smashing him out in a 1st round knockout. Eubank Jr dropped Jukic twice in the round with a vicious storm of punches. After the second knockdown, the fight was stopped. The referee perhaps should have stepped in to stop the fight before Jukic was knocked down for the 2nd time, because he must have taken 15 heavy shots while he was defenseless against the ropes before falling.
—
Other boxing results at the Phones 4U Arena:
Liam Smith TKO 1 Jason Welborn
Terry Flanagan RTD 7 Martin Gethin
Liam Williams TKO 6 Ronnie Heffron