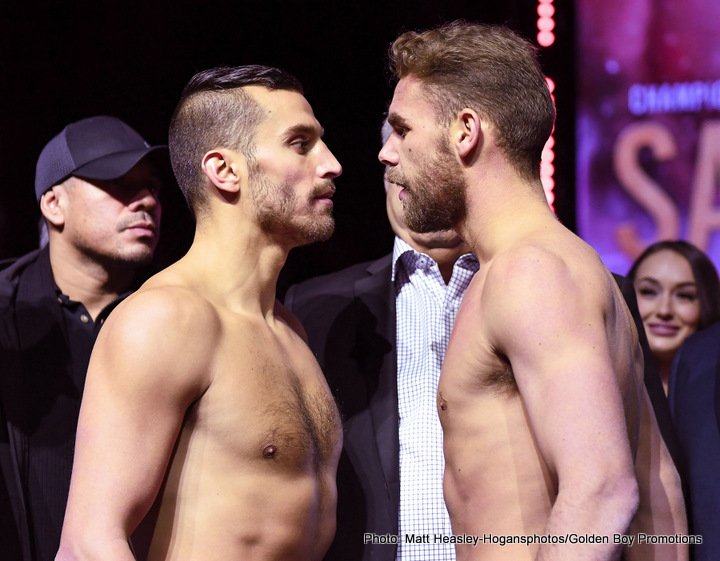 WBO middleweight champion Billy Joe Saunders (25-0, 12 KOs) and former middleweight champ David Lemieux (38-3, 33 KOs) made weight on Friday in weighing in each coming in at 160 pounds for Saturday's contest at the Place Bell in Laval, Quebec, Canada. Saunders-Lemieux will be televised on HBO Championship Boxing and BoxNation on Saturday night.
With Saunders heckling him the whole time, Lemieux had to strip down completely to make the 160 lb. weigh-in limit. Lemieux made the weight, but he looked pretty drained for having made the weight. Saunders is hoping he can take advantage of Lemieux on Saturday night if he's not 100 percent due to his problems getting down to the weight.
Saunders was suspicious whether Lemieux made the weight on his second try, which forced a third time for the Canadian to be weighed.
Saunders thinks it'll help him to have Lemieux angry during the fight. It's debatable whether it will or won't help Saunders. Lemieux might try a little harder in round 1 to shot for a knockout, but it's hard to imagine him fighting any harder in the subsequent rounds once the adrenaline wears off. Lemieux can't stay angry for long. It's impossible to fight angry for any length of time. By the time the 2nd round begins, Lemieux will be focused and doing what he always does inside the ring.
"People know how I like to get into opponent's minds sometimes by saying and doing little things," said Saunders. "It helps. People say it doesn't, but if I can make him try 10 percent harder and blow himself out in 3 rounds, then I've done my job," said Saunders.
I don't think for a second that Saunders has ever been helped by the trash talking he does. It seems more like a game to get boxing fans interested in the fight. The trash talking might have helped Saunders in his last fight to get Willie Monroe Jr. thinking twice before letting his shots go, but it didn't cause him to get angry. If Saunders can't beat Lemieux based on his natural talent, then he's just wasted a lot of time by trying to anger him to gain an edge. I don't see it helping Saunders on Saturday night.
Saunders and Lemieux are both 28-years-old. Lemieux has been looking better in his recent fights against Saunders, who appears to have been having problems with his weight.
Saunders thinks he's going to out-slick Lemieux all night long by avoiding his big power shots. It's going to be a real challenge to Saunders defensive skills for him to avoid Lemieux's shots for 12 rounds. Saunders is a good boxer, but he's not Floyd Mayweather Jr. inside the ring. Saunders can be hit. As we've seen with Lemieux, it only takes one big shot from him to end a fight. If Saunders can't pitch a shutout tomorrow night to keep Lemieux from landing anything, he might still end up getting knocked out.
"He won't be landing with none of them," said Saunders. He'll be missing with a load of them, and then I'll be coming back and I'll break his heart."
Saunders was at his best in 2014, but he's looked poor in his last 2 fights. Lemieux is the better fighter at this point. If Lemieux isn't weight drained on Saturday, I think he'll knockout Saunders or beat him by a one-sided decision.